Click to Access
OUTSIDE China


Click to Access
INSIDE China



Xiamen

Gulangyu


Jimei

Tong'an


Jinmen

Zhangzhou


Quanzhou

Wuyi


Fuzhou new!


#1Fujian Sites!


Fujian Foto Album


Books on Fujian


Readers'Letters


Ningde

Zhouning


Longyan

Sanming


Putian

Bridges


Travel Info,


Hakka Roundhouses


Travel Agents


Mosques


Temples



Amoy People!


Darwin Driving


Amoy Tigers


Chinese Inventions


Tibet in 80 Days!


Dethroned!


Misc.Writings


Latest News


Lord of Opium


Back to Main Page
AmoyMagic--Guide to Xiamen & Fujian

Copyright 2001-7 by Sue Brown & Dr. Bill

Order Books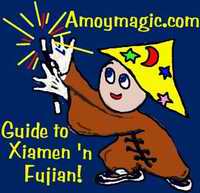 Nantai Island Tour (Fuzhou/Foochow)
Adapted from "Fujian Adventure", Magic Fujian, etc.

Fuzhou Links

History

Haunted Nantai Island (Foreign Devils & Chinese Ghosts)


Pagoda Anchorage

Downtown

Cuisine

Shopping

Secret Yongtai

Mosque

Fuh-chau Cemetery (1850s)

Miracle in a Fujian Church!

Nantai Island¡­Foreign Devils and Ghosts. The first Opium War forced Fuzhou open as a Treaty Port¡ªat least on paper. But battleships and lawyers didn¡¯t win the people¡¯s hearts, and the Laowai still had to fight tooth and nail to get land for commerce and housing. I had a taste of their poor reception when I played Admiral Elliott in a TV series. (Like the modern binoculars? At least I persuaded them to ditch the telephone and typewrite on my London desk!).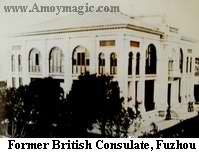 After opening the Canton consulate in July 1843, George Tradescant Lay arrived in Fuzhou in July 1844. But Fuzhou folk didn¡¯t welcome him with wide-open arms! He was forced off his ship at Pagoda Island and made to go up river in a small boat. Fuzhou authorities allocated him a house in a poor class neighborhood.. The house was built of boards, over the river, which flooded twice a day. He was later moved to another house which he complained, ¡®kept out neither sun nor rain.¡¯

Foreigners had opened Fuzhou¡¯s doors at gunpoint, and now they insisted on living inside the city walls¡ªas if familiarity would breed camaraderie rather than contempt. The Chinese, however, were ingenious in finding reasons to keep the Laowai outside the gates. ¡°Tall buildings destroy the fengshui,¡± was a favorite ploy.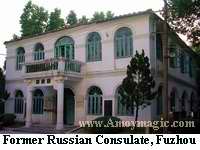 Eventually the Chinese found a solution: put the foreign devils with the ghosts! The foreigners were allowed to build their settlement, with its fine colonial mansions, consulates, and churches, upon an old burial ground on Nantai Island, to the south. This made it tough to keep servants, who were afraid of ghosts, but at least it helped keep the rent down. ...

Over ensuing decades, there existed an uneasy peace between Laonei and Laowai, but both prospered during the heyday of the opium and tea trades. This prosperity was due in large part to the integrity of the Chinese. A resident of Fuzhou, Brand, wrote about Chinese
businessmen:

¡°There is one thing I would here like to lay special stress upon ¨C that is the wonderful integrity and charming manners of all Chinese merchants in the olden days. They were keen bargainers, but having agreed to a price one did not even ask them to ¡®chop¡¯ (equivalent to signing) a contract. Their word was their bond.¡±

Romantic tea clippers gave way to steamships, but Foochow (Fuzhou) tea became prized in America and Europe. Even the King and Queen of England pronounced that Foochow tea had a more delicate flavor than Indian or Ceylon varieties.

Nantai Tour In spite of spooks, Nantai turned out to be a nice place to live¡ªespecially up on the cool heights of the shady hill.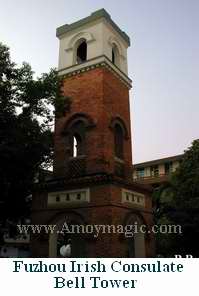 Money poured in as consulates went up for Britain, Spain, France, America, Italy, Holland, Denmark, Switzerland, Norway, Japan, Russia, Portugal, Germany, Austria, deng deng. Chinese also benefited from the foreign enclave. Many Chinese children received a foreign education and went abroad to become doctors and engineers, or to go into the legal [sic] profession.

The landowning Laowai are largely gone, but even today a tour of Nantai Island evokes images of the wealth and splendor of 19th century Foochow.
The Huanan School for Women was used as a cheap hotel until the 90s, but now the stately building is Fujian Normal University¡¯s Institute of Geography.

Trinity College was modeled after the original in Dublin. Sadly, it was torn down and replaced by stock concrete and tile structures, and in 1993 became the Fuzhou Foreign Language School. But the Irish Consulate bell tower still stands in the courtyard, and a bronze plaque on the front wall of the former Russian Consulate commemorates those who contributed to its renovation in 1996.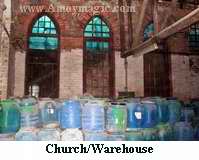 Church/Paint Storage Behind the former Russian consulate is an old church now used as a paint factory, and full of machinery, Styrofoam panels, and paint. Click Here for miraculous story about a Chinese church and paint!

British Consulate The magnificent British consulate was torn down to build a home for retired Army generals, and well guarded by an old fellow who was upset because I looked through the gate.

Former Rotary Club To the right of the British consulate that isn¡¯t there anymore is the old Rotary Club, a fine building in its day but now in a state of depressing dilapidation.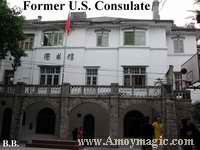 Former American Consulate The library of the nursing school across from the former Rotary Club used to be the American consulate, and is worth a visit if you can get past the gatekeeper, and giggly nursing students, who told me that Britain is desperate to hire Made in China nurses.

Fuzhou Seminary is further up the hill, just past where the British consulate isn¡¯t. Originally a church, it was turned into a camera factory, but the photo business never developed, so now it¡¯s a seminary.

The Old Stone Church could have been conjured straight out of Celtic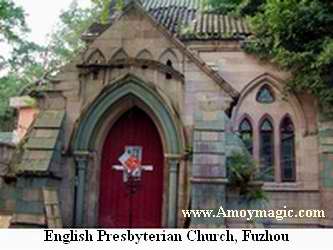 legend. I could imagine Arthur himself worshipping in it. The church bell was destroyed during the Cultural Revolution. The church became a protected historical relic in 1992, but is in a sad state of disrepair. It is now serving as the Chinese People¡¯s Liberation Army 37503 Division Printing Division. I¡¯m not sure what they print, but it¡¯s probably not Bibles or hymnals.

Anglo-Chinese School Many Chinese politicians, intellectuals, academicians, and scientists, graduated from the century old Anglo-Chinese School. The beautifully restored church is now a gymnasium but I guess that¡¯s just the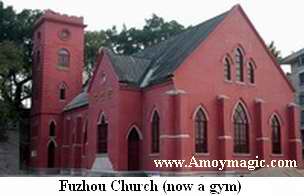 way the ball bounces.

Further up the road are the old estates of wealthy foreigners, and the French consulate, which is now the headquarters of the Chinese Navy. That move was probably revenge for the French-Chinese naval battle in the 1880s. The French probably thought they¡¯d really done something for the history books, but in the long run you can¡¯t beat a people who¡¯ve stuck around for 5,020 years.
FUZHOU LINKS


Fuzhou History (birthplace of Chinese Maritime Industry)


Pagoda Island (famous "China Pagoda," Sino-French Battle, etc.)


Foochow's Haunted Nantai Island Tour (Includes old Consulates, Rotary Club, haunted churches...)


Heart of Fuzhou: 3 Wards & 7 Streets, Li Family House, Banyan City, Yushan Hill and White Pagoda, Clay People, etc.


Qingjing Mosque


Secret Valley of Yongtai (Fujian's Best Kept Secret)


Fuzhou Cuisine (Buddha Jumps the Wall Soup, Pounded Pork, Fish Balls)


Fuzhou Shopping
Note: Fuzhou was also spelled Foochow, Fuh-chau, Fuhchau, etc.
TRAVEL LINKS

Favorite Fujian Sites

Fujian Foto Album

Xiamen

Gulangyu

Fujian Guides

Quanzhou

Z
hangzhou

Longyan

Wuyi Mtn

Ningde

Putian

Sanming

Zhouning

Taimu Mtn.

Roundhouses

Bridges

Jiangxi

Guilin

Order Books

Readers' Letters Travelogues by Scott Ballantyne

Click to E-mail


Readers'Letters

Last Updated: May 2007


Back to Top
The Paint Miracle at a Fujian Country Church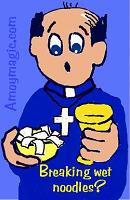 The congregation in a small rural Fujian country church decided to repaint the church, but only had enough money for about ten gallons of paint. They did it anyway, in faith, praying that the paint would not run out, even as the oil did not run out in the Old Testament story of Elijah and the widow. When the paint ran low, they added paint thinner, but managed to complete the entire wooden church with just ten gallons of paint!

But no sooner had they finished, a very untimely (for that season) thunderstorm broke upon the church, washing off much of the paint that had been thinned. And a voice from heaven said, "Repaint, and thin no more!"



FAQs Questions?


Real Estate


Shopping

Maps


Trains

Busses


Hotels

News (CT)


Medical & Dental


YMCA Volunteer!


XICF Fellowship


Churches


Expat Groups


Maids

Phone #s



Xiamen University


XIS(Int'l School)


Study Mandarin


CSP(China Studies)


Library

Museums


History



Restaurants

Asian


Veggie

Junk Food


Chinese

Italian


International


Visas 4 aliens



Massage!


Beaches

Fly Kites


Sports

Boardwalk


Parks

Pets


Birdwatching


Kung Fu

Hiking


Music Events


Festival&Culture


Humor&

Fun Fotos



Doing Business


Jobs!(teach/work)


Hire Workers


Foreign Companies


CIFIT (Trade Fair)


MTS(Translation)



Back to Top