Click to Access
OUTSIDE China


Click to Access
INSIDE China



Xiamen

Gulangyu


Jimei

Tong'an


Jinmen

Zhangzhou


Quanzhou

Wuyi


Fuzhou new!


#1Fujian Sites!


Fujian Foto Album


Books on Fujian


Readers'Letters


Ningde

Zhouning


Longyan

Sanming


Putian

Bridges


Travel Info,


Hakka Roundhouses


Travel Agents


Mosques


Temples



Amoy People!


Darwin Driving


Amoy Tigers


Chinese Inventions


Tibet in 80 Days!


Dethroned!


Misc.Writings


Latest News


Lord of Opium


Back to Main Page
AmoyMagic--Guide to Xiamen & Fujian

Copyright 2001-7 by Sue Brown & Dr. Bill

Order Books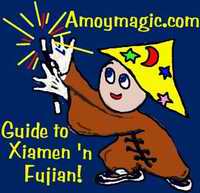 Fuzhou, Ancient Capital of Fukien
City of Merchants, Adventurers, Scholars
Adapted from "Fujian Adventure", Magic Fujian, etc.
Fuzhou Links

History

Haunted Nantai Island (Foreign Devils & Chinese Ghosts)


Pagoda Anchorage

Downtown

Cuisine

Shopping

Secret Yongtai

Mosque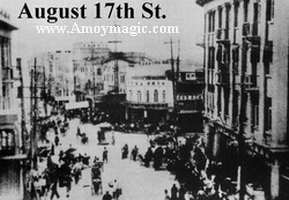 Iron Buddha

Ming Dynasty Wall

Heart of Fuzhou: East Gate CrossRoads (Dongjie Kou) is still Fuzhou¡¯s hot spot, day or night. Here you¡¯ll find a dozen key tourist sites and scores of shops and restaurants all within walking distance. But how to find it? It¡¯s where East Street (Dong Lu) crosses August 17th St. Simple enough, but it can get confusing because Bayiqi Lu becomes Guping Lu above Dongjie Kou, and west of Dongjie Kou, Dong Lu becomes Yangqiao Lu.

I suspect Fuzhou¡¯s shifty street names are a deliberate revenge against us Laowai for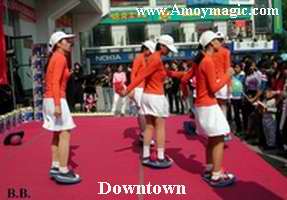 Opium Era indignities visited upon their forebears.

The East Gate area was mobbed by shoppers, vendors, and tourists. Salesmen demonstrated late breaking products, Honda motorcycles, and handed out free samples of soy milk and medicines that guaranteed children to grow up healthy and smart. A dozen bouncy teens in cheerleader costumes bounced up and down on pogo balls. ¡°A bargain at only 60 Yuan each!¡± (The pogo balls, not the girls). And of course¡ªa battalion of beggars sporting ingenious incapacitations and devilish deformities.

I was also struck by the preponderance of bright yellow and red bikes (though they were nothing compared with Quanzhou¡¯s sherbert bikes). The bikes are probably a fad--I know these things go in cycles.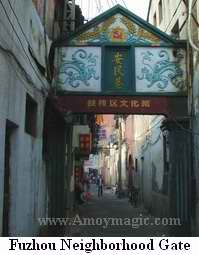 3 Wards, 7 Lanes (San Fang QiXiang) A block west of August 17th St. lies the ancient 3 Wards, 7 Streets area. Built over 700 years ago, in the Song Dynasty, this area had 104 streets, though most of the lanes remaining today are from the Qing or Ming Dynasties, which is yesterday by Chinese standards.

This area really bustled a century ago, especially where Guanglufang and Jipi Road cross. Jipi Rd was originally called Jibi Rd., (¡®hurried escape,¡¯ because an evil man lurked there).

3 Wards and 7 Lanes is chockfull of history, but without someone to explain the significance of buildings behind the nondescript gates, I¡¯d have walked past the entire lot without a second glance. Fortunately, I ran into an official guiding a Beijing journalist. He reluctantly allowed the scruffy Laowai to tag along and listen, but he seemed a little disconcerted when I whispered notes into my micro recorder. ¡°I¡¯m writing a book,¡± I said, but he didn¡¯t seem convinced. Maybe he thought I was 006?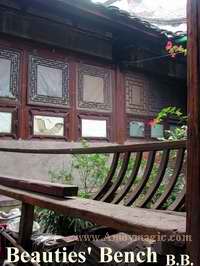 Each nondescript gate hid a maze of courtyards, gardens, and rooms. Most houses badly need renovating, though a few had beautiful murals and carvings that had escaped the ravages of the Cultural Revolution. One fellow looked up from washing his clothes and complained to the official, ¡°You¡¯d have more to show off to these foreigners if you¡¯d help us preserve the places!¡±

Beauties¡¯ Bench Courtyards still had the wooden benches (???, meirenkao) where beautiful girls with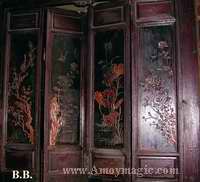 bound feet spent their days on display. These sprawling homes probably used up half a forest on their ornate, time-stained wooden columns, beams, latticework, and doors, which contrasted nicely with the gray tiles and white walls. The floors were built of stone to withstand the heavy annual rains of South China.

Many of the Opium Era hero Linzexu¡¯s family lived in this area. His mother¡¯s home was at Wenrufang #17. One of her neighbors was Cheng Cheng Qiu, the Last Qing Dynasty Emperor¡¯s teacher. He borrowed heavily from the Beijing palace¡¯s architecture with his high ceilings and intricate recessed wooden carvings. The gray beams, which on holidays sport festive lanterns, had orange bats because ¡°bat¡± in Chinese sounds like ¡°bianfu¡± (to become prosperous).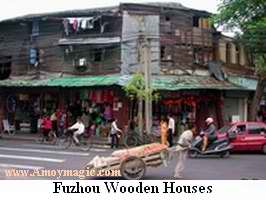 Chinese also go batty over bamboo¡ªor at least used to...




Bamboo¡ª Poetic and Practical People still flock to the 3 Streets and 7 Lanes area at Chinese New Year to buy lanterns and other ornamental objects, or to buy products from one of China¡¯s endangered species: the bamboo craftsman. It¡¯s a pity bamboo craftsman are vanishing, because bamboo helped shape Chinese culture for millennia. Please click here for Bamboo--Poetic & Practical (How Chinese invented everything under the sun, in part because of bamboo).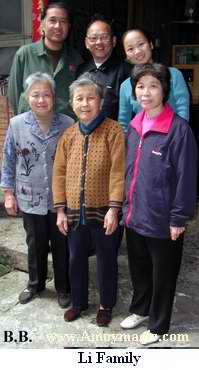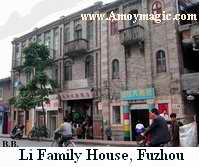 The Li Family House (Aomen Rd. # 60)
Just across the street from the bamboo shop, beside the Linzexu Memorial (which was being renovating), is a marvelous old building that looks rather Western in architecture, with its wooden balconies and windows. It has been home to six generations of the Li family, which made their fortune in the lumber business (chairman of the board?).

They warmly welcomed me and led me inside for tea and a tour of the rambling two-story wooden house, which is so unique even MTV used it to film a special. They allowed me to take photos to my hearts content, and even posed for a few. It may be one of the last photos of this extended family in one place, because many of the younger generation are moving to greener pastures across town or in other cities.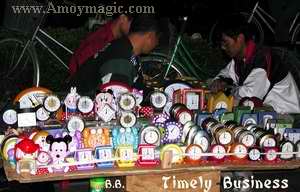 Back street vendors sell fresh fruit, cheap plastic alarm clocks, porcelain figurines, and linen and clothing. One empty lot had a movie screen set up in front of a red draped table loaded with incense and offerings. A couple of dozen people squatted in the dark watching a grainy copy of an action movie. I didn¡¯t know if it was a wake or a religious service for Jackie Chan worshippers.

A grandpa grinned at me. ¡°Join us!¡± As I watched Jackie punch, kick, and run, the grandpa said, ¡°You probably don¡¯t have movies like this in America, do you?¡±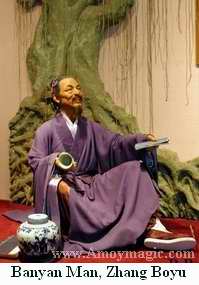 ¡°Not yet,¡± I said, ¡°but we¡¯re getting there. Puppets and fireworks, too.¡±


Banyan City Fuzhou is pleasant to stroll even in the heat of summer, thanks to the banyans that have long shaded the ancient streets. Marco Polo called Fuzhou the ¡°City of Banyans.¡±

About 1,000 years ago, Zhang Bo Yu planted two banyan trees in front of the government office, and encouraged others to do the same. In addition to being a welcome shelter from the summer sun, banyans are called the ¡°Fengshui Tree¡± because they supposedly only grow where the fengshui is good.

Fuzhou's QingJing Mosque (Click Here for how to find the mosque, it's history, and the rare stone stele claiming Mohammed sent two of his disciples to Fujian).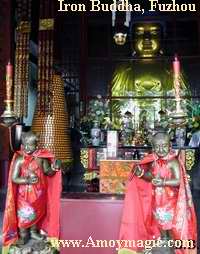 Kaiyuan Temple has three claims to fame. One, the Japanese revere Kaiyuan because Kukai, the founder of Japanese Buddhism, stayed here awhile before heading north in search of either enlightenment or longer lasting candles. Two, Kaiyuan has the largest cast iron Buddha in China. And three, the place is famous for its Fujian Buddhist Association Clinic, where Buddhist masters have long cured folks of everything from cancer to colic. One pilgrim complained to me that the young monks aren¡¯t so good at it, and are more concerned with mobile phones than mantras. Still, the clinic does a steady business, though it has moved to #184-1 on the Second Ring Road.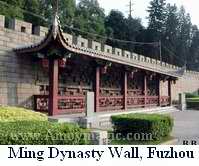 Fuzhou's Ming Dynasty Wall I was excited to learn Fuzhou had a remnant of the original Ming Dynasty wall, and searched for it for hours. But it turned out to be a very small remnant, about the size of a carpet remnant after redoing the bathroom. The wall is behind the Great Helmsman statue on Gutian Road, in front of Yushan Mountain and the White Pagoda and across from KFC. Most of it has been so well reconstructed it looks like Disney¡¯s interpretation of the Great Wall, but a small 20-meter stretch of the original 1371 wall remains.

Once I got over the shock of how little remains, I realized it does give one a sense of the ancient city¡¯s former grandeur, and I¡¯ve since visited the fragment of wall several times.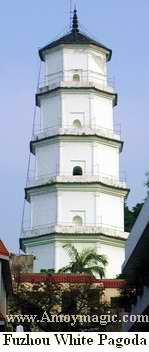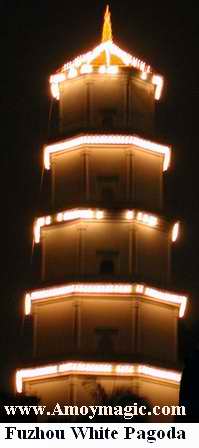 Yushan Hill, the City¡¯s Center, is a nice treat is an early morning. After a hike to the top I enjoy listening to retirees who greet each day playing traditional instruments and singing Chinese opera.
The seven story, 41m high White Pagoda on Yushan Hill was built in 904 A.D., and is a beautiful photo spot, day or night. On a clear day, one can supposedly see th sea from its top.

Legend has it that during the Han Dynasty (206 B.C.-A.D.220), the He brothers tried to make immortality pills on Yushan Hill, so it is also called Nine Immortal Hills¡ªeven though it doesn¡¯t appear the He brothers pills did the trick. Yet even today, hopefuls visit the hilltop¡¯s Longevity Temple, Taoist Temple of Nine Immortals, the Temple of Lord, and Dashi Hall.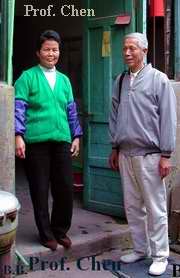 Clay People Fuzhou Professor Chen De Ren, a noted author and historian, led me to a nondescript house on a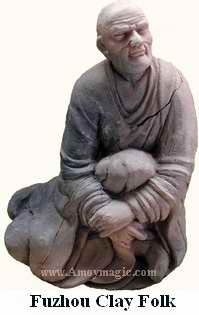 small street. Within was a cultural treasure that even many Fuzhou folk are unaware of ¡ªFuzhou Clay People (niren).

Professor Chen explained that during the Ming Dynasty, each time Fuzhou folk bested the Japanese invaders, they piled their treasured possessions in a pyramid that reached to the rafters. It was a way of showing thanks that their belongings had not fallen into the pirates¡¯ hands.

Poorer people with few possessions, and children, stacked cheap clay figurines. One year, during the 11th Lunar month, General Qing Qing Guang (of sesame bread fame) beat the Japanese and the clay people were pile high. This became a tradition until Red Guards in the 1950s destroyed the figures.

The recent discovery of three molds rekindled an interest in the ancient custom, and I visited the Fuzhou family that has taken it upon themselves to restore dozens of the ancient molds. In 2001, they stacked the Clay People for the first time in decades.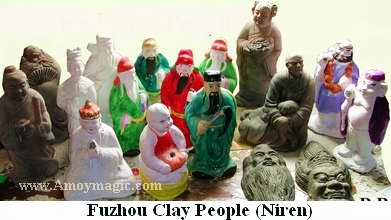 Unfortunately, when I visited they had just sold most of their stock to a large hotel for an exhibition¡ªbut they assured me more are on the way.


Fuzhou City Museum opened in January 1999. English-speaking guides give excellent tours and overviews of Fujian¡¯s history.

The museum had a statue of the great philosopher Zhuxi, whom I learned some blame for footbinding. Zhuxi advocated a combination of Confucianism and Taoism, and San Cong Ci De¡ªor Three Obediences and Four Moralities. Obey husbands, obey fathers, and obey the emperor. (Obeying the wife goes without saying).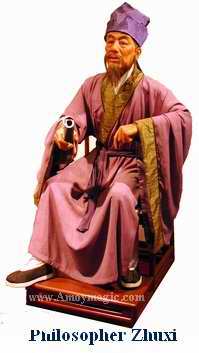 A painting showed Chinese on horseback playing a game with a stick and ball, so evidently polo was made in China as well¡ªor introduced by Marco Polo.

The museum¡¯s most macabre exhibit is the pair of male and female mummies unearthed in August 1986 in Chayuan village. Buried somewhere around AD 1235, the corpses were so well preserved that their joints were still nimble, and their clothes retained their bright colors. The female mummy¡¯s twisted feet showed all too graphically the torture of foot binding.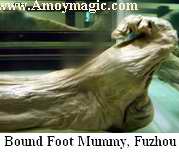 In America we say that when you die, you can¡¯t take it with you¡ªbut these two sure did. Mummy and daddy were buried with lacquerware, silverware, and several hundred pieces of silk, cotton, and linen.
I said to a Chinese, ¡°This is like The Mummy Returns!¡±

He said, ¡°Egyptian mummies have nothing on ours. Ours are intact, and don¡¯t need us to reinstall their internal organs before conquering the world!¡± Then he wailed, ¡°We¡¯re doomed!¡± I laughed¡ªbut the others glared at us as if we were disrespectful of the desiccated dead.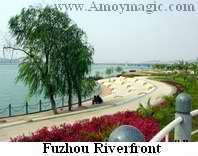 Riverside Park A century ago, most wealthy Laowai and Laonei whiled away hot summer days cruising up and down the more peaceful stretches of the Min River on houseboats, and having picnics within the shady bamboo forests. In 1923, Brand described the idyllic scenery:

¡°Crossing on stepping stones one came out on what reminded one very much of English scenery. Then ascending the hill one came to the glorious Bamboo Groves, and how romantic it was to walk through these groups of feathery bamboos, occasionally coming to an opening and gazing upon a scene of perfect beauty¡­ hills towering above one another in the distance, with the stream running through the valley below, while here and there a water-wheel added a little variety to it all.¡±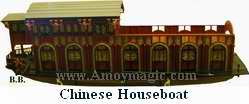 I haven¡¯t seen any houseboats lately, but thousands of Chinese from all walks of life now enjoy strolling along the riverside park, enjoying the fountains, ponds, and statues, or watching the sampans and barges cruise by.


Hotheads & Hot Springs Perhaps Fuzhou¡¯s fiery folk are such hotheads because of the many hot springs! Fujian has hot springs everywhere (Changting, Anxi, Zhangzhou), but Fuzhou is one of China¡¯s three largest hot springs regions, with prodigious amounts of pure mineral water boiling up right in the middle of the city. Many Fuzhou hotels tap right into the springs, offering mineral baths in the room. You can¡¯t get any more convenient than that (though it lacks a certain ambience when the mineral waters arrive by way of a stainless steel faucet).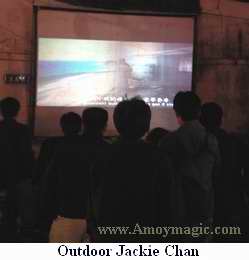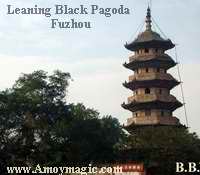 Pagoda Anchorage (Mawei) Click Here for the historic Pagoda Anchorage, China Pagoda, the Sino-French War, Majiang Memorial Hall, etc.

Drum Hill To the east of Fuzhou, on the northern bank of the Min River and up the road from the statue of Yan Fu ??the great philosopher and translator, is Yonggyuan Temple, considered Fujian¡¯s most important temple. The 3,350 meter hill is named after the huge, flat drum-like rock on the peak.
Yongquan Temple, built halfway up the mountain in 908, has been renovated so often that the 25 halls are now primarily Ming and Qing architecture. The temple¡¯s claims to fame include a white jade sleeping Buddha (the patron saint of siestas?), and 27,900 volumes of rare Buddhist scriptures, including sutras written in human blood. In its prime the temple had 1,500 monks, and the kitchen still has four giant 1,000-year-old pots, one of which is large enough that is supposedly feeds 1,000 monks at a shot.

The forested slopes of Drum Hill are cool even in summer, and perfect for strolls along the well-maintained paths that crisscross every hill in the country. And over the crest of the mountain lies the summer resort frequented by foreigners and wealthy Chinese earlier in the century. I¡¯ve read many stories of foreigners who passed the sultry summers on the mountain in their cottages. They played tennis, swam in the river, held theatrical performances, hunted the tigers that once prowled all of Fujian, and replaced roofs blown off by blustering typhoons.

Nowadays, most of the old cottages have been torn down and the mountain has become a summer resort for government and business leaders, with a broad concrete highway reaching to the very peak.

FUZHOU LINKS


Fuzhou History (birthplace of Chinese Maritime Industry)


Pagoda Island (famous "China Pagoda," Sino-French Battle, etc.)


Foochow's Haunted Nantai Island Tour (Includes old Consulates, Rotary Club, haunted churches...)


Heart of Fuzhou: 3 Wards & 7 Streets, Li Family House, Banyan City, Yushan Hill and White Pagoda, Clay People, etc.


Qingjing Mosque


Secret Valley of Yongtai (Fujian's Best Kept Secret)


Fuzhou Cuisine (Buddha Jumps the Wall Soup, Pounded Pork, Fish Balls)


Fuzhou Shopping
Note: Fuzhou was also spelled Foochow, Fuh-chau, Fuhchau, etc.
TRAVEL LINKS

Favorite Fujian Sites

Fujian Foto Album

Xiamen

Gulangyu

Fujian Guides

Quanzhou

Z
hangzhou

Longyan

Wuyi Mtn

Ningde

Putian

Sanming

Zhouning

Taimu Mtn.

Roundhouses

Bridges

Jiangxi

Guilin

Order Books

Readers' Letters Travelogues by Scott Ballantyne

Click to E-mail


Readers'Letters

Last Updated: May 2007


Back to Top



FAQs Questions?


Real Estate


Shopping

Maps


Trains

Busses


Hotels

News (CT)


Medical & Dental


YMCA Volunteer!


XICF Fellowship


Churches


Expat Groups


Maids

Phone #s



Xiamen University


XIS(Int'l School)


Study Mandarin


CSP(China Studies)


Library

Museums


History



Restaurants

Asian


Veggie

Junk Food


Chinese

Italian


International


Visas 4 aliens



Massage!


Beaches

Fly Kites


Sports

Boardwalk


Parks

Pets


Birdwatching


Kung Fu

Hiking


Music Events


Festival&Culture


Humor&

Fun Fotos



Doing Business


Jobs!(teach/work)


Hire Workers


Foreign Companies


CIFIT (Trade Fair)


MTS(Translation)



Back to Top