Click to Access
OUTSIDE China


Click to Access
INSIDE China



Xiamen

Gulangyu


Jimei

Tong'an


Jinmen

Zhangzhou


Quanzhou

Wuyi


Fuzhou new!


#1Fujian Sites!


Fujian Foto Album


Books on Fujian


Readers'Letters


Ningde

Zhouning


Longyan

Sanming


Putian

Bridges


Travel Info,


Hakka Roundhouses


Travel Agents


Mosques


Temples



Amoy People!


Darwin Driving


Amoy Tigers


Chinese Inventions


Tibet in 80 Days!


Dethroned!


Misc.Writings


Latest News


Lord of Opium


Back to Main Page
AmoyMagic--Guide to Xiamen & Fujian

Copyright 2001-7 by Sue Brown & Dr. Bill

Order Books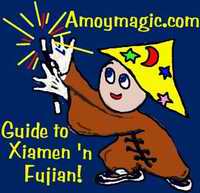 Fuzhou, Ancient Capital of Fukien
City of Merchants, Adventurers, Scholars
Adapted from "Fujian Adventure", Magic Fujian, and other books.

Fuzhou Links

History

Haunted Nantai Island (Foreign Devils & Chinese Ghosts)


Pagoda Anchorage

Downtown

Cuisine

Shopping

Secret Yongtai

Mosque

Hotels

¡°Thence I passed eastward to a certain city called Fuzhou¡­The city is a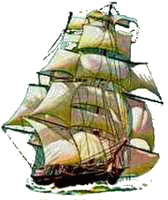 mighty fine one, and stands upon the sea¡­Here be seen the greatest cocks in the world.¡± (Friar Odoric¡ªFranciscan in China, 1323-1327)


Tall Ships and Tall Tales Three magnificent tea clippers, vast sails billowing, raced out of Fuzhou¡¯s Pagoda Anchorage on May 30th, 1866, in a breakneck race to London. They didn¡¯t see each other again until September 6th ¡ª3 months and 15,700 miles later. The Taiping beat the Ariel by 30 minutes, and the Serica sailed in a few hours later!

Majestic tall ships plied the waters between Fuzhou, London, and New York, trading in silk, tea, and opium. They were built for beauty as well as for speed¡ªcopper bottoms, black topsides, gold or yellow trim, varnished masts and spars, bleached teak decks, snow-white sails, and enough gleaming brass trim to blind enraptured onlookers as the ships sailed out of the jaws of the mighty Min River, which carries more water than the Yangtze--though not all made it.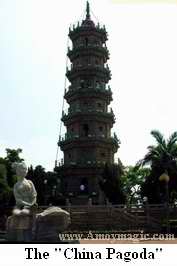 Between Pagoda Anchorage and the sea, the Min surged through a narrow gorge that was so tight that old salts claimed monkeys jumping from one side to the other got their tails caught in the rigging. These were tall tales, for tall ships, but many a ship, like the Oriental in 1853 and the Vision in 1857, sank in the mighty Min. No one took the Min for granted¡ªespecially the Chinese, who were the greatest ocean-going adventurers of the ancient world. About the end of 1431, prior to his last voyage, the great mariner Zhenghe himself erected a table near the mouth of the Min, in what is now Changle. With all modesty he noted that his unparalleled expeditions had unified seas and continents, and that all nations had become subjects of China, bearing precious gifts to the Ming Emperor.

¡°The vessels which they navigate to Cathay be very big, and have upon the ship¡¯s hull more than one hundred cabins, and with a fair wind they carry ten sails¡­¡± Friar Jordanus

Neolithic Fuzhou Fuzhou was first settled by Neolithic tribes about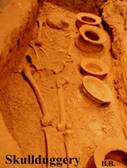 5,000 years ago. The first city walls were raised in 202 B.C. when it became the capital city of Minyue. Fuzhou was named after Fu Mountain, which Chinese say resembles the character Fu (¸£, Prosperity). If so, it¡¯s sloppy calligraphy. I think that rumor was started by someone named Fu Ling Yu.

Ancient Economic Powerhouse Fuzhou folk were trading overseas before most of China knew seas existed, and the city was an international trading port by the Tang Dynasty (618-907 AD). Although Fuzhou was an economic powerhouse, her entrepreneurial people balanced commerce with culture and education. The great Tang Dynasty writer, Han Yu, said the cultural level of Fuzhou equaled that of China¡¯s capital, Chang¡¯An. The city had several nationally famous academies, and China¡¯s first public library, Chaojing Tower.

Revolutionists Fuzhou folks¡¯ fearlessness in blazing new trails, economically, politically, or culturally, perhaps explains why the city was twice designated the temporary capital of China, and in 1933 was looked upon as the ¡°Revolutionary Capital of China.¡± Fuzhou was home to some of China¡¯s greatest shipbuilders, merchants, poets, philosophers, and patriots, like Linze Xu. At least 850,000 overseas Chinese claim Fuzhou as their hometown.

Fiery Folk The Mongols had their hands full when Marco Polo wrote:

¡°Now this city of Fuzhou is the key of the kingdom which is called Chonka¡­and subject to the Great Khan. And a large garrison is maintained there by that prince to keep the kingdom in peace and subjection. For the city is one which is apt to revolt on very slight provocation¡­.¡±

Fuzhou folk were still not keen on foreign devils 550 years later, when they forced their way in after the Opium War. Maybe that¡¯s why the Chinese stuck the lot of them out on a haunted island¡­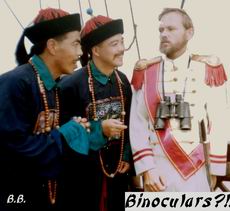 Nantai Island¡­Foreign Devils and Ghosts. The first Opium War forced Fuzhou open as a Treaty Port¡ªat least on paper. But battleships and lawyers didn¡¯t win the people¡¯s hearts, and the Laowai still had to fight tooth and nail to get land for commerce and housing. I had a taste of their poor reception when I played Admiral Elliott in a TV series. (Like the modern binoculars? At least I persuaded them to ditch the telephone and typewrite on my London desk!).

After opening the Canton consulate in July 1843, George Tradescant Lay arrived in Fuzhou in July 1844. But Fuzhou folk didn¡¯t welcome him with wide-open arms! He was forced off his ship at Pagoda Island and made to go up river in a small boat. Fuzhou authorities allocated him a house in a poor class neighborhood.. The house was built of boards, over the river, which flooded twice a day. He was later moved to another house which he complained, ¡®kept out neither sun nor rain.¡¯

Foreigners had opened Fuzhou¡¯s doors at gunpoint, and now they insisted on living inside the city walls¡ªas if familiarity would breed camaraderie rather than contempt. The Chinese, however, were ingenious in finding reasons to keep the Laowai outside the gates. ¡°Tall buildings destroy the fengshui,¡± was a favorite ploy.

Eventually the Chinese found a solution: put the foreign devils with the

ghosts! The foreigners were allowed to build their settlement, with its fine colonial mansions, consulates, and churches, upon an old burial ground on Nantai Island, to the south. This made it tough to keep servants, who were afraid of ghosts, but at least it helped keep the rent down. ... Click for Tour of Haunted Nantai Island.

FUZHOU LINKS


Fuzhou History (birthplace of Chinese Maritime Industry)


Pagoda Island (famous "China Pagoda," Sino-French Battle, etc.)


Foochow's Haunted Nantai Island Tour (Includes old Consulates, Rotary Club, haunted churches...)


Heart of Fuzhou: 3 Wards & 7 Streets, Li Family House, Banyan City, Yushan Hill and White Pagoda, Clay People, etc.


Qingjing Mosque

Secret Valley of Yongtai (Fujian's Best Kept Secret)


Fuzhou Cuisine (Buddha Jumps the Wall Soup, Pounded Pork, Fish Balls)


Fuzhou Shopping
Note: Fuzhou was also spelled Foochow, Fuh-chau, Fuhchau, etc.





TRAVEL LINKS

Favorite Fujian Sites

Fujian Foto Album

Xiamen

Gulangyu

Fujian Guides

Quanzhou

Z
hangzhou

Longyan

Wuyi Mtn

Ningde

Putian

Sanming

Zhouning

Taimu Mtn.

Roundhouses

Bridges

Jiangxi

Guilin

Order Books

Readers' Letters Travelogues by Scott Ballantyne

Click to E-mail


Readers'Letters

Last Updated: May 2007


Back to Top



FAQs Questions?


Real Estate


Shopping

Maps


Trains

Busses


Hotels

News (CT)


Medical & Dental


YMCA Volunteer!


XICF Fellowship


Churches


Expat Groups


Maids

Phone #s



Xiamen University


XIS(Int'l School)


Study Mandarin


CSP(China Studies)


Library

Museums


History



Restaurants

Asian


Veggie

Junk Food


Chinese

Italian


International


Visas 4 aliens



Massage!


Beaches

Fly Kites


Sports

Boardwalk


Parks

Pets


Birdwatching


Kung Fu

Hiking


Music Events


Festival&Culture


Humor&

Fun Fotos



Doing Business


Jobs!(teach/work)


Hire Workers


Foreign Companies


CIFIT (Trade Fair)


MTS(Translation)



Back to Top