Click to Access
OUTSIDE China


Click to Access
INSIDE China



Xiamen

Gulangyu


Jimei

Tong'an


Jinmen

Zhangzhou


Quanzhou

Wuyi


Fuzhou new!


#1Fujian Sites!


Fujian Foto Album


Books on Fujian


Readers'Letters


Ningde

Zhouning


Longyan

Sanming


Putian

Bridges


Travel Info,


Hakka Roundhouses


Travel Agents


Mosques


Temples



Amoy People!


Darwin Driving


Amoy Tigers


Chinese Inventions


Tibet in 80 Days!


Dethroned!


Misc.Writings


Latest News


Lord of Opium


Back to Main Page
AmoyMagic--Guide to Xiamen & Fujian

Copyright 2001-7 by Sue Brown & Dr. Bill

Order Books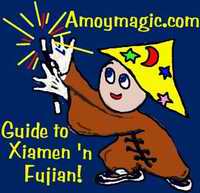 Fuzhou, Pagoda Island
Adapted from "Fujian Adventure", Magic Fujian, and other books.

Fuzhou Links

History

Haunted Nantai Island (Foreign Devils & Chinese Ghosts)


Pagoda Anchorage

Downtown

Cuisine

Shopping

Secret Yongtai

Mosque
Pagoda Anchorage (Mawei)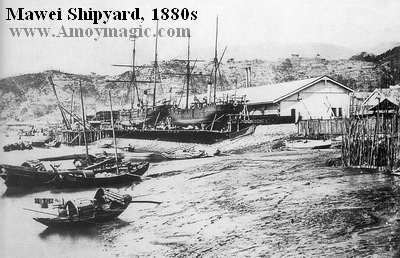 ¡°How well I remember reaching Sharp Peak on the 28th day of April, 1887! It was a perfect day and the journey up the river was most fascinating, for it was only three years before this that the French Bombardment had occurred, and there were still evidences of it in the battered forts and derelicts at Pagoda Anchorage. Also to be seen were the graves of the large number of Chinese who lost their lives in that one-sided battle. H. Shelley Brand, January 23rd, 1932.

Fifteen minutes east of Fuzhou lies Mawei, cradle of Chinese seamanship, and site of the famous Pagoda Anchorage. Chinese named the giant rocks, ¡°Double Turtle Guarding the Door,¡± ¡°Five Tigers Defending the Gate,¡± and ¡°Warriors Leg.¡± But turtles and tigers couldn¡¯t take on the French, who on a sleepy Saturday morning in August 1884 destroyed the Chinese fleet in about half an hour.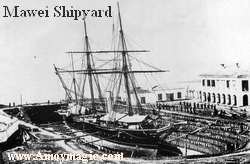 The French commander had in fact warned foreign consulates and the Chinese the day before, but international law required at least 30 days notice. The French refused China¡¯s request for one more day to prepare, attacked, and seven hundred Chinese seamen now lie in a mass grave beside the Memorial Hall of Majiang River Naval Battle.

Memorial Hall of Majiang River Naval Battle
Originally built as The Hall of Loyalty in 1884, the memorial hall has an extensive display of artifacts, documents, and photos, as well as the martyr memorial and the mausoleum.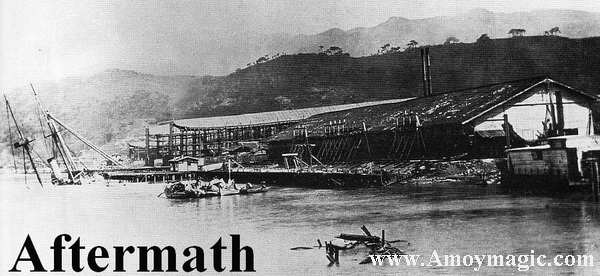 On the peak of Maxian, behind the museum, you¡¯ll find the old Plum Garden Prison, the British Consulate Annex, and the Mercy Hospital (which has been restored by the American Chinese who owns the hill). I suspect the hospital was used for the consulate officials who went crazy at Pagoda Island! One writer said it was rare to find ¡°consular officials who did not go mad or become depressed during their posting at this isolated treaty port.¡± And I could see why they did. A local said to me, ¡°Mawei Shipyard is absolutely fascinating. You should see it! But foreigners aren¡¯t allowed to enter.¡±
It would get to me too!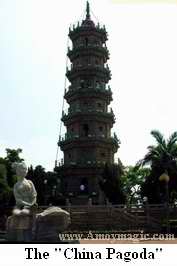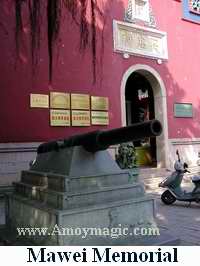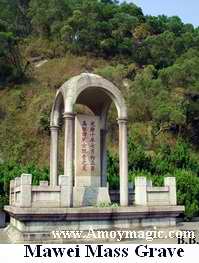 Luoxing Pagoda. Mawei¡¯s great landmark is the Southern Song Dynasty Luoxing (Falling Star) Pagoda, built by Lady Liu Qiniang. This seven-story, 31.5m high octagonal granite pagoda has been a mariner¡¯s landmark for centuries, and even the great explorer Zhenghe drew it i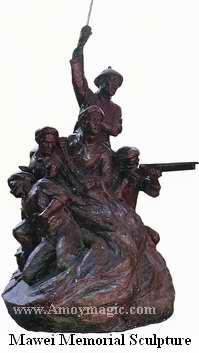 nto his navigational charts. During the Ming Dynasty, Europeans gave Luoxing the highly imaginative English name of ¡°China Pagoda.¡±

Drum Hill To the east of Fuzhou, on the northern bank of the Min River and up the road from the statue of Yan Fu ??the great philosopher and translator, is Yonggyuan Temple, considered Fujian¡¯s most important temple. The 3,350 meter hill is named after the huge, flat drum-like rock on the peak.
FUZHOU LINKS


Fuzhou History (birthplace of Chinese Maritime Industry)


Pagoda Island (famous "China Pagoda," Sino-French Battle, etc.)


Foochow's Haunted Nantai Island Tour (Includes old Consulates, Rotary Club, haunted churches...)


Heart of Fuzhou: 3 Wards & 7 Streets, Li Family House, Banyan City, Yushan Hill and White Pagoda, Clay People, etc.


Qingjing Mosque


Secret Valley of Yongtai (Fujian's Best Kept Secret)


Fuzhou Cuisine (Buddha Jumps the Wall Soup, Pounded Pork, Fish Balls)


Fuzhou Shopping
Note: Fuzhou was also spelled Foochow, Fuh-chau, Fuhchau, etc.
TRAVEL LINKS

Favorite Fujian Sites

Fujian Foto Album

Xiamen

Gulangyu

Fujian Guides

Quanzhou

Z
hangzhou

Longyan

Wuyi Mtn

Ningde

Putian

Sanming

Zhouning

Taimu Mtn.

Roundhouses

Bridges

Jiangxi

Guilin

Order Books

Readers' Letters Travelogues by Scott Ballantyne

Click to E-mail


Readers'Letters

Last Updated: May 2007


Back to Top



FAQs Questions?


Real Estate


Shopping

Maps


Trains

Busses


Hotels

News (CT)


Medical & Dental


YMCA Volunteer!


XICF Fellowship


Churches


Expat Groups


Maids

Phone #s



Xiamen University


XIS(Int'l School)


Study Mandarin


CSP(China Studies)


Library

Museums


History



Restaurants

Asian


Veggie

Junk Food


Chinese

Italian


International


Visas 4 aliens



Massage!


Beaches

Fly Kites


Sports

Boardwalk


Parks

Pets


Birdwatching


Kung Fu

Hiking


Music Events


Festival&Culture


Humor&

Fun Fotos



Doing Business


Jobs!(teach/work)


Hire Workers


Foreign Companies


CIFIT (Trade Fair)


MTS(Translation)



Back to Top