Click to Access
OUTSIDE China


Click to Access
INSIDE China



Xiamen

Gulangyu


Jimei

Tong'an


Jinmen

Zhangzhou


Quanzhou

Wuyi


Fuzhou new!


#1Fujian Sites!


Fujian Foto Album


Books on Fujian


Readers'Letters


Ningde

Zhouning


Longyan

Sanming


Putian

Bridges


Travel Info,


Hakka Roundhouses


Travel Agents


Mosques


Temples



Amoy People!


Darwin Driving


Amoy Tigers


Chinese Inventions


Tibet in 80 Days!


Dethroned!


Misc.Writings


Latest News


Lord of Opium


Back to Main Page
AmoyMagic--Guide to Xiamen & Fujian

Copyright 2001-7 by Sue Brown & Dr. Bill

Order Books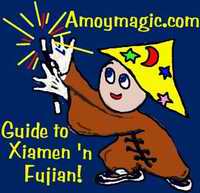 Fuzhou¡¯s Specialties and Shopping
Adapted from "Fujian Adventure", Magic Fujian, and other books.

Fuzhou Links

History

Haunted Nantai Island (Foreign Devils & Chinese Ghosts)


Pagoda Anchorage

Downtown

Cuisine

Shopping

Secret Yongtai

Mosque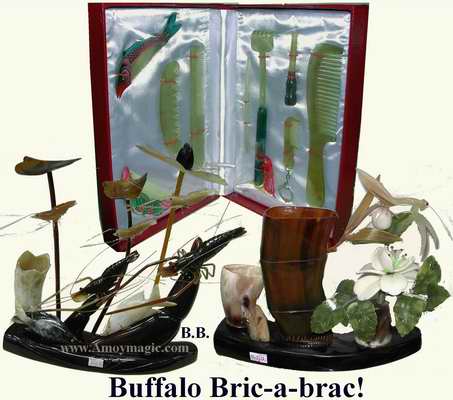 Fuzhou is famous for many handicrafts, from wooden sculptures and shoushan stone carvings, jade sculpture, and bamboo handicrafts to porcelain, paper lanterns, and paper parasols (which Japanese borrowed centuries ago with a total disregard for intellectual property rights). I could literally lose myself in the intricate miniature worlds of cork carvings like the one at the right, which graces our living room. And Fuzhou is also famous for gold and silver jewelry; the Fuhui Jewelry Mansion is the largest such enterprise in China.

But the jury is still out on buffalo horn combs, because if there¡¯s anything worse than being bamboozled8, its being buffaloed.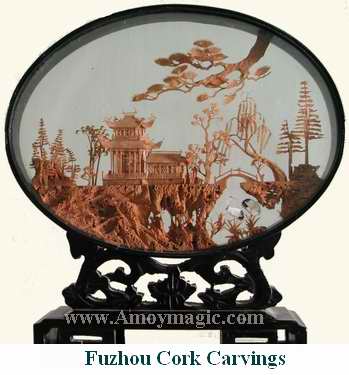 Buffalo Horns Even a foreign barbarian like myself can see the beauty in buffalo horn artistry. I suspect even the buffalo itself would feel honored to have been a part of such creations. But I¡¯m not so sure about the exalted virtues that Chinese ascribe to buffalo combs. What¡¯s wrong with good old fashioned (by which I mean cheap) plastic?

I understand why the counter girls plug buffalo hair combs and hair pins, but even neighbors with no vested interests insist that natural buffalo horn is better the hair and head, and cures everything from baldness to brainlessness.

Still, they¡¯re beautifully crafted. And who knows¡­


Bodiless Lacquerware is a horse (or buffalo) of another color10, and has long been coveted by connoisseurs and novices alike, proving that chic fashion models aren¡¯t the only bodiless commodity in high demand.

This is Fuzhou¡¯s most famous handicraft, and one of China¡¯s three great treasures (the other two being Beijing cloisonn¨¦ and Jingdezhen).

From 1898 to 1937, this most seductively delicate of all lacquer arts won 16 gold medals in international fairs in Berlin, Paris, Tokyo and Panama. And when you understand the difficulties and dangers of creating lacquerware, it¡¯s no surprise that the Chinese were the first ones to have the persistence and patience to find a way to do it (over 4,000 years ago, some claim).

Bodiless lacquerware is built up from layers of sap from the lac tree¡ªa substance so poisonous that tappers must armor themselves head to toe, and afterwards wash their body in solutions to counteract the toxic effects. But the end result of their labors epitomizes the patience of the Orient.

Epitomy of the Orient In 1933, Ms. Eunice Thomas wrote in a paper for the Anti-Cobweb Society in Fuzhou,

¡°The number of coats put on varies from only a few to perhaps a hundred in the case of the best gold lacquer. When you remember that each coat takes from five to seven days to dry, you will understand why it is necessary to wait a year for some of the finest pieces, and you will give up trying to hurry the East, especially when the slowness of the East is due to care and precision, and not laziness or inertia. The many materials used to rub down the various layers of lacquer are carefully graded, beginning with whet-stone and gradually working down to fine human hair which needs the heat of the worker¡¯s bare hand to produce the best results¡­

¡°¡®It is only the Easterner who can combine the imagination of the artist with the technical powers and steady perseverance of the ant or the bee.¡¯ Lacquer seems to stand as the perfect exemplification of the Chinese proverb, ¡®Done Leisurely, done well.¡¯¡±

The Fuzhou Bodiless Lacquerware Factory, (Fuzhou Di Er Tuo Tai Qi Qi Chang), on May 4th St., has been in business over 200 years and puts out more than 3,000 lacquer items, from vases, plates and boxes to standing screens.

The Fuzhou Stone Carving Factory (Fuzhou Shi Diao Chang), on June 1st Road, carries on the 1500 year old tradition of carving Shou Shan stone, producing over 1,000 various products.

And now we proceed, as leisurely as a Laowai is able, to Fuzhou¡¯s backyard and one of Fujian¡¯s great treasures, Yongtai!


Try these other Fuzhou sites:
Fuzhou Panda World¡ªthe only panda research site outside of Beijing and the panda¡¯s home of Sichuan province.
Forest Park¡ªone of the top 20 in China. It¡¯s out of town, so take the 945 or 811 bus.
Qing Zhen Mosque¡ªsupposedly started building in 628 AD
Fuzhou Confucian Literary Temple¡ªstarted construction in 921 AD.
Fuzhou Municipal Museum¡ªtake 971 or 972 bus.
Linzexu Statue, on the south side of Fuzhou. It is 7.75 m high, weighs 7.3 tons, which I believe. I couldn¡¯t move it.

FUZHOU LINKS


Fuzhou History (birthplace of Chinese Maritime Industry)


Pagoda Island (famous "China Pagoda," Sino-French Battle, etc.)


Foochow's Haunted Nantai Island Tour (Includes old Consulates, Rotary Club, haunted churches...)


Heart of Fuzhou: 3 Wards & 7 Streets, Li Family House, Banyan City, Yushan Hill and White Pagoda, Clay People, etc.


Qingjing Mosque

Secret Valley of Yongtai (Fujian's Best Kept Secret)


Fuzhou Cuisine (Buddha Jumps the Wall Soup, Pounded Pork, Fish Balls)


Fuzhou Shopping
Note: Fuzhou was also spelled Foochow, Fuh-chau, Fuhchau, etc.





TRAVEL LINKS

Favorite Fujian Sites

Fujian Foto Album

Xiamen

Gulangyu

Fujian Guides

Quanzhou

Z
hangzhou

Longyan

Wuyi Mtn

Ningde

Putian

Sanming

Zhouning

Taimu Mtn.

Roundhouses

Bridges

Jiangxi

Guilin

Order Books

Readers' Letters Travelogues by Scott Ballantyne

Click to E-mail


Readers'Letters



FAQs Questions?


Real Estate


Shopping

Maps


Trains

Busses


Hotels

News (CT)


Medical & Dental


YMCA Volunteer!


XICF Fellowship


Churches


Expat Groups


Maids

Phone #s



Xiamen University


XIS(Int'l School)


Study Mandarin


CSP(China Studies)


Library

Museums


History



Restaurants

Asian


Veggie

Junk Food


Chinese

Italian


International


Visas 4 aliens



Massage!


Beaches

Fly Kites


Sports

Boardwalk


Parks

Pets


Birdwatching


Kung Fu

Hiking


Music Events


Festival&Culture


Humor&

Fun Fotos



Doing Business


Jobs!(teach/work)


Hire Workers


Foreign Companies


CIFIT (Trade Fair)


MTS(Translation)



Back to Top