Click to Access
OUTSIDE China


Click to Access
INSIDE China



Xiamen

Gulangyu


Jimei

Tong'an


Jinmen

Zhangzhou


Quanzhou

Wuyi


Fuzhou new!


#1Fujian Sites!


Fujian Foto Album


Books on Fujian


Readers'Letters


Ningde

Zhouning


Longyan

Sanming


Putian

Bridges


Travel Info,


Hakka Roundhouses


Travel Agents


Mosques


Temples



Amoy People!


Darwin Driving


Amoy Tigers


Chinese Inventions


Tibet in 80 Days!


Dethroned!


Misc.Writings


Latest News


Lord of Opium


Back to Main Page
AmoyMagic--Guide to Xiamen & Fujian

Copyright 2001-7 by Sue Brown & Dr. Bill

Order Books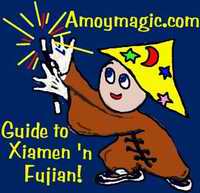 Fuzhou's Historic Qingjing Mosque


(Mohammed's Disciples in Fujian?)
Adapted from "Fujian Adventure", Magic Fujian, etc.

Fuzhou Links

History

Haunted Nantai Island (Foreign Devils & Chinese Ghosts)


Pagoda Anchorage

Downtown

Cuisine

Shopping

Secret Yongtai

Mosque

Fujian Mosques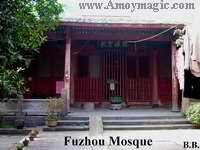 Fuzhou's Qingjing Mosque After 3 Wards and 7 Streets I set off in search of Qingjing Mosque to see the ancient tablet that claims Mohammed sent disciples to Quanzhou. Chinese used to joke about the Muslims who traded gems for silks and tea, saying, ¡°Treasure In, Tea Out.¡±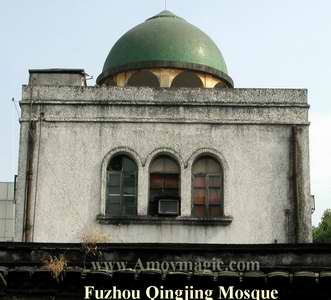 A sign on Jintai Road claimed Qingjing was up a small alley to the north. I wandered about for 45 minutes. A policeman said go this way, an apple seller said another, a barber said yet a third, and a shopkeeper said he¡¯d never heard of it.

I walked all of August 17th Street, from the Provincial Government office on the north to the leaning Black Pagoda on the south. (They should build a Pizza Hut there, and call it the Leaning Tower of Pizza).

Streets were packed dandies strutting their Sunday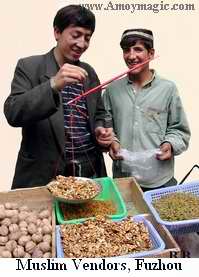 finery, and shoppers carrying purchases from Red Earth Cosmetics, Guess Fashions, Pierre Cardin, Elle Fashion, Trendy Apparel, Justify Fashion Store, Power Tennis Shoes, Hush Puppy, Esprit, and Hang Ten. One fellow with slicked back hair and a black pinstripe suit strutted proudly up the sidewalk, a 4 inch ebony cigarette holder dangling jauntily from his lips. Interesting¡ªbut where¡¯s the mosque?!

At long last I came across two fellows in embroidered Muslim caps selling raisins, walnuts, and chestnuts roasted in black sand. I asked where the mosque was. They grinned and pointed to the noodle shop in front of me, beside the August 17th Street theatre, which was showing ¡°Swordfish¡± and ¡°The Mask of Zorro.¡± I bought a flat Muslim bread, and chatted with the proprietor¡ªa Muslim lady from Shandong Province. She said the mosque was behind the noodle shop, and pointed to door in back. It was low and narrow, like something Alice would have used while chasing the White Rabbit.



Behind the door was a small courtyard, with a fig tree and a gate with an Arabic inscription. The mosque was behind the gate¡ªbut it looked more like a Chinese wooden temple! I could tell it was Muslim only by the plain interior, with its green carpet and prayer rugs. The only Muslim architecture in sight was the dome above the noodle shop.

But before the mosque/temple was what I¡¯d come to find¡ªthe stele claiming four of Mohammed¡¯s disciples came to China in 628 A.D. The stele is Ming Dynasty, not a firsthand account, but a long tradition supports the legend, and archaeologists have verified that Quanzhou¡¯s tombs of the two ¡°Muslim Saints¡± are Tang Dynasty.

An elder invited me in for tea and then got right down to brass tacks.7 ¡°Why do Christians believe in the Holy Trinity? Muslims worship only one God.¡±

Young Muslims gathered as talked theology and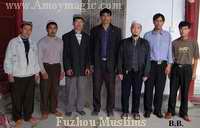 history. They were good-looking and proud, and I could imagine their ancestors pounding across the desert on camels. Lawrence of Arabia, and all that. The mosque has a congregation of over 1,000, and though I¡¯m a Christian, I was invited to join the 200 hundred or so who worship on Fridays at 1:00 pm.


FUZHOU LINKS


Fuzhou History (birthplace of Chinese Maritime Industry)


Pagoda Island (famous "China Pagoda," Sino-French Battle, etc.)


Foochow's Haunted Nantai Island Tour (Includes old Consulates, Rotary Club, haunted churches...)


Heart of Fuzhou: 3 Wards & 7 Streets, Li Family House, Banyan City, Yushan Hill and White Pagoda, Clay People, etc.


Qingjing Mosque

Secret Valley of Yongtai (Fujian's Best Kept Secret)


Fuzhou Cuisine (Buddha Jumps the Wall Soup, Pounded Pork, Fish Balls)


Fuzhou Shopping
Note: Fuzhou was also spelled Foochow, Fuh-chau, Fuhchau, etc.





TRAVEL LINKS

Favorite Fujian Sites

Fujian Foto Album

Xiamen

Gulangyu

Fujian Guides

Quanzhou

Z
hangzhou

Longyan

Wuyi Mtn

Ningde

Putian

Sanming

Zhouning

Taimu Mtn.

Roundhouses

Bridges

Jiangxi

Guilin

Order Books

Readers' Letters Travelogues by Scott Ballantyne

Click to E-mail


Readers'Letters

Last Updated: May 2007


Back to Top



FAQs Questions?


Real Estate


Shopping

Maps


Trains

Busses


Hotels

News (CT)


Medical & Dental


YMCA Volunteer!


XICF Fellowship


Churches


Expat Groups


Maids

Phone #s



Xiamen University


XIS(Int'l School)


Study Mandarin


CSP(China Studies)


Library

Museums


History



Restaurants

Asian


Veggie

Junk Food


Chinese

Italian


International


Visas 4 aliens



Massage!


Beaches

Fly Kites


Sports

Boardwalk


Parks

Pets


Birdwatching


Kung Fu

Hiking


Music Events


Festival&Culture


Humor&

Fun Fotos



Doing Business


Jobs!(teach/work)


Hire Workers


Foreign Companies


CIFIT (Trade Fair)


MTS(Translation)



Back to Top