Click to Access
OUTSIDE China


Click to Access
INSIDE China



Xiamen

Gulangyu


Jimei

Tong'an


Jinmen

Zhangzhou


Quanzhou

Wuyi


Fuzhou new!


#1Fujian Sites!


Fujian Foto Album


Books on Fujian


Readers'Letters


Ningde

Zhouning


Longyan

Sanming


Putian

Bridges


Travel Info,


Hakka Roundhouses


Travel Agents


Mosques


Temples



Amoy People!


Darwin Driving


Amoy Tigers


Chinese Inventions


Tibet in 80 Days!


Dethroned!


Misc.Writings


Latest News


Lord of Opium


Back to Main Page
AmoyMagic--Guide to Xiamen & Fujian

Copyright 2001-7 by Sue Brown & Dr. Bill

Order Books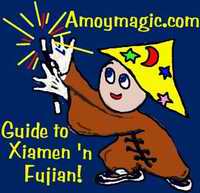 Fuzhou¡¯s Off the Wall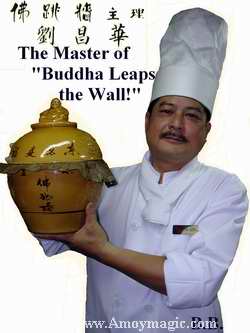 Cuisine
or, Why Buddha Jumped the Wall
Adapted from "Fujian Adventure", Magic Fujian, etc.

Fuzhou Links

History

Haunted Nantai Island (Foreign Devils, Chinese Ghosts)


Pagoda Anchorage

Downtown

Cuisine

Shopping

Secret Yongtai

Mosque

After exploring Fuzhou and shopping for Shoushan stone carvings, cork and wood carvings, and bodiless lacquerware, I feed both body and soul with Fuzhou¡¯s famous foods.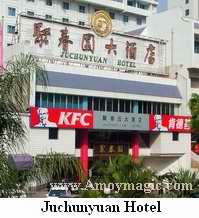 Fujian cuisine used to rank low on the list of China¡¯s eight major cuisines until a chef from Fuzhou¡¯s famous Juchunyuan Hotel wowed Beijing culinary judges with three of his dishes. Ever since, people have flocked to Fuzhou to feast on Gaotang Haibang (Changle clams), Qishi She (a delicacy named after the tongue of an ancient beautiful maid!), and Hongzao Jirou (a chicken dish). And the Juchunyuan Hotel, at the East Gate above the KFC, still has the best Buddha Leaps the Wall!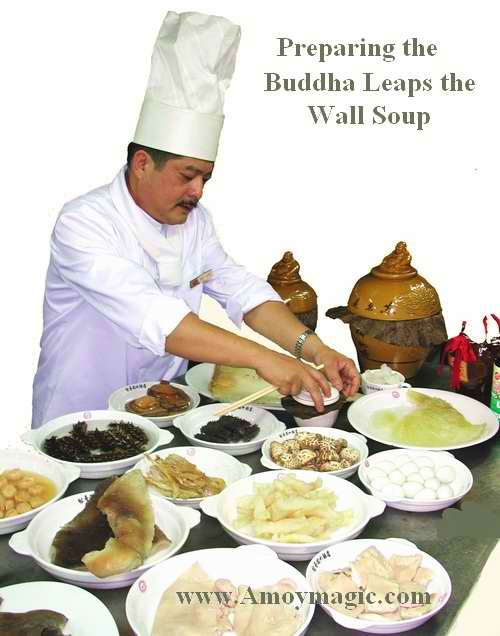 Buddha Leaps the Wall is by far Fuzhou¡¯s most famous dish. Ages ago, a fellow decided to keep various meats and vegetables from spoiling by stewing them for over a day. Locals say that once upon a time, a monk was so entranced by the stew¡¯s aroma that, even though he was a vegetarian, he leaped a wall to get a bowlful.

I told Professor Chen De Ren, ¡°Supermarkets sell ¡®Buddha Leaps the Wall¡¯ kits for only 25 Yuan.¡±

¡°Impossible!¡± he cried. ¡°It is not the real thing! Buddha Leaps the Wall must be made in large batches, for ten or more people. Over 30 choice ingredients are stewed in an aged liquor, and it costs at least 1000 Yuan a pot!¡± Right.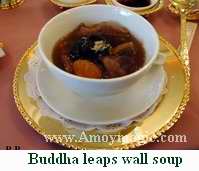 Monk Jumps the Wall is by far my favorite Fuzhou dish, but I¡¯m not jumping any walls until the price comes down or someone else foots the bill. I¡¯ll stick with places like Nantai Lou, which offer authentic and relatively inexpensive Fuzhou style fast food.

Located on the second floor at the corner of August 17th Street and Jintai Rd., Nantai Lou is always crowded (though it appears the elderly have a greater appreciation for traditional foods than do the youth, who increasingly flock to Western fast food chains and coffee bars).

I like Fuzhou¡¯s famous fish balls, which vary in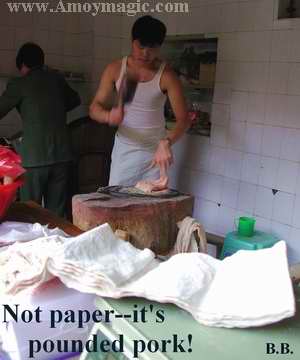 taste, texture and elasticity depending on the ratio of meat to flour and the amount of shrimp. I also enjoy Fuzhou sesame breads, which are round, flat, and have small holes in the middle. Soldiers fighting off Japanese pirates wore the sesame breads on strings around their neck so they could eat on the go. The sweet variety is called Jiandong bing, and the unsweetened is guangbing (named after the heroic general, QiQi Guang).

Fuzhou Pounded Pork is quite a treat! Of course, like most Fujian people, Fuzhou folk argue they have the best pounded pork in the province, if not China. But Fuzhou¡¯s pounded pork is 100% pig, no flour. One pork pounder was a big-armed fellow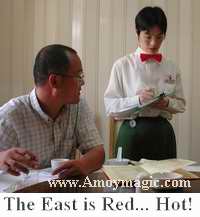 (at least, his hammer arm was big) who pounded away with a wooden mallet for well over half an hour without a break. He pounded the pork until it was so thin and white that I mistook it for the paper they wrap take-out in.

Locals swear that the best Fuzhou snacks are to be had at the award winning shop that used to stand across the street to the south of the tottering black pagoda. The same family has run the business for 3 or 4 generations, and I can¡¯t even begin to describe the offerings. Try them! But first you¡¯ll have to find them. They¡¯ve moved somewhere just down the same street.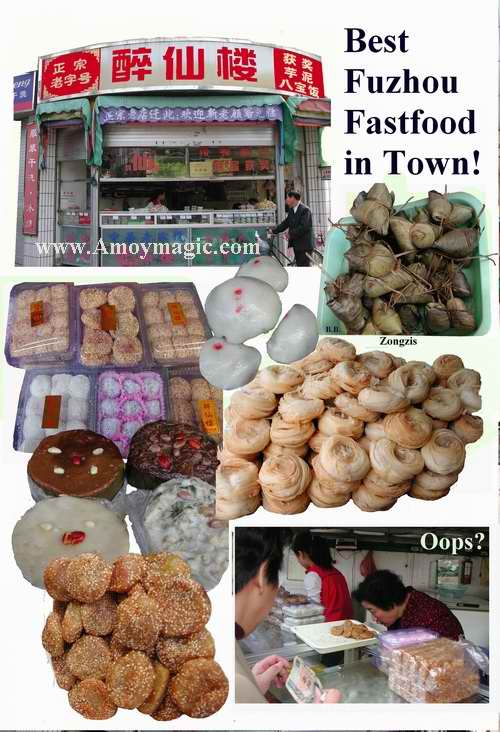 The East is Red Hot When Mao said ¡°The East is Red,¡± he probably meant red peppers. He put hot peppers in everything, including his bread. His favorite dish was the fiery ¡°Twice cooked pork¡± (which sounds to me like a chic name for leftovers).

For a revolutionary cuisine experience, try Fuzhou¡¯s ¡°The East is Red Restaurant.¡± They offer Mao memorabilia and spicy cuisine from the Great Helmsman¡¯s home province, Hunan.

West Lake hotel, Fujian¡¯s finest, overlooks the 1800-year-old manmade West Lake, and has some of the nicest Western food in Fuzhou, though the dividing line between Chinese and Western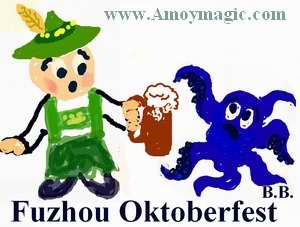 can get blurred. For their German Octoberfest buffet, they served trays of fish heads and fish tails, and barbequed whole baby octopus displayed between the French croissants and apple fritters. I do enjoy a nice barbecued baby octopus, with chewy tentacles and suction cups intact, but not for dessert.

FUZHOU LINKS


Fuzhou History (birthplace of Chinese Maritime Industry)


Pagoda Island (famous "China Pagoda," Sino-French Battle, etc.)


Foochow's Haunted Nantai Island Tour (Includes old Consulates, Rotary Club, haunted churches...)


Heart of Fuzhou: 3 Wards & 7 Streets, Li Family House, Banyan City, Yushan Hill and White Pagoda, Clay People, etc.


Qingjing Mosque

Secret Valley of Yongtai (Fujian's Best Kept Secret)


Fuzhou Cuisine (Buddha Jumps the Wall Soup, Pounded Pork, Fish Balls)


Fuzhou Shopping
Note: Fuzhou was also spelled Foochow, Fuh-chau, Fuhchau, etc.





TRAVEL LINKS

Favorite Fujian Sites

Fujian Foto Album

Xiamen

Gulangyu

Fujian Guides

Quanzhou

Z
hangzhou

Longyan

Wuyi Mtn

Ningde

Putian

Sanming

Zhouning

Taimu Mtn.

Roundhouses

Bridges

Jiangxi

Guilin

Order Books

Readers' Letters Travelogues by Scott Ballantyne

Click to E-mail


Readers'Letters

Last Updated: May 2007


Back to Top



FAQs Questions?


Real Estate


Shopping

Maps


Trains

Busses


Hotels

News (CT)


Medical & Dental


YMCA Volunteer!


XICF Fellowship


Churches


Expat Groups


Maids

Phone #s



Xiamen University


XIS(Int'l School)


Study Mandarin


CSP(China Studies)


Library

Museums


History



Restaurants

Asian


Veggie

Junk Food


Chinese

Italian


International


Visas 4 aliens



Massage!


Beaches

Fly Kites


Sports

Boardwalk


Parks

Pets


Birdwatching


Kung Fu

Hiking


Music Events


Festival&Culture


Humor&

Fun Fotos



Doing Business


Jobs!(teach/work)


Hire Workers


Foreign Companies


CIFIT (Trade Fair)


MTS(Translation)



Back to Top