Click to Access
OUTSIDE China


Click to Access
INSIDE China



Xiamen

Gulangyu


Jimei

Tong'an


Jinmen

Zhangzhou


Quanzhou

Wuyi


Fuzhou new!


#1Fujian Sites!


Fujian Foto Album


Books on Fujian


Readers'Letters


Ningde

Zhouning


Longyan

Sanming


Putian

Bridges


Travel Info,


Hakka Roundhouses


Travel Agents


Mosques


Temples



Amoy People!


Darwin Driving


Amoy Tigers


Chinese Inventions


Tibet in 80 Days!


Dethroned!


Misc.Writings


Latest News


Lord of Opium


Back to Main Page
AmoyMagic--Guide to Xiamen & Fujian

Copyright 2001-7 by Sue Brown & Dr. Bill

Order Books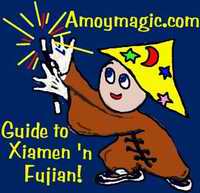 Fuzhou¡¯s Secret Yongtai Valley
Adapted from "Fujian Adventure", Magic Fujian, and other books.

Fuzhou Links

History

Haunted Nantai Island (Foreign Devils & Chinese Ghosts)


Pagoda Anchorage

Downtown

Cuisine

Shopping

Secret Yongtai

Mosque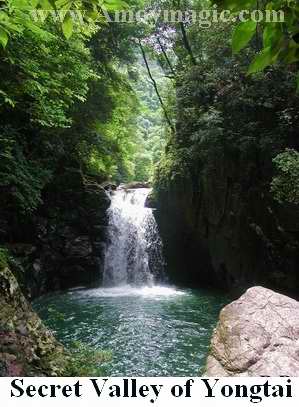 Secret Yongtai! The deep valleys, high mountain meadows, and cascading waterfalls of Yongtai are one of Fujian¡¯s best-kept secrets. While hundreds of thousands of Laonei visit the place each year, few Laowai have heard of it. And then we met Mr. Brian Hodges, General Manager for Rocky Mountain (Fuzhou) Drug Co. Ltd. When he said he spends ever weekend in Yongtai, we saddled up Toyota and headed for this delightful enclave the very next day!

Yongtai was settled during the Stone Age and established as an official county in 766 A.D. The 2,241 sq. km. county has over 77 peaks exceeding 1,000 meters, most of them blanketed in lush pine and bamboo forests nurtured by dozens of waterfalls with names like ¡°Runny Nose Waterfall.¡±
Yongtai has scenery below ground as well, with names like ¡°As You Wish It Cave,¡± ¡°White Cloud Cave,¡± ¡°Ever Joy Cave,¡± ¡°Successful Candidate Cave,¡± and ¡°Immortal Beings Cave.¡±

One of Yongtai¡¯s greatest drawing cards is its 13 hot springs. The Hot Springs Hotel, while plain, offers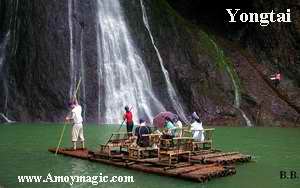 mineral baths on tap, and right next door is a gigantic hot springs swimming pool that stays at 98 degrees year round, thanks to water piped from 400 feet below ground.

Local officials say Yongtai has 117 historical and cultural relics (not including the ancient pipe-smoking relics in bamboo rockers). Favorites include the Yuan Dynasty Mo¡¯Ai cliff inscriptions (I¡¯ve seen better ones in American subways) and the Fangguang Palace, which is a cliff-side Buddhist temple that reminds me of ancient Indian cliff dwellings in the southwestern United States.

Yongtai is also a center of Southern Shaolin Kung Fu¡ªthough I learned that just about every place in Fujian claims to have not only the best pounded pork and pretty girls but also the best kung fu.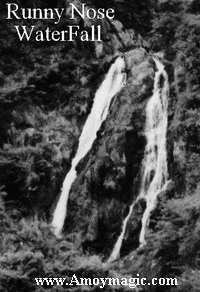 Yongtai is a perfect place to bone up on history and culture, or just to do just nothing for a few days but eat mountain cuisine and hike the falls (though, as everywhere in Fujian, keep an eye out for cobras, bamboo vipers, 33-foot pythons, deng deng).

When Chinese food begins to wear, there¡¯s always the great chicken sandwiches and chocolate mint ice-cream of the delightful (and cheap) ¡°Candor Fire Chicken,¡± right next door to the Hot Springs Hotel.

At night we stroll the bustling streets, shout ¡°Laonei, Ni Hao!¡± at the pressing (but friendly!) crowds, and set off giant fireworks that would set us back a small fortune back in America. There¡¯s no place like Yongtai!


Getting There and Back. Many roads lead to Yongtai, but I prefer to exit the Xiamen-Fuzhou highway 10 km north of Putian (which avoids city traffic), backtracking a bit, and cutting across the mountains, then returning via the Yongtai¡ªFuzhou highway.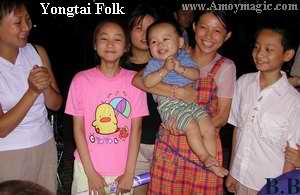 The delightful road from Putian passes valleys with terraced fields, pounded earth buildings, and rows of mushroom cultivation huts covered in gourd vines. Fujian folk don¡¯t waste an inch of flat land. Even shoulders separating the highway from the depths below are planted in Chinese cabbage and spinach. Flat land is sacred and never wasted, so homes are built on vertical hillsides that I wouldn¡¯t attempt without an elevator.
Forests of bamboo tower over the mountains like giant bottle brushes or green feathers. The scenery is a riot of color¡ªan incredible juxtaposition of emerald rice paddies and turquoise rivers. The town of Linglu is situated in a beautiful valley planted in rice, elephant ears, and bananas. A creek wound westward, under a small bridge, into lush mountains that reminded me of Maui¡¯s scenery on the road to Hana.
Bamboo gives way to pine and evergreens as we approach the mountain scenic area, and a new gate of imitation rocks that reminds me of the Flintstones¡¯ house.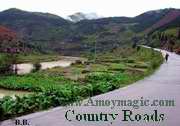 The modern highway from Yongtai to Fuzhou eases gently through wider valleys along the broad Min River, which is always abuzz with sampans and sand dredgers. The Yongtai Fuzhou road is so good now it only takes an hour. It¡¯s almost too fast. But I¡¯m not complaining, because even after exploring the secrets of Yongtai, it¡¯s nice to get back home to Magic Amoy. And after a good rest we¡¯ll head south a bit to Putian, birthplace of the sea goddess Mazu.

Try these other Fuzhou sites:
Fuzhou Panda World¡ªthe only panda research site outside of Beijing and the panda¡¯s home of Sichuan province.
Forest Park¡ªone of the top 20 in China. It¡¯s out of town, so take the 945 or 811 bus.
Qing Zhen Mosque¡ªsupposedly started building in 628 AD
Fuzhou Confucian Literary Temple¡ªstarted construction in 921 AD.
Fuzhou Municipal Museum¡ªtake 971 or 972 bus.
Linzexu Statue, on the south side of Fuzhou. It is 7.75 m high, weighs 7.3 tons, which I believe. I couldn¡¯t move it.

FUZHOU LINKS


Fuzhou History (birthplace of Chinese Maritime Industry)


Pagoda Island (famous "China Pagoda," Sino-French Battle, etc.)


Foochow's Haunted Nantai Island Tour (Includes old Consulates, Rotary Club, haunted churches...)


Heart of Fuzhou: 3 Wards & 7 Streets, Li Family House, Banyan City, Yushan Hill and White Pagoda, Clay People, etc.


Qingjing Mosque

Secret Valley of Yongtai (Fujian's Best Kept Secret)


Fuzhou Cuisine (Buddha Jumps the Wall Soup, Pounded Pork, Fish Balls)


Fuzhou Shopping
Note: Fuzhou was also spelled Foochow, Fuh-chau, Fuhchau, etc.





TRAVEL LINKS

Favorite Fujian Sites

Fujian Foto Album

Xiamen

Gulangyu

Fujian Guides

Quanzhou

Z
hangzhou

Longyan

Wuyi Mtn

Ningde

Putian

Sanming

Zhouning

Taimu Mtn.

Roundhouses

Bridges

Jiangxi

Guilin

Order Books

Readers' Letters Travelogues by Scott Ballantyne

Click to E-mail


Readers'Letters



FAQs Questions?


Real Estate


Shopping

Maps


Trains

Busses


Hotels

News (CT)


Medical & Dental


YMCA Volunteer!


XICF Fellowship


Churches


Expat Groups


Maids

Phone #s



Xiamen University


XIS(Int'l School)


Study Mandarin


CSP(China Studies)


Library

Museums


History



Restaurants

Asian


Veggie

Junk Food


Chinese

Italian


International


Visas 4 aliens



Massage!


Beaches

Fly Kites


Sports

Boardwalk


Parks

Pets


Birdwatching


Kung Fu

Hiking


Music Events


Festival&Culture


Humor&

Fun Fotos



Doing Business


Jobs!(teach/work)


Hire Workers


Foreign Companies


CIFIT (Trade Fair)


MTS(Translation)



Back to Top