Click to Access
OUTSIDE China


Click to Access
INSIDE China


TRAVEL LINKS


Xiamen

Gulangyu


Jimei

Tong'an


Jinmen

Zhangzhou


Quanzhou

Wuyi


#1Fujian Sites!


Fujian Foto Album


Books on Fujian


Readers'Letters


Ningde

Zhouning


Longyan

Sanming


Putian

Bridges


Travel Info,


Hakka Roundhouses


Travel Agents

MISC. LINKS


Amoy People!


Darwin Driving


Amoy Tigers


Chinese Inventions


Tibet in 80 Days!


Dethroned!


Misc.Writings


Latest News


Lord of Opium


Back to Main Page
AmoyMagic--Guide to Xiamen & Fujian

Copyright 2001-7 by Sue Brown & Dr. Bill

Order Books
Main Page
Business Links
Recreation Links
Google Search
E-mail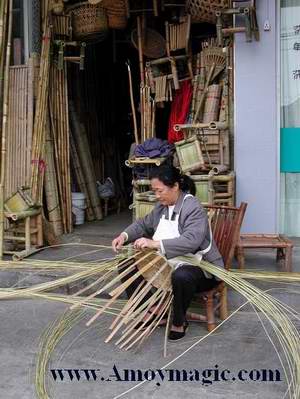 The Beauty of Bamboo
Poetic & Practical
Dr. Bill,
The Chinese invented practically everything under the sun but they had an unfair advantage in 4th century B.C. when they came up with deep-well drilling for natural gas. China had bamboo, which has a higher tensile strength than steel and is stronger when wet. The West had nothing to compare with it. (Though we did use bamboo to our our advantage in 550 A.D., when Nestorian monks smuggled silkworms out of China in bamboo tubes).

Centuries ago, Jesuit priests wrote that bamboo was used in over 600 products. They vary from shirts and shoes to pillows, furniture, dishes, scaffolds, bridges, piers, houses, pens, hats, rakes, musical instruments, kitchen utensils and chopsticks, dust pans and brooms, drain pipes, irrigation pipes and tobacco pipes, back scratchers, ("not call man" in Chinese), fishing poles and rafts, pig baskets, cradles, toys, fences, gates, rope, screens, flour mills, hen coops, bird cages, lanterns, knitting needles, and curtains. Japan's famous paper umbrellas are adapted from early Fujian umbrellas made from fine bamboo frames.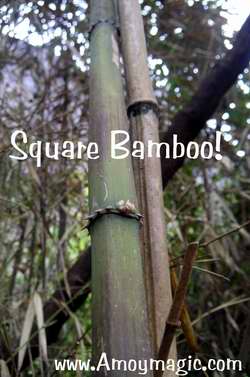 Bamboo is as palatable as practical when the shoots are stir-fried or pickled--or raw, if one happens to be a panda.; (Wuyi and Ningde have square-bamboo! That would sure guarantee a square meal for pandas!).
An ancient story tells of Meng Zong, whose sick mother wanted bamboo shoots out of season. As the filial son wept in despair, bamboo shoots suddenly sprouted before him. Chinese still quote the proverb "Meng Zong Moved Heaven."
Bamboo is part of the heart and soul of China. As one poet wrote, "Better to live without meat than without bamboo." Bamboo is not just practical and palatable but poetic. Chinese see in this giant grass such traits as chastity, honesty, gentleness and, most importantly, humility. The bamboo is strong but hollow and empty, as a "humble man is not filled with his own importance."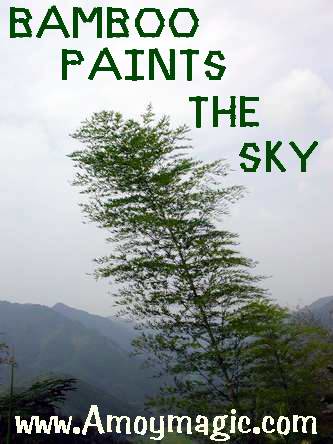 The ancients inscribed their epic adventures and poems upon strips of bamboo until someone learned how to pound bamboo pulp into the highly prized white bamboo paper. While undergoing bamboo papermaking's 72 steps, reverent workers eat white tofu to insure the paper's purity, and fastidiously avoid saying words like 'black' or 'bump,' lest the paper become spotted or lumpy.

While Fujian has long been famous for tea, bamboo has been the persistent money maker, but times are changing. In Fuzhou's old downtown area I came across the shop of Ms. He, a fourth generation bamboo craftsman. She was perched on a bamboo stool in the middle of the sidewalk fashioning a basket from strips her husband had split off a one of the poles stacked in the shop's corner.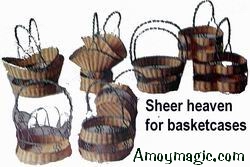 I could have spent hours watching those strong but deft hands that have created steamers, bookshelves, and rocking chairs that could charm a dragon to sleep. But Ms. He complained, "I'm probably the last generation to do this. It's hard work, it's hard on the fingers, and we don't make much money at it."
"But your bamboo products are so beautiful," I said.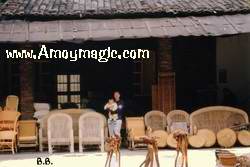 "Doesn't matter," she said. "Nowadays everyone wants modern plastic and shiny metal, even though bamboo is natural, more durable, and costs about the same."

She had a point. While bamboo articles are still common in the countryside, the only city people who use bamboo furniture and utensils are those who can't yet afford the modern but soulless alternatives. No wonder it's getting harder to find craftsmen who take pride in producing bamboo articles so practical they have changed but little over the past 2,000 years.

Bamboo will always be a part of Chinese culture, literature and arts, but we need to remember that this most versatile gift of nature is as practical as it is poetic—especially in an age that must emphasize ecologically sound and renewable resources.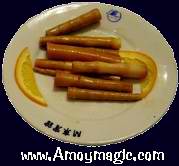 In American tourist attractions like colonial Jamestown and Williamsburg, tourists watch traditional craftsman at work, and eagerly buy their wares. Perhaps Chinese cities could also sponsor traditional craftsman in tourist areas to help preserve China's valuable but vanishing heritage.
TRAVEL LINKS

Favorite Fujian Sites

Fujian Foto Album

Xiamen

Gulangyu

Fujian Guides

Quanzhou

Z
hangzhou

Longyan

Wuyi Mtn

Ningde

Putian

Sanming

Zhouning

Taimu Mtn.

Roundhouses

Bridges

Jiangxi

Guilin

Order Books

Readers' Letters

Click to E-mail


Readers'Letters

Last Updated: May 2007


Back to Top


DAILY LINKS


FAQs Questions?


Real Estate


Shopping

Maps


Trains

Busses


Hotels

News (CT)


Medical & Dental


YMCA Volunteer!


XICF Fellowship


Churches


Expat Groups


Maids

Phone #s
EDUCATION


Xiamen University


XIS(Int'l School)


Study Mandarin


CSP(China Studies)


Library

Museums


History
DINING


Restaurants

Asian


Veggie

Junk Food


Chinese

Italian


International


Visas 4 aliens
RECREATION


Massage!


Beaches

Fly Kites


Sports

Boardwalk


Parks

Pets


Birdwatching


Kung Fu

Hiking


Music Events


Festival&Culture


Humor&

Fun Fotos


BUSINESS


Doing Business


Jobs!(teach/work)


Hire Workers


Foreign Companies


CIFIT (Trade Fair)


MTS(Translation)



Back to Top