Click to Access
AMOY MAGIC SITE from
OUTSIDE China


Click to Access Amoy Magic Site from
INSIDE China


TRAVEL LINKS


Xiamen

Gulangyu


Jimei

Tong'an


Jinmen

Zhangzhou


Quanzhou

Wuyi


#1Fujian Sites!


Fujian Foto Album


Books on Fujian


Readers'Letters


Ningde

Zhouning


Longyan

Sanming


Putian

Bridges


Travel Info,


Hakka Roundhouses


Travel Agents

MISC. LINKS


Amoy People!


Darwin Driving


Amoy Tigers


Chinese Inventions


Tibet in 80 Days


Amoy Vampires!


Dethroned!


Misc.Writings


Latest News


Lord of Opium


Back to Main Page


Copyright 2001-7 by Sue Brown & Dr. Bill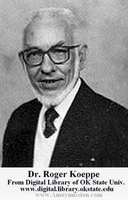 Order Books

iE-mail


Note: Please click thumbnails for larger photos!!




Koeppe Family page.

AmoyMission 1877

AmoyMission 1893

Dr. Roger Koeppe
Born: Hope Hospital, on Gulangyu, May 2, 1922
Happy 86th Birthday, Dr. Roger!

Acknowledgments: this biographical info, the caricature, and the above photo, are adapted from "Proceedings of the Oklahoma Academy of Science," Volume 70-1990; read the original artice at Oklahoma State University's Digital Library. China photos were from Jean Neinhuis' albums, courtesy of Wendell and Renske Karsen.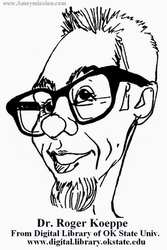 Hope Hospital was the birthplace of Walter Brattain, Nobel-prize winning co-inventor of the transistor. Hope was also the birthplace of Dr. Roger Koeppe, who in 1989 received the Oklahoma Academy of Science Award of Merit...
Roger E. Koeppe was born May 2, 1922 in Kalangsu [Gulangyu], Amoy, China, to American missionary parents who were serving the Reformed Church of America. Roger grew up in China and received his grade school education from his mother, except for attending the eighth grade in Cedar Grove, Wisconsin while his parents were home on leave.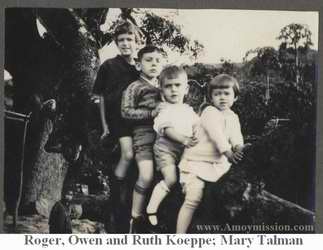 Roger's freshman year of high school was at the Shanghai American School. The school closed for one year due to the China-Japan War. Roger graduated from Williamson Central High School near Rochester, New York.
Undergraduate training with a major in Chemistry was obtained at Hope College in Holland, Michigan. He graduated cum laude in 1944 and joined the Army. His basic training was received in Abilene, Texas; he was extremely happy to leave the heat of West Texas to attend a laboratory school at Fort Harrison, Indianapolis, Indiana. He served for two years as a medical technician.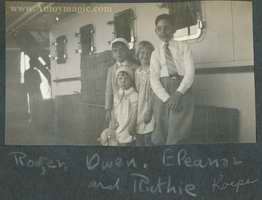 Roger's graduate education was at the University of Illinois where he worked with Dr. William C. Rose on amino acid metabolism. He was a University Fellow, 1948-49, and an AEC Predoctoral Fellow, 1949-50. He spent one year as a postdoctoral trainee in Dr. Rose's lab.
Additional postdoctorate training was obtained with Dr. John L. Wood at the University of Tennessee, Memphis. Roger progressed through the academic ranks from instructor to associate professor during the period of 1952-59 at the University of Tennessee Medical School, Memphis. During the summers of 1954 and 1956, Roger was a researcher in the Biology Division at Oak Ridge National Laboratory.


AmoyMission Main Page

Koeppe Family Main Page

Top of Page


Roger joined the Department of Biochemistry, Oklahoma State University in October 1959 as an Associate Professor. He continued his research on intermediary metabolism and its control using radioisotopic tracers to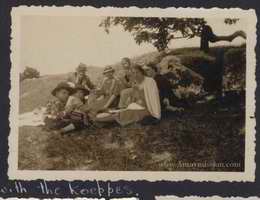 follow the fates of specific atoms in essential compounds. In 1960, he was promoted to Professor. When Dr. LaVell Henderson left his position as Head of the OSU Department of Biochemistry in 1963 to become Head of the Department of Biochemistry, University of Minnesota, St. Paul, Roger became the fourth Head of the Department. Victor Heller served as Head of Agricultural Chemistry from 1925 to 1949. Robert MacVicar, who later became President of Oregon State University, was Department Head from 1949-1957. LaVell Henderson became Head in 1957.


Roger's administrative abilities are widely recognized over the campus and are goals toward which other department heads strive. His ability to balance accounts in his head and to keep in mind the diverse interactions of the University community a Roger's research on glutamate metabolism was supported by the National Institutes of Health for 15 years, 1959-74, by the National Science Foundation, 1953-55 and 1960-63, and by the Atomic Energy Commission, 1955-60. In 1982, Roger turned his full attention to the administration of the Department; over the years, additional University, State, and Federal reports and requirements have dramatically increased the complexity of the job.


AmoyMission Main Page

Koeppe Family Main Page

Top of Page


Roger's administrative abilities are widely recognized over the campus and are goals toward which other department heads strive. His ability to balance accounts in his head and to keep in mind the diverse interactions of the University community are legendary. Since 1963 the Department has received about $15 million in external funding.

Through the years Roger maintained his incisive focus, expressed what was on his mind without fail, and challenged everyone to be accountable and make progress. He outlasted several deans, each of whom, after a conversation with Roger, knew clearly which way the biochemical winds were blowing and what was the position of the Department.

The Department of Biochemistry is the envy of most other departments of campus. The members work well together and have a high esprit de corps. This is due in large part to Roger Koeppe and to the faculty he assembled. His hand has been the gentle, guiding force that has directed the Department; this force will be missed. The curriculum of the Department has been judged excellent. The number of courses is small, which enables the graduation of students with a distinctive and desirable educational core. Roger believes in minimal numbers of courses and integrated training.

Roger spent a sabbatical year (1966-67) supported by an NIH Senior Postdoctoral Fellowship working with Leon Salganicoff and John Williamson at the Johnson Research Foundation of the University of Pennsylvania. He was selected by W.H. Freeman and Company (Scientific American Books) to perform a detailed review of the Third Edition of Stryer's classic text, Biochemistry. This is the best textbook currently available in biochemistry.


AmoyMission Main Page

Koeppe Family Main Page

Top of Page


Roger directed the research of 10 graduate students who received Ph.D. degrees, 12 graduate students who received M.S. degrees, and 10 research associates. He has authored fifty research publications and co-authored Student's Companion to Stryer's Biochemistry (W.H. Freeman, 1990).
His research interests are on intermediary metabolism and its control. Radioisotopic tracers are used to determine the fates of specific atoms. The effects of vitamins such as thiamine and of hormones such as insulin on the metabolism of various compounds in different tissues (liver, brain, blood, muscle, etc.) are determined by using chemical isolation and degradation of specifically labeled compounds. Glucose is an excellent precursor for non-essential amino acids. Blood lactate freely enters the brain. There is no effect of feeding, fasting, nor thiamine deficiency on the brain amino acids. Insulin treatment lowers blood glucose, but increases the rate of incorporation of glucose into the amino acids. Blood glutamic acid, glutamine, and aspartic acid do not enter the brain rapidly. There is a small metabolically active pool of glutamine in the brain that is formed from glutamic acid which is not in rapid equilibrium with tissue glutamic acid.

Hormone treatment with hydrocortisone does not change the labeling pattern in liver and muscle protein glutamate and aspartate from pyruvate. Pyruvate-2[14C] is an appropriate tracer of pyruvate conversion to acetyl-CoA and to oxaloacetate. This allows determination of the apportionment of the flow of metabolites in the animal and in turn determination of control points and regulatory mechanisms.


AmoyMission Main Page

Koeppe Family Main Page

Top of Page


Mannose metabolism was studied in the rat and techniques developed for the determination of mannose phosphates using enzymatic assays. The conversions observed suggested that phosphomannomutase activity was present. In later work this enzyme was shown to exist but there was no induction upon growth of rats on a high mannose diet.

Roger served 3 years on the OSU Faculty Council, received the 1974 Sigma Xi Lectureship award, the Professional Secretaries International Executive of the Year award in 1985, and the 1989 Oklahoma Scientist of the Year award from the Oklahoma Academy of Science. He chaired the Oklahoma Section of the American Chemical Society in 1965 and was president of the OSU Chapter of the Society of Sigma Xi, 1977-78.

Roger and Norma raised a family of 5 outstanding children. They now have 6 grandchildren plus one on the way and 3 foster grandchildren. Roger II, a Ph.D., is a professor of chemistry and biochemistry at the University of Arkansas, Fayetteville. Mary, an M.D., is on the staff of the Albany Medical Center in Internal Medicine and Endocrinology. Dividing time between Sante Fe and New York, Sarah is a casting director for movies and TV. Edwin is an engraver in the trophy department of Dearinger Printing and Trophy in Stillwater. The youngest, Peter, is completing his Ph.D. in computer science at Carnegie Mellon University, Pittsburgh.
Proc. Okla. Acad. Sci. 70:57-58 (1990)


Adapted from OK State Univ. Digital Library

AmoyMission Main Page

Top of Page
Please Help the "The Amoy Mission Project!"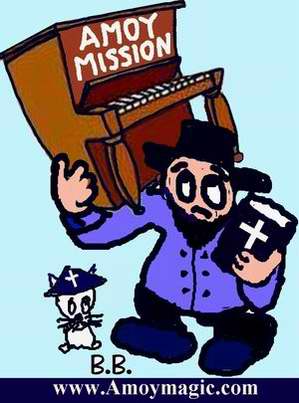 Please share any relevant biographical material and photos for the website and upcoming book. All text and photos will remain your property, and photos will be imprinted to prevent unauthorized use.
Thanks!
Dr. Bill Xiamen University MBA Center
E-mail: amoybill@gmail.com
Snail Mail: Dr. William Brown
Box 1288 Xiamen University, Xiamen, Fujian PRC 361005
TRAVEL LINKS

Favorite Fujian Sites

Fujian Foto Album

Xiamen

Gulangyu

Fujian Guides

Quanzhou

Z
hangzhou

Longyan

Wuyi Mtn

Ningde

Putian

Sanming

Zhouning

Taimu Mtn.

Roundhouses

Bridges

Jiangxi

Guilin

Order Books

Readers' Letters New: Amoy Vampires!

Click to E-mail


Readers'Letters
Last Updated: October 2007


Back to Top
Google Search
AMOY MISSION LINKS



A.M. Main Menu


RCA Miss'ry List


AmoyMission-1877


AmoyMission-1893


Abeel, David


Beltman


Boot Family


Broekema, Ruth


Bruce, Elizabeth


Burns, Wm.


Caldwells


DePree


Develder, Wally


Wally's Memoirs!


Douglas, Carstairs


Doty, Elihu


Duryea, Wm. Rankin


Esther,Joe & Marion


Green, Katherine


Gutzlaff, Karl


Hills,Jack & Joann
.

Hill's Photos.80+
..

Keith H.

Homeschool


Hofstras


Holkeboer, Tena


Holleman, M.D.


Hope Hospital


Johnston Bio


Joralmans


Karsen, W&R


Koeppes, Edwin&Eliz.


Kip, Leonard W.


Meer Wm. Vander


Morrison, Margaret


Muilenbergs


Neinhuis, Jean


Oltman, M.D.


Ostrum, Alvin


Otte,M.D.

Last Days


Platz, Jessie


Pohlman, W. J.


Poppen, H.& D.


Rapalje, Daniel


Renskers


Talmage, J.V.N.


Talman, Dr.


Veenschotens
.

Henry V.

Stella V.
.

Girard V.


Veldman, J.


Voskuil, H & M


Walvoord


Warnshuis, A.L.


Zwemer, Nellie


Fuh-chau Cemetery


City of Springs
(Quanzhou, 1902!!)


XM Churches


Church History


Opium Wars


A.M. Bibliography


YMCA Volunteer!


XICF Fellowship


Temples


Mosques


Christ in Chinese
Artists' Eyes

DAILY LINKS


FAQs Questions?


Real Estate


Shopping

Maps


Bookstores


Trains

Busses


Car Rental


Hotels

News (CT)


Medical & Dental


Expat Groups


Maids

Phone #s
EDUCATION


Xiamen University


XIS(Int'l School)


Study Mandarin


CSP(China Studies)


Library

Museums


History
DINING

Tea Houses


Restaurants

Asian


Veggie

Junk Food


Chinese

Italian


International


Visas 4 aliens
RECREATION


Massage!


Beaches

Fly Kites


Sports

Boardwalk


Parks

Pets


Birdwatching


Kung Fu

Hiking


Music Events


Cinema


Festival&Culture


Humor&

Fun Fotos


BUSINESS


Doing Business


Jobs!(teach/work)


Hire Workers


Foreign Companies


CIFIT (Trade Fair)


MTS(Translation)



Back to Top