AmoyMagic--Guide to Xiamen & Fujian

Copyright 2001-7 by Sue Brown & Dr. Bill

Order Books
Main Page
Business Links
Recreation Links
Google Search
E-mail
Dr. Lin Qiaozhi
-
-(1901-1983)
Pionee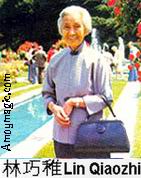 r in Modern China's Outstanding Gynaeocologists and Obstetricians, & "Doctor of Mercy"
Note: I regret I did not include Ms. Lin in previous editions of Amoy Magic, or the Fujian Adventure--but she'll occupy a prominent place in the next editions. Dr. Bill, Xiamen University MBA Center
In 2001, many famous doctors, as well as prominent health officials and government leaders, gathered in Beijing to celebrate the 100th birthday of Ms. Lin Qiaozhi, a native of our own Gulangyu Islet, and a great pioneer in modern China's gynaeocology and obstetrics. She not only helped develop modern medical science in China but put it into practice, hands-on--delivering over 50,000 babies during her 60 year career. (No wonder the country has such a big population!)
Doctor of Mercy? Dr. Lin has many honorary titles, but I think they should add one more: Doctor of

Mercy. The popular Guanyin, goddess of mercy, originated well over 1000 years ago when Chinese women transformed the Buddhist god Guanyin from male to female because they felt male deities lacked compassion, and they felt uncomfortable praying to males. Likewise, male doctors were not noted for their sympathy for the unique trials and tribulations that beset those of the supposedly weaker sex (I say supposedly, because I doubt any males could survive monthly periods, much less childbirth). Dr. Lin, though looked down upon at first by males and females alike, came to be respected by all, and loved especially by women, for whom she dedicated every hour of every day.
Her unique compassion was first seen when she rushed to the aid of the fainting student during the exam in Shanghai. And years later she said, "I'm a doctor always on duty," and no matter when her phone rang, she answered the call for help. As the said, "Life is precious. While some things may be considered more valuable than life, to a person nothing is more precious than their life, and if they entrust me with that life, how could I refuse that trust, saying I'm cold, hungry or tired?"
Premier Li Peng, wrote an inscription for her that reads, "Forever cherish the memory of outstanding medical scientist, Lin Qiaozhi." And at the 100th anniversary celebration, officials unveiled a copper statue of the doctor, and announced the new Lin Qiaozhi gynecological and obstetrics institute at the Chinese Academy of Sciences (which made her a posthumous member in 1995).
Dr. Lin was born on Gulangyu Islet on 23rd December, 1901. Perhaps in part because her parents were teachers, she always excelled in school. She once said, "If boys can get a grade of 100, then I'll get 110!"
While crocheting during a hot summer's day at the Girls Normal School on Gulangyu Islet, her teacher said, "You have such great hands. You should be a doctor!" She blushed... but that comment changed her life.
During her exam in Shanghai, a classmate fainted, and she immediately rushed to their assistance. Her classmates thought she had no hope of passing, but even her unfinished exam revealed her knowledge, and solid grasp of English. And of course the examiner was also moved by her selfless concern for others, and he passed her.
In 1921, Ms. Lin entered Beijing's Beijing Union Medical College, which was run by missionaries. Eight years later she graduated with excellent results and was given the doctor of medicine degree by the New York State University (40% of her classmates did not even graduate).
Ms. Lin chose obstetrics to help ease the pain and burdens of expectant mothers. She was looked down upon as a doctor because she was a woman, but she persisted, and gradually earned the respect of men and women alike.
In 1932, she attended the London Medical College and the Manchester Medical College for advanced studies, and the following year toured Vienna on a medical research trip. Seven years later, in 1939, she studied in the Chicago Medical College. After returning to Beijing, she was appointed the hospital's director of obstestrics and gynecology--the 1st woman in China to have such a position.
Dr. Lin was also an excellent teacher, as well as writer and editor of many medical books such as "Advice on Family Health." Many people named their babies after her.
In 1955, Dr. Lin was the first female member of the Learned Department of Academia Sinica, and in 1956 she became the vice-chairwoman of the China Medical Association. In 1959, she became director of the Beijing Maternity Hospital, as well as deputy director of the Chinese Academy of Medical Sciences. In 1978, she became the vice chairwoman of the National Women's Federation of China, and visited four West European countries as the deputy head of the Chinese People's Friendship delegation. But while in Britain, she suffered a brain hemorrhage, and was hospitalized for half a year before returning to China. In 1980, she suffered another hemorrhage, and on April 22nd, 1983, she passed away at the age of 82. She had never married, but devoted her life to thousands of mothers and babies at the Beijing Union Medical College Hospital and, indirectly, to millions of women and children throughout China.
To better appreciate this amazing lady's contributions to modern China, visit Gulangyu Islet's Lin Qiaozhi Memorial Hall (at Yu Garden, on Zhangzhou Road, beside Bright Moon Garden). This beautifully laid out little garden was built the year after Dr. Lin passed away, in 1984, and has a white marble statue of Dr. Lin in the garden. The Exhibition Room tells her life story.
For more on Magic Amoy's wonderful peoples and places, read "Amoy Magic--Guide to Xiamen and Fujian!"
TRAVEL LINKS

Favorite Fujian Sites

Fujian Foto Album

Xiamen

Gulangyu

Fujian Guides

Quanzhou

Z
hangzhou

Longyan

Wuyi Mtn

Ningde

Putian

Sanming

Zhouning

Taimu Mtn.

Roundhouses

Bridges

Jiangxi

Guilin

Order Books

Readers' Letters

Click to E-mail


Readers'Letters

Last Updated: May 2007


Back to Top