Click to Access
AMOY MAGIC SITE from
OUTSIDE China


Click to Access Amoy Magic Site from
INSIDE China


TRAVEL LINKS


Xiamen

Gulangyu


Jimei

Tong'an


Jinmen

Zhangzhou


Quanzhou

Wuyi


#1Fujian Sites!


Fujian Foto Album


Books on Fujian


Readers'Letters


Ningde

Zhouning


Longyan

Sanming


Putian

Bridges


Travel Info,


Hakka Roundhouses


Travel Agents

MISC. LINKS


Amoy People!


Darwin Driving


Amoy Tigers


Chinese Inventions


Tibet in 80 Days


Amoy Vampires!


Dethroned!


Misc.Writings


Latest News


Lord of Opium


Back to Main Page


Copyright 2001-7 by Sue Brown & Dr. Bill

Note: Please click thumbnails for larger photos!!

Amoy Hill's Photos

Amoy Mission Main Page
China's First Protestant Mission (Taiwan 1626-1662)
Excerpts from Dutch Governor Coyett's "Neglected Formosa."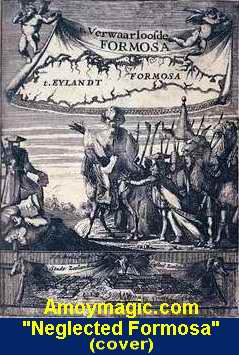 I consider Amoy (Xiamen) the "Birthplace of Chinese Protestantism" for many reasons. The first truly "Chinese" church, the Amoy Mission developed its own "3-self" principles, and the church grew as no other mission in China--and thrives to this day. We now have 45 registered Xiamen churches, and neighboring Quanzhou has almost 200! But the first Protestant missionaries were not those of the Amoy Mission, or even Morrison in Canton, but the Dutch in Taiwan, almost 200 years before the Opium Wars.
Even China's official Protestant magazine, Tianfeng ¡¶̀́·ç¡·, has recently given tribute to the Dutch missionaries who began the ill-fated mission to Taiwan (though they did not elaborate upon the Dutch missionaries' demise).
"The Cross and the Dragon" (Kesson, 1854, pp. 195-197) records that in 1626 the Protestant missionary, George Candidus, was assigned to Formosa,and that thousands were converted. Chinese officials were cautious, however, not to offend their Japanese trading partners, who persecuted Christians. It is likely that thousands of Taiwanese became Protestants, but the entire mission was destroyed in 1662.

Protestant minister Van Hambroek was sent by Koxinga to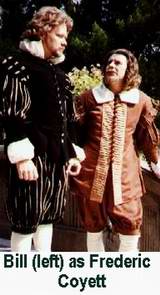 the Dutch fort to make proposals of surrender. Hambroek left his wife and children behind as prisoners, but instead of persuading them to surrender, he urged them to resist Koxinga, saying he had lost much of his fleet. Dutch Governor Coyett and company urged Van Hambroek not to return, and Van Hambroek's two daughters within the fort begged him to stay, but he returned to his family, as he knew that failure to do so would end in his wife's and childrens' deaths.

When Koxinga was given a stern refusal to surrender, he blamed the prisoners. While I certainly do not countenance what happened next, we know from "Neglected Formosa", by Dutch Governor of Taiwan Coyett (whom I played in a TV mini-series!) that Koxinga tried to avoid outright war, and after trouncing the Dutch, did allow them to leave with their ships and valuables. But Koxinga was merciless with the Dutch missionaries, whom he felt had betrayed him.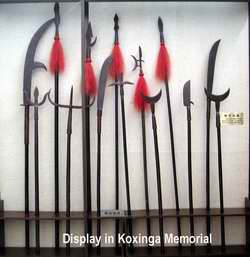 Over 500 male prisoners were brutally killed. Women and children were also killed, with the exception of the best women, who were given to the Chinese soldiers (read the full details in "The Cross and the Dragon").
Van Hambroek and other school masters were beheaded.
A Jesuit priest, Du Halde, who visited 70 years later, noted that the Taiwanese did not worship idols, and many could understand and read Dutch. Gutzlaff, too, found traces of Dutch Christianity in the mountains of Formosa.

And so ended Protestant missions in China¡ªuntil the arrival of Robert Morrison in Canton, and after the first Opium War, the Amoy Mission.

But, for the record, the first Protestant missionaries to China were the indomitable Dutch.

Afterward by Bill: While I was in Taiwan in the U.S. Air Force in the mid 1970s, I often traveled to remote mountain villages, and sometimes met light-skinned locals, and once came upon a blond Chinese. I was told that some were even born with light skin and blue eyes. I did not believe it, and skeptic that I was, assumed that if this were indeed true, it was because some American soldier had wandered too far from base (quite likely in those days). But...it may well be these are descendants of the early Dutch, given that so many Dutch women were forced to marry Taiwanese? Who knows; there may be some blue-eyed Taiwanese with a penchant for wooden shoes and cheese.
Info adapted from Kesson, John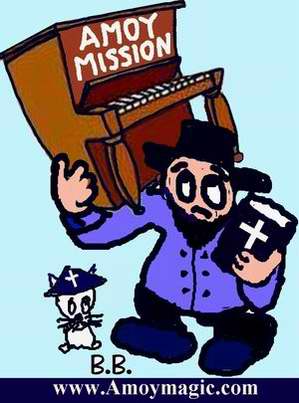 (of the British Museum),¡±The Cross and the Dragon, or, The Fortunes of Christianity in China, with Notices of the Christian Missions and Missionaries, and some Accounts of the Chinese Secret Societies,¡± Smith, Elder & Co., London, 1854.pp.195-197

Please Help the "The Amoy Mission Project!" Please share any relevant biographical material and photos for the website and upcoming book. All text and photos will remain your property, and photos will be imprinted to prevent unauthorized use.
Thanks!
Dr. Bill Xiamen University MBA Center
E-mail: amoybill@gmail.com
Snail Mail: Dr. William Brown
Box 1288 Xiamen University, Xiamen, Fujian PRC 361005
TRAVEL LINKS

Favorite Fujian Sites

Fujian Foto Album

Xiamen

Gulangyu

Fujian Guides

Quanzhou

Z
hangzhou

Longyan

Wuyi Mtn

Ningde

Putian

Sanming

Zhouning

Taimu Mtn.

Roundhouses

Bridges

Jiangxi

Guilin

Order Books

Readers' Letters New: Amoy Vampires! Google Search

Click to E-mail


Readers'Letters
Last Updated: October 2007


Back to Top
Google Search
AMOY MISSION LINKS



A.M. Main Menu


RCA Miss'ry List


AmoyMission-1844-46
by G. Smith,1857


AmoyMission-1877


AmoyMission-1893


Abeel, David


Beltman


Boot Family


Broekema, Ruth


Bruce, Elizabeth


Burns, Wm.


Caldwells


DePree


Develder, Wally


Wally's Memoirs!


Douglas, Carstairs


Doty, Elihu


Duryea, Wm. Rankin


Esther,Joe & Marion


Green, Katherine


Gutzlaff, Karl


Hills,Jack & Joann
.

Hill's Photos.80+
..

Keith H.

Homeschool


Hofstras


Holkeboer, Tena


Holleman, M.D.


Hope Hospital


Johnston Bio


Joralmans


Karsen, W&R


Koeppes, Edwin&Eliz.


Kip, Leonard W.


Meer Wm. Vander


Morrison, Margaret


Muilenbergs


Nienhuis, Jean


Oltman, M.D.


Ostrum, Alvin


Otte,M.D.

Last Days


Platz, Jessie


Pohlman, W. J.


Poppen, H.& D.


Rapalje, Daniel


Renskers


Talmage, J.V.N.


Talman, Dr.


Veenschotens
.

Henry V.

Stella V.
.

Girard V.


Veldman, J.


Voskuil, H & M


Walvoord


Warnshuis, A.L.


Zwemer, Nellie


Fuh-chau Cemetery


City of Springs
(Quanzhou, 1902!!)


XM Churches


Church History


Opium Wars


A.M. Bibliography


YMCA Volunteer!


XICF Fellowship


Temples


Mosques


Christ in Chinese
Artists' Eyes

DAILY LINKS


FAQs Questions?


Real Estate


Shopping

Maps


Bookstores


Trains

Busses


Car Rental


Hotels

News (CT)


Medical & Dental


Expat Groups


Maids

Phone #s
EDUCATION


Xiamen University


XIS(Int'l School)


Study Mandarin


CSP(China Studies)


Library

Museums


History
DINING

Tea Houses


Restaurants

Asian


Veggie

Junk Food


Chinese

Italian


International


Visas 4 aliens
RECREATION


Massage!


Beaches

Fly Kites


Sports

Boardwalk


Parks

Pets


Birdwatching


Kung Fu

Hiking


Music Events


Cinema


Festival&Culture


Humor&

Fun Fotos


BUSINESS


Doing Business


Jobs!(teach/work)


Hire Workers


Foreign Companies


CIFIT (Trade Fair)


MTS(Translation)



Back to Top