Click to Access
OUTSIDE China


Click to Access
INSIDE China


TRAVEL LINKS


Xiamen

Gulangyu


Jimei

Tong'an


Jinmen

Zhangzhou


Quanzhou

Wuyi


#1Fujian Sites!


Fujian Foto Album


Books on Fujian


Readers'Letters


Ningde

Zhouning


Longyan

Sanming


Putian

Bridges


Travel Info,


Hakka Roundhouses


Travel Agents

MISC. LINKS


Amoy People!


Darwin Driving


Amoy Tigers


Chinese Inventions


Tibet in 80 Days!


Dethroned!


Misc.Writings


Latest News


Lord of Opium


Back to Main Page
AmoyMagic--Guide to Xiamen & Fujian

Copyright 2001-7 by Sue Brown & Dr. Bill

Order Books
Main Page
Business Links
Recreation Links
E-mail
When I played the part of Dutch Governor Frederic Coyett in a TV mini-series, and surrendered on bended knee to Koxinga, I wondered how the real Coyett would have felt—and now I know!

After a long search I bought from a bookseller in Holland a rare English translation of Coyett's book "Neglected Formosa" . Holland sentenced Coyett to death (transmuted to life imprisonment) for losing Taiwan to Koxinga, but Coyett put the blame where it was due by writing the "true story describing how, through neglect of the Dutch authorities in the East Indies, the Island of Formosa has been invaded, subdued, and conquered by the Chinese pirate Koxinga."

Governor Coyett, the son of a noble Swedish family in Stockholm, wrote "Neglected Formosa" to prove that Dutch officials had ignored warnings about a Chinese invasion since as early as 1646. He cited, for example, this letter from the Batavia Council to Governor Verburg on 25 July, 1652:
"…numerous rumours are now current in China concerning the son of I-quan called Koxin, who, pressed hard by the Tartars, can no longer hold out in China, nor find himself safe there. He has therefore gone to sea with a great force, and adopted a course of piracy, intending to keep an eye on Formosa, with the view of ultimately settling down in that territory… we think it best to acquaint Your Honour with these reports, so that you may continue your preparations for defence and be constantly on your guard."
In March 10, 1654, Formosan governor Cornelis Caesar confessed that the threat of an invasion by Koxinga made "his hairs stand on end." Coyett wrote,
"But, if in 1653 this man's hair already stood on end on account of the threats of a handful of harmless peasants, how would he have behaved had he been a governor of Formosa in 1661, when Koxinga, with all these and many more peasants, besides 25,000 well armed and intrepid soldiers hardened in warfare, invaded Formosa. Most probably his hair would not only have turned white overnight, but his heart would have sunk into his boots…"

Coyett repeatedly asked for reinforcements but the Dutch government, fixated with wresting Macao from the Portuguese, accused Coyett of worrying over nothing. When a reinforcement of 12 ships did show up in October, 1660, the Dutch admiral scoffed at the so-called threat. After a bitter argument with Coyett he sailed to Batavia with nine of the twelve ships, badmouthed Coyett, and helped persuade the Dutch to replace Coyett with Clenk as governor.

Even as Clenk was en route to Formosa, the Dutch learned of Koxinga's invasion and sent a ship to return Clenk and inform Coyett that he was now Governor again. But Clenk never got the message, and when he saw the state of affairs in Formosa, he fled for Japan, leaving Coyett to fend for himself.

Koxinga demanded that Coyett surrender within 24 hours, but Coyett refused, even though he was hopelessly outnumbered and had no hope of reinforcement. Koxinga found he could not easily breach the castle's defenses, so he settled in for a long siege, figuring to eventually starve them out.

Months later, a pitifully small relief force of ten ships and 700 Dutch soldiers showed up, and the Manchu governor-general of Fujian and Zhejiang also offered to help fight Koxinga—but Coyett's hopes were dashed yet again. Coyett entrusted a Dutch admiral with messages and gifts for the Fujian governor, but the cowardly admiral panicked after Koxinga destroyed a few of his ships, and he fled home. Coyett was now truly on his own, against impossible odds.

In January, 1662, after months of bravely holding out against Koxinga's siege, the Dutch surrendered. Koxinga, perhaps in recognition of Coyett's futile but brave stand, allowed his enemies to leave on their own ships, sailing under their Dutch flag. But Coyett's own countrymen were not as merciful as his adversary. Although Coyett was the only Dutch leader to show foresight, integrity and courage, Holland sentenced Coyett to death for his "failure."

Fortunately, Coyett's meticulous records, and his collection of journals and letters, proved the truth of the matter. After 9 years of exile he returned home with honor to write "Neglected Formosa", which gives fascinating and often humorous insights into two great adversaries—Koxinga and Coyett.
Excerpts from Coyett's "Neglected Formosa"
Coyett describes Koxinga's troops: "He [Koxinga] had constructed no trenches nor erected any batteries, although he was well acquainted with the modes of warfare, and amply provided with heavy guns, as was proved during a later stage of the war. He evidently thought the Fort could be captured without any such trouble.
"The enemy's soldiers used various kinds of weapons. Some were armed with bows and arrows hanging down their backs; others had nothing save a shield on the left arm, and a good sword in the right hand; while many wielded with both hands a formidable battle-sword fixed to a stick half the length of a man. Every one was protected over the upper part of the body with a coat of iron scales, fitting below one another like the slates of a roof, the arms and legs being left bare.
"This afforded complete protection from rifle bullets and yet left ample freedom to move, as those coats only reached down to the knees, and were very flexible at all the joints.
"The archers formed Koxinga's best troops, and much depended on them, for even at a distance they contrived to handle their weapons with so great skill, that they very nearly eclipsed the riflemen.

"Every tenth man of them is a leader, who takes charge of and presses his men on to force themselves into the ranks of the enemy. With bent heads and their bodies hidden behind the shields, they try to break through the opposing ranks with such fury and dauntless courage, as if each one had still a spare body left at home. They continually press onwards, notwithstanding many are shot down; not stopping to consider, but ever rushing forward like mad dogs, not even looking round to see whether they are followed by their comrades or not."
Koxinga's Response to Dutch protestations of friendship: "[Holland's friendship] held towards him was of the same nature as that held towards other Indian Potentates and Princes: namely, that from their side, it lasted just so long as there was any advantage to be gained by it; for if they saw it to be to their advantage, no such friendship was observed, but they would not scruple in the least to throw a net over any one's head when it suited them to do so."
Koxinga's view on Taiwan's relation to mainland China: "Hitherto this island [Taiwan] had always belonged to China, and the Dutch had doubtless been permitted to live there, seeing that the Chinese did not require it for themselves; but requiring it now, it was only fair that Dutch strangers, who came from far regions, should give way to the masters of the island….He came not with a view to wage war against the Company (although his men had on several occasions been very unkindly treated by them), but only to take possession of his belongings; and to prove that he had no intention to enrich himself with the Company's means, he would allow them to embark their goods and effects in his own junks, and to break down the Castles and remove the cannon with other materials to Batavia; provided all this were done immediately. In that case, the friendship between him and the Company would remain undisturbed…"

The Dutch East India Company, in Dutch was Vereenigde Oostindische Compagnie or VOC
Neglected Formosa in Dutch was Verwaerloosde Formosa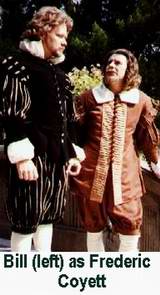 弗里德里克?揆一 ——台湾末任荷兰总督
当年我曾在一部电视系列短剧中扮演揆一,屈膝向郑成功投降,我当时就想揆一当初究竟在想什么。现在我明白了!经过长时间的搜寻,我终于从一个荷兰书商手中买到一本十分珍贵的书,是揆一撰写的《被忽略的福摩萨》的英文版。

因台湾是在揆一手中丧失给郑成功的,回荷兰后揆一被判死刑(后改为终生监禁),但揆一通过写"叙述福摩萨岛是如何在荷兰东印地公司当局的疏忽下被中国海盗郑成功入侵、臣服和占领的真实情况"1来阐明谁该真正为失去台湾负责。

揆一总督,出生于斯德哥尔摩一个瑞典贵族家庭,撰写《被忽略的福摩萨》说明荷兰官员忽视有关中国人入侵的警告,而这种警告早在1646年就有人提出来了。例如,他引用了一封1652年7月25日由巴达维亚参议会写给总督费尔博格的信。信的原文如下:
"现在中国有很多关于田川氏的儿子郑成功的传言,说他在鞑靼人的高压下很难在中国立住脚,也觉得不安全。因而他率领一支军队到海上当海盗,还开始关注福摩萨岛,以图最终在这片土地上落脚……我们认为最好还是把这事通告尊敬的总督,这样您可以继续积极准备防御并随时保持警惕。"

1654年3月10日,台湾总督凯塞尔承认郑成功入侵可能带来的威胁使他毛发竖立。揆一写道,"但是如果这家伙在1653年因为一小撮没有威胁的暴民叛乱就吓得毛发直竖,那么要是在1661年郑成功带着更多农民,再加上25000多装备精良、英勇善战的士兵降临台湾,他还是台湾总督,他会有什么样的反应呢?恐怕他不仅一夜白头,而且要吓得心脏迸出了……"

揆一再三要求增援,但是荷兰政府正忙着从葡萄牙手中抢夺澳门,指责揆一杞人忧天。而1660年10月,当增援的12艘战舰真的来了,而荷兰舰队司令又蔑视所谓的威胁。在和揆一进行艰难谈判后,他率领其中9艘战舰到巴达维亚,他还说揆一坏话,并说服荷兰政府用克朗克取代揆一任台湾总督。

正当克朗克前往台湾就任时,荷兰政府得到郑成功入侵台湾的消息,当即派船前往召回克朗克并再次让揆一担任总督。但是克朗克没有接到通知,而当看到台湾战势时,他就逃到日本,让揆一自生自灭。

郑成功命令揆一在24小时内投降,但是尽管郑的人数远远超过他,而且增援无望,揆一仍然拒绝投降。当郑成功发现突破城堡的防守比较困难时,他采用长时间围困的战略,他知道最终他们会因为断粮而屈服。

数月后,少得可怜的救援兵力前来解救揆一,只有10艘战舰,700名荷兰士兵。与此同时满清政府闽、浙总督也愿意为打败郑成功提供援助。但揆一的希望又一次破灭了,他委托荷兰舰队司令带信和礼品给福建总督。但在郑成功摧毁他几艘战舰后,怕死的司令自己逃回荷兰。揆一这一次真的只有靠自己,毫无胜算。

1662年1月,在英勇地抵抗郑成功包围数月后,荷兰人决定投降。或许,郑成功尊重揆一英勇但无用的抵抗,他允许敌人坐自己的船,悬挂荷兰国旗离开。但是揆一的同胞却不像他的对手那样仁慈。尽管揆一是惟一具有远见、正直和英勇的荷兰领导人,荷兰政府却因为他失败而判他死刑。

幸运的是,揆一小心翼翼收藏的档案,以及日记和信件证明了事情的真相。在被流放9年后,他带着荣耀回到家乡,并着手写《被忽略的福摩萨》。这本书引人入胜并不乏幽默地剖析了揆一和郑成功这对伟大的对手。

揆一《被忽略的福摩萨》节选
揆一眼中的郑成功军队
"他(郑成功)没有构筑战壕,也没有架设任何大炮,尽管他非常了解战争模式,而且拥有充足的重型武器装备,这一点在后来的战斗中得到证实。很显然,他认为将不费任何周折而夺取城堡。"

"敌人的士兵使用各种各样的武器。一些士兵背上挎着弓和箭;另外一些除了左臂一块盾牌外,右手一把利剑外什么都没有;而许多士兵双手都挥动着令人生畏的战剑,剑足足有半人长。每个士兵的上身都穿一件铁甲来护身,就像屋顶的瓦片环环相扣。他们的手臂和大腿是裸露的。"

这为防止步枪攻击提供全面的保护,而且能够活动自如。因为那些铠甲只是延伸到膝盖位置,而且每个交接处都非常灵活。
弓箭手是郑成功最精良的军队,而且是他的主要依靠力量。因为即使在很远的距离,他们也能以娴熟的技术操使武器,这使得我们的步枪手黯然失色。
"每10个人中,就有一个队长,队长掌管队伍并促使他的队伍向前,迫使他们向敌人的队伍进逼。他们弯着头,把身体藏在盾牌里,以激烈和不屈的勇气,向对方进攻,像是家里还有一副多余的躯体似的。他们不断地向前进逼,尽管很多人被击毙,他们想都不想,仍然像疯狗一样向前冲,也不向四周看看有没有同伴跟上。"
郑成功对荷兰人所谓友好声明的回应
"[荷兰人的友谊]就像他们对待其他印度当权者和王公贵族一样,即只从他们自身利益出发,只要有利可图,友谊就能维持。如果他们占优势,就不会表现出友谊。但是,如果他们认为合适,会毫不犹豫向任何一个人下手。"
郑成功关于台湾和大陆关系的论述
"然台湾者,早为中国人所经营,中国之土地也,……今余既来索,则地当归我。荷兰人毫无疑问只是被允许居住而已,荷兰人,来自遥远地区的外国人,只有把她交还给她的主人,才是公平合理的。中国并不是发动与荷属东印地公司的战争(尽管他的手下曾经多次被他们不友善地对待),而只是想要回属于他的东西。为表明他没打算要用荷属东印地公司的财产发家致富,他同意他们把自己的东西和财产装到船上,把城堡推倒,把大炮以及其它物资搬运到巴达维亚,如果他们立即搬走的话。那样,他和荷属东印地公司的友谊将丝毫未损……"
TRAVEL LINKS

Favorite Fujian Sites

Fujian Foto Album

Xiamen

Gulangyu

Fujian Guides

Quanzhou

Z
hangzhou

Longyan

Wuyi Mtn

Ningde

Putian

Sanming

Zhouning

Taimu Mtn.

Roundhouses

Bridges

Jiangxi

Guilin

Order Books

Readers' Letters

Click to E-mail


Readers'Letters

Last Updated: May 2007


Back to Top


DAILY LINKS


FAQs Questions?


Real Estate


Shopping

Maps


Bookstores


Trains

Busses


Car Rental


Hotels

News (CT)


Medical & Dental


YMCA Volunteer!


XICF Fellowship


Churches


Expat Groups


Maids

Phone #s
EDUCATION


Xiamen University


XIS(Int'l School)


Study Mandarin


CSP(China Studies)


Library

Museums


History
DINING


Restaurants

Asian


Veggie

Junk Food


Chinese

Italian


International


Visas 4 aliens
RECREATION


Massage!


Beaches

Fly Kites


Sports

Boardwalk


Parks

Pets


Birdwatching


Kung Fu

Hiking


Music Events


Festival&Culture


Humor&

Fun Fotos


BUSINESS


Doing Business


Jobs!(teach/work)


Hire Workers


Foreign Companies


CIFIT (Trade Fair)


MTS(Translation)



Back to Top