Click to Access
OUTSIDE China


Click to Access
INSIDE China


TRAVEL LINKS


Xiamen

Gulangyu


Jimei

Tong'an


Jinmen

Zhangzhou


Quanzhou

Wuyi


#1Fujian Sites!


Fujian Foto Album


Books on Fujian


Readers'Letters


Ningde

Zhouning


Longyan

Sanming


Putian

Bridges


Travel Info,


Hakka Roundhouses


Travel Agents

MISC. LINKS


Amoy People!


Darwin Driving


Amoy Tigers


Chinese Inventions


Tibet in 80 Days!


Dethroned!


Misc.Writings


Latest News


Lord of Opium


Back to Main Page
AmoyMagic--Guide to Xiamen & Fujian

Copyright 2001-7 by Sue Brown & Dr. Bill

Order Books


Main Page Business Links Recreation Links Google Search E-mail
Gulangyu Organ Museum (World's Largest) Adapted from "Discover Gulangyu"




Museum Links:

Museum Main Page

China's 1st Anthropology Museum

Lin Yutang Museum

Chinese - European Art Center

Lu Xun Museum

Postal Museum

Piano Museum

Organ Museum

Xiamen Museum

Overseas Chinese Museum

Xiamen Meteoroligcal Center

Calligraphy Square

Bridge Museum

Weird World Museum

Life Sciences Museum

Art in the Park

Music Square (proof that Chopin was Chinese!)

Quanzhou Maritime Museum (well worth the drive!)

Xiamen Military Museum

Piano Museum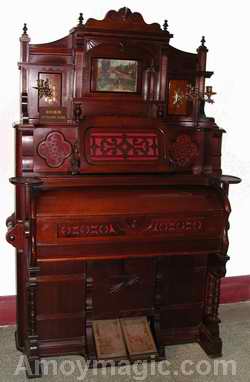 Gulangyu Organ Museum The only such museum in China, and the largest of its kind in the world, it opened in early 2005 in the red-domed Bagua Building and how has over 100 organs (including 3 kinds of reed organs, pianicas, accordians, and three large pipe organs, all donated by the Piano Museum¡¯s founder, Mr. Hu Youyi. Vivian Zhang quoted Hu as saying at the museum¡¯s opening concert,

¡°Pipe organs are acclaimed as the most sublime and divine musical instrument I the west. I hope one day organ lovers from all over the world will come on a music pilgrimage to my hometown, Gulangyu, to appreciate its beauty.¡±

The organ played at the opening concert was a historic ¡°Norman & Beard¡± made in 1909. The 6 meter high instrument has 1,350 pipes, 3 layers of keyboards and 21 organ stops, and took Ian Wakeley, an Australian organ technician, over a month to restore and tune. Ian explained why the organ was in such good shape:

¡°It is made of the best materials by the best builders with the best techniques and is a representative of the highest level at that time. And that is why, after nearly a century, it still remains in amazingly good condition while most other instruments of its age have long turned decayed.¡±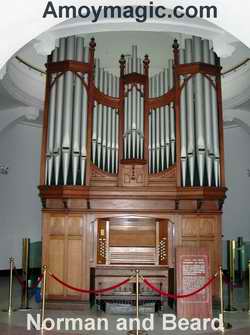 This organ was formerly in England¡¯s Cradley Heath Methodist Church, where Paul Carr gave his 100th and final concert on it in June 2003. Carr seems happy with its new home. He wrote, ¡°as the organ will not be squashed into a corner, as it was at Cradley Heath, it could sound up to 50% louder!¡±

As the church was to be closed, organist Mark Checkley spread the word on the internet that the venerable instrument needed a home, but after 18 months and 250 responses, the best offer was from a local organ builder who wanted to dismantle the beauty and salvage pipes and parts for a future organ. But finally they heard that Ian Wakeley was seeking an organ for a Chinese client, and within a couple of weeks the organ was destined for Gulangyu.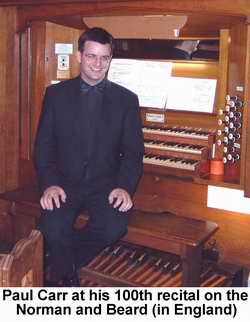 The day after the church¡¯s final service on Sunday, July 18th, Ian and two assistants began 4 days of carefully dismantling the instrument and packing the components into crates custom made on the spot. Organist Paul Carr said it took four men six hours just to load the parts onto the truck, where it was hauled to Southhampton Dock, loaded onto the slow boat to China¡ªand reassembled on Gulangyu.
Visit this remarkable instrument¡ªand ask the attendants to play it for you!
Address:
No. 45 Huang Yan Rd., Gulangyu
Phone: 257-0331 E-mail: glygqbwg@sina.com


TRAVEL LINKS

Favorite Fujian Sites

Fujian Foto Album

Xiamen

Gulangyu

Fujian Guides

Quanzhou

Z
hangzhou

Longyan

Wuyi Mtn

Ningde

Putian

Sanming

Zhouning

Taimu Mtn.

Roundhouses

Bridges

Jiangxi

Guilin

Order Books

Readers' Letters

Click to E-mail


Readers'Letters

Last Updated: May 2007


Back to Top


DAILY LINKS


FAQs Questions?


Real Estate


Shopping

Maps


Bookstores


Trains

Busses


Car Rental


Hotels

News (CT)


Medical & Dental


YMCA Volunteer!


XICF Fellowship


Churches



Temples


Mosque


Expat Groups


Maids

Phone #s
EDUCATION


Xiamen University


XIS(Int'l School)


Study Mandarin


CSP(China Studies)


Library

Museums


History
DINING


Restaurants

Asian


Veggie

Junk Food


Chinese

Italian


International


Visas 4 aliens
RECREATION


Massage!


Beaches

Fly Kites


Sports

Boardwalk


Parks

Pets


Birdwatching


Kung Fu

Hiking


Music Events


Festival&Culture


Humor&

Fun Fotos


BUSINESS


Doing Business


Jobs!(teach/work)


Hire Workers


Foreign Companies


CIFIT (Trade Fair)


MTS(Translation)



Back to Top