Click to Access
OUTSIDE China


Click to Access
INSIDE China


TRAVEL LINKS


Xiamen

Gulangyu


Jimei

Tong'an


Jinmen

Zhangzhou


Quanzhou

Wuyi


#1Fujian Sites!


Fujian Foto Album


Books on Fujian


Readers'Letters


Ningde

Zhouning


Longyan

Sanming


Putian

Bridges


Travel Info,


Hakka Roundhouses


Travel Agents

MISC. LINKS


Amoy People!


Darwin Driving


Amoy Tigers


Chinese Inventions


Tibet in 80 Days!


Dethroned!


Misc.Writings


Latest News


Lord of Opium


Back to Main Page
AmoyMagic--Guide to Xiamen & Fujian

Copyright 2001-7 by Sue Brown & Dr. Bill

Order Books


Main Page Business Links Recreation Links Google Search E-mail
Gulangyu Piano Museum (Asia's Largest) Adapted from "Discover Gulangyu"




Museum Links:

Museum Main Page

China's 1st Anthropology Museum

Lin Yutang Museum

Chinese - European Art Center

Lu Xun Museum

Postal Museum

Piano Museum

Xiamen Museum

Overseas Chinese Museum

Xiamen Meteoroligcal Center

Calligraphy Square

Bridge Museum

Weird World Museum

Life Sciences Museum

Art in the Park

Music Square (proof that Chopin was Chinese!)

Quanzhou Maritime Museum (well worth the drive!)

Xiamen Military Museum

World's Largest Organ Museum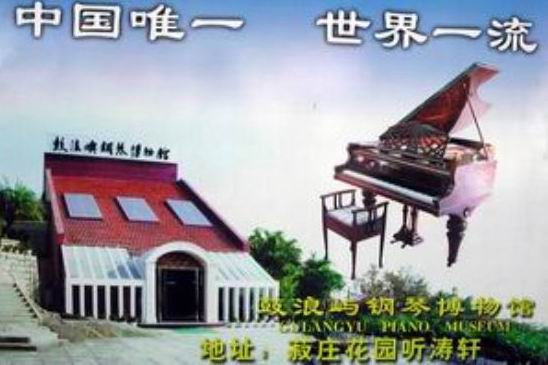 Xiamen Gulangyu Piano Museum (ÏÃÃŹÄÀËÓì¸ÖÇÙ²©Îï¹İ) Given Gulangyu¡¯s musical heritage, it is no surprise that Australian Overseas Chinese Mr. Hu Youyi chose his ancestral home for Asia¡¯s largest piano museum, which now has over 100 pianos from the U.K., France, the U.S., Germany, Austria, and Australia, as well as over 100 priceless piano lamps. (Hu also opened the world's largest organ museum on Gulangyu).

The Gulangyu Piano Museum¡¯s two halls are set within the tropical flowers and trees of a 2,000 square meter tract of land on the hill overlooking Shuzhuang Garden and the sea. A perfect way to finish a tour of the museum is to sit on one of the piano benches before the ceiling-to-floor plate glass windows and savor the scenery while listening to piped in classical piano pieces.
Mr. Hu¡¯s collection includes a French

street musician's barrel piano (I half expected to see an organ grinder and a monkey), the Broadwood & Sons piano that won a golden medal at the Paris International Fair, a grand piano with ivory keys from an English palace, and a piano cherished by president Lincoln.

The first of the two halls opened January of 2000, and has the collection¡¯s oldest piano. Although few pianos are actually built by pianists, this instrument was crafted in 1801 by visionary composer Muzio Clementi (1752-1832).

Clementi crafted both uprights and grands on which to perform his more than 106 sonatas (46 were for violin, cello or flute), as well as countless smaller pieces. Clementi is also remembered for the horrifying tale in which George Grove visited Clementi¡¯s nephew, a vicar in southeast England, and found the maid lighting a fire with Clementi¡¯s manuscript! I wonder if she was fired?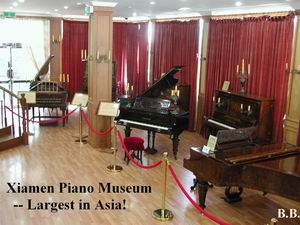 Hall #1 also has the world¡¯s tallest upright piano (an 1824 Broadwood & Sons, from London), and Hall No. 2 showcases the development of the piano with exhibits like the 1928 Haines. The most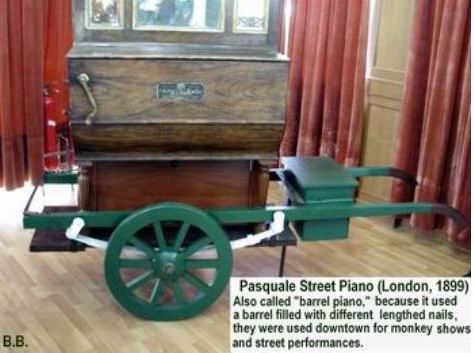 expensive piano of its era, this American marvel was completely automatic, able to perfectly imitate the styles of many well known pianists. As of this writing, the Haines is played for visitors daily at 4 pm. Address: No.45 Huangyan Rd (Shuzhuang Garden)
Address:
No. 45 Huang Yan Rd., Gulangyu
Phone: 257-0331 E-mail: glygqbwg@sina.com


TRAVEL LINKS

Favorite Fujian Sites

Fujian Foto Album

Xiamen

Gulangyu

Fujian Guides

Quanzhou

Z
hangzhou

Longyan

Wuyi Mtn

Ningde

Putian

Sanming

Zhouning

Taimu Mtn.

Roundhouses

Bridges

Jiangxi

Guilin

Order Books

Readers' Letters

Click to E-mail


Readers'Letters

Last Updated: May 2007


Back to Top


DAILY LINKS


FAQs Questions?


Real Estate


Shopping

Maps


Bookstores


Trains

Busses


Car Rental


Hotels

News (CT)


Medical & Dental


YMCA Volunteer!


XICF Fellowship


Churches



Temples


Mosque


Expat Groups


Maids

Phone #s
EDUCATION


Xiamen University


XIS(Int'l School)


Study Mandarin


CSP(China Studies)


Library

Museums


History
DINING


Restaurants

Asian


Veggie

Junk Food


Chinese

Italian


International


Visas 4 aliens
RECREATION


Massage!


Beaches

Fly Kites


Sports

Boardwalk


Parks

Pets


Birdwatching


Kung Fu

Hiking


Music Events


Festival&Culture


Humor&

Fun Fotos


BUSINESS


Doing Business


Jobs!(teach/work)


Hire Workers


Foreign Companies


CIFIT (Trade Fair)


MTS(Translation)



Back to Top