Click to Access
OUTSIDE China


Click to Access
INSIDE China


TRAVEL LINKS


Xiamen

Gulangyu


Jimei

Tong'an


Jinmen

Zhangzhou


Quanzhou

Wuyi


#1Fujian Sites!


Fujian Foto Album


Books on Fujian


Readers'Letters


Ningde

Zhouning


Longyan

Sanming


Putian

Bridges


Travel Info,


Hakka Roundhouses


Travel Agents

MISC. LINKS


Amoy People!


Darwin Driving


Amoy Tigers


Chinese Inventions


Tibet in 80 Days!


Dethroned!


Misc.Writings


Latest News


Lord of Opium


Back to Main Page
AmoyMagic--Guide to Xiamen & Fujian

Copyright 2001-7 by Sue Brown & Dr. Bill

Order Books
Main Page
Business Links
Recreation Links
Google Search
E-mail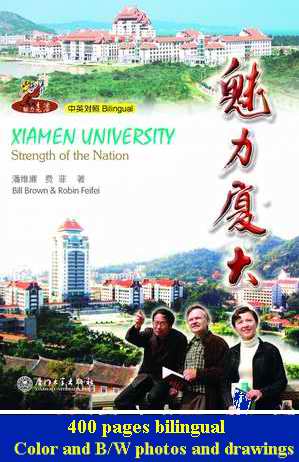 XMU Links:



Xiamen Univ.Strength of the Nation" by Dr. Bill & Robin.


Office of Int'l Exchange (ICE) -- Teach at XMU!


XMU Founder Tan Kah Kee (Henry Ford of Asia)

Xiada Today!

Tour XMU!

Chinese-European Art Center


Lu Xun Father of Modern Chinese Lit.

MBA Center
Chinese European Art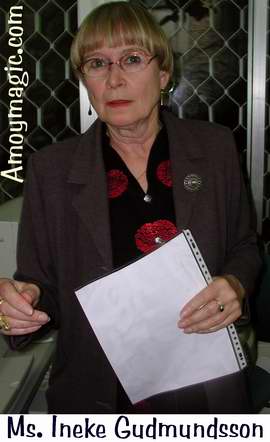 Center Seeing as how it was the Dutch who opened up Xiamen way back when, its appropriate that they are in the forefront of opening Xiamen yet again as they help Chinese Laonei and European Laowai better understand one another's culture and arts.
Ms. Ineke Gudmundsson iniated the Art Center in 1999 as a joint venture with Xiamen University Art College. Works by well respected European artists have included Teun Hock's painted photographs ("stills of the theater of life"), JCJ Vanderheyden's "fragments of reality," Pieter Holstein's drawings, Marcel Kalksma's handmade prints, Arni Gudmundsson's sculptures, as well as the works of Chinese artists like Xie Lai, Wu Yiming and Wen Bin.

When I visited the art center this morning, Jean Bernard Koeman was busy, drill in hand, setting up his exhibit entitled, "Mental Architecture (a travel survival kit), which included photos, Chinese characters, and oddly designed cubicles (designed, he said, to fit well in planes, and to form a sphere when stacked). It was a bit too much architecture for my mental capacities (or lack of them), but I enjoyed the photos, and his infectious enthusiasm. I did ask one person why Xiamen Univ. doesn't have an American-Chinese Center and they said it was because we Americans don't have any culture. That isn't true. I've had cultures many times; I've used them to make yogurt.

Exhibits change frequently, so check out the latest offerings at their website, or phone. Tel: 218-0850, 218-5860
website: http://www.ceac99.com E-mail: ceac99@public.xm.fj.cn
Center Hours: Wed. thru Sunday, 10 AM – 12 Noon, 3 – 5 PM

Click to E-mail


Readers'Letters

Last Updated: May 2007


Back to Top


DAILY LINKS


FAQs Questions?


Real Estate


Shopping

Maps


Bookstores


Trains

Busses


Car Rental


Hotels

News (CT)


Medical & Dental


YMCA Volunteer!


XICF Fellowship


Churches



Temples


Mosque


Expat Groups


Maids

Phone #s
EDUCATION


Xiamen University


XIS(Int'l School)


Study Mandarin


CSP(China Studies)


Library

Museums


History
DINING

Tea Houses


Restaurants

Asian


Veggie

Junk Food


Chinese

Italian


International


Visas 4 aliens
RECREATION


Massage!


Beaches

Fly Kites


Sports

Boardwalk


Parks

Pets


Birdwatching


Kung Fu

Hiking


Music Events


Cinema


Festival&Culture


Humor&

Fun Fotos


BUSINESS


Doing Business


Jobs!(teach/work)


Hire Workers


Foreign Companies


CIFIT (Trade Fair)


MTS(Translation)



Back to Top