Click to Access
OUTSIDE China


Click to Access
INSIDE China


TRAVEL LINKS


Xiamen

Gulangyu


Jimei

Tong'an


Jinmen

Zhangzhou


Quanzhou

Wuyi


#1Fujian Sites!


Fujian Foto Album


Books on Fujian


Readers'Letters


Ningde

Zhouning


Longyan

Sanming


Putian

Bridges


Travel Info,


Hakka Roundhouses


Travel Agents

MISC. LINKS


Amoy People!


Darwin Driving


Amoy Tigers


Chinese Inventions


Tibet in 80 Days!


Dethroned!


Misc.Writings


Latest News


Lord of Opium


Back to Main Page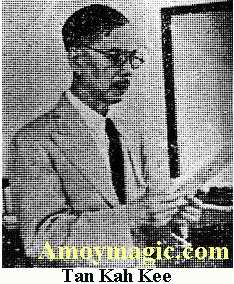 AmoyMagic--Guide to Xiamen & Fujian

Copyright 2001-7 by Sue Brown & Dr. Bill

Order Books
Main Page
Business Links
Recreation Links
Google Search
E-mail

Tan Kah Kee —"Henry Ford of Asia"
(not the "Chicken guy" of Tan Kah Kee Fried Chicken, but the great "Rubber Magnate!" & founder of Xiamen University)
From " Xiamen University--Strength of the Nation" .by Dr. Bill Brown & Robin Feifei-- almost 400 pages, bilingual Chinese/English parallel, B&W and color photos, drawings, maps.
Click Here for Chinese Version of This Page
Click Here The Rubber Magnate
Click Here The Frugal Philanthropist
Click Here Supporting Education Abroad
Click Here Xiamen University--Apple of Tan's Eye
Click Here XMU Retreats to Changting
Click Here Tan's Final Years
Click Here Li Guangqian (Lee Kong Chian)
Click Here Sa Ben Dong (XMU President in Changting)
A Double Portion of Tan's Spirit
Innovative education is of course nothing new at XMU. Our university has been pioneering all elements of modern education ever since it was founded in 1921 by the "Henry Ford of Asia," Mr. Tan Kah Kee. This famous Overseas Chinese patriot gave an estimated USD 100 million to educa-tion, thanks his business acumen and frugal lifestyle. But Mr. Tan left us much more than mere money.

As I teach in Organizational Behavior, organizations' personalities often reflect those of their founders, and XMU is certainly no exception. XMU's 85 years of success show it has inherited a double portion of Mr. Tan's spirit and vision for a better China, a better Asia, and a better humanity.

Our university's founder, Mr. Tan Kah Kee (Chen Jiageng, 1874-1961), gave an estimated 100 million USD to education over his lifetime but he was born into a humble family of merchants in the village of Jimei, on the mainland across from Xiamen Island. Tan worked the fields and the fishnets until he started school at the age of nine, and in the fall of 1890 he moved to Singapore to help in his father's rice shop. His father's business went under in 1904, but the savvy son pulled together enough capital to buy 500 acres of forested land in Singapore and started a pineapple plantation.
Back to top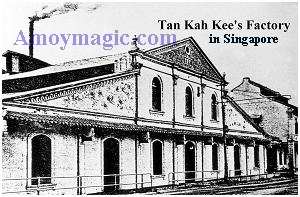 The Rubber Magnate Tan rapidly expanded into rice milling, manu-facturing, sawmills, real estate, and ocean transport, but it was rubber that really stretched his fortune. He set aside a few acres of his pineapple planta-tion and eventually had 10,000 acres of rubber trees. His expansion from rubber planting to rubber manufacturing helped create the rubber industry and made him one of the four great Rubber Barons.
By the mid 1920s, the Rubber Magnate's Singapore-based empire em-ployed over 30,000 people, had 150 offices on 5 continents, and did business with 48 countries. But prices plummeted after 1926 and rubber never quite bounced back. Even worse, after Mr. Tan protested Japan's brutal "Jinan Massacre" (May 3rd, 1928), his factory was burned to the ground. Yet even as he struggled through the Great Depression he continued to finance Jimei School, Xiamen University, and Chinese and English schools in Singapore—a feat he managed in part because of his frugality.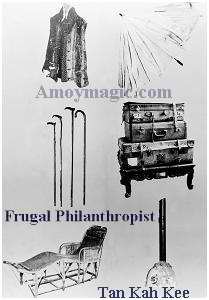 The Frugal Philanthropist Rich philanthropists generally give but a fraction of their wealth while alive, but leave behind large foundations since the only thing they can take with them when they die is their reputation. But Mr. Tan quite literally gave like a prince while living like a pauper, subsisting on little more than rice porridge and potatoes, and using the same umbrella and battered suitcases for decades. Other rich Chinese of his day built luxurious villas on nearby Gulangyu Islet, but Mr. Tan contented himself with a sim-pler home in his native Jimei. As he wrote to a relative, his hometown still had great needs and "I cannot put myself before the community."

The Japanese destroyed Tan's home in 1938, and when the Chinese government offered to rebuilt it after Liberation, Tan insisted that war-damaged school buildings be rebuilt first. His home was finally renovated in 1955 and he lived there from 1958 until 1960, when he moved to Beijing. Tan's house was restored to its original design in 1980 and is now a museum and meeting place for the Jimei School Committee. I think the most moving exhibits are the battered suitcases, umbrellas and worn-out shoes that the "pauper millionaire" used for decades.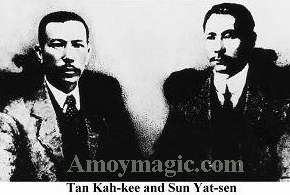 Mr. Tan's Vision for China Mr. Tan was a social and political reformer from youth. He supported Sun Yat-sen, and at one point accounted for about 1/3 of the Kuomintang's finances (a feat he no doubt regretted when Chiang Kai Shek absconded to Taiwan with his money and everyone else's). But Tan's greatest hope for China was in modern education.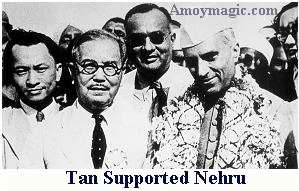 In 1894, at age 21, Tan began a family school in Jimei. In 1912, during the first year of the new Republic of China, Tan returned to China and on January 27, 1913 opened the Jimei Primary School. Between 1920 and 1926 he opened a school a year until Jimei School Village had 11 schools, includ-ing a middle school and schools in agriculture, commerce, forestry, navigation, etc. In addition, Jimei School Village's education promotion department donated to more than 70 middle schools and primary schools throughout Fujian province.
Back to top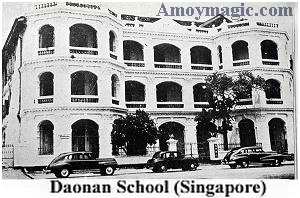 Supporting Education Abroad Tan also began or funded at least seven schools in Singapore, including Tao Nan (1907), Ai Tong (1912), Chung Fook Girls School (1915), Chung Poon (1915), the Singapore Chi-nese High School (1918), Nanyang Normal School (1941) and Nan Chaio Girls High School (1947). . His largesse was not limited to Chinese schools. He gave $30,000 to the Anglo-Chinese School in 1919 and in 1941 gave $10,000 to Raffles College, which later merged with the Medical College and eventually became the University of Singapore.

Xiamen University—Apple of Tan's Eye In early November, 1920, Mr. Tan offered

one million Yuan to start Xiamen University, which began with the Normal and Commerce Departments, and later expanded to five Colleges and 17 departments in Literature, Science, Law, Commerce and Education. Xiamen University captured the imagination of Chinese and foreigners alike. In the 1920s, Paul Hutchinson wrote,
"This school [Xiamen University] is entirely a Chinese institution, with no foreign teachers and no foreign connections, and right out in a small Chinese village. The course of study is being made very practical… When we think of the future days, it is one of the most encouraging things to be seen in the whole of China."
Mr. Tan emphasized quality education. He sent students abroad, hired teachers from other areas, purchased the latest equipment, and emphasized sports. By the spring of 1937, his financial fortunes had so suffered that he allowed the government to take over Xiamen University, but he continued to subsidize it. Tan wrote to the minister of education that he had had "a fine start and a poor finish," and would "live in perpetual regret." [If only he could see XMU today!]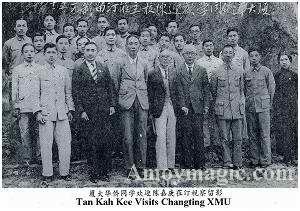 Back to top
XMU Retreats to Changting That same year, Xiamen University relocated to Changting in West Fujian to escape destruction by the Japanese, who had occupied Xiamen. [Read more in the next chapter, "Sa Bendong"]. The Japanese surrendered in August, 1945, and on October 21, 500 mass organizations in Singapore welcomed Tan's return from a decade of exile in Java. A large meeting in Chongqing on November 18, 1945, celebrated Mr. Tan's safety, and Chairman Mao inscribed a scroll about Tan which read, "Banner of Overseas Chinese, Glory of the Nation."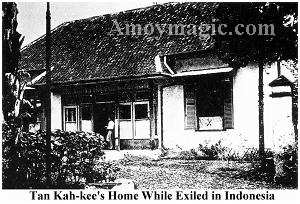 XMU returned to Xiamen after Japan's defeat and the new president and eminent biologist, Dr. Wang Deyao, immediately set out rebuilding and ex-panding the campus. Tan's vision and money and Wang's leadership paid off. XMU was designated a key national university in 1962 and has been mushrooming ever since.

On October 1, 1949, Chairman Mao invited Mr. Tan to Tiananmen to participate in the ceremony of the founding of the People's Republic of China. Tan settled down in his homeland in 1950 and devoted the rest of his life and fortune to its reconstruction.
Back to top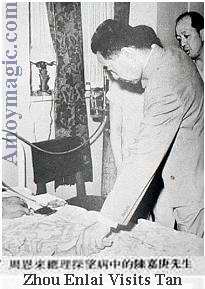 Tan's Final Years During his last years Mr. Tan served in many posts, including Chairman of Returning Overseas Chinese League, Member of the Standing Committee of the National People's Congress, and Vice-Chairman of the CPPCC. He was also responsible for innovations like China's first sea-spanning bridge (the award-winning Xiamen-Jimei bridge), the Jimei Dragon Boat Pool, which has hosted numerous domestic and international aquatic events, and Jimei's 15 storey Nanyuan Building, which has a navigational light on the roof to guide fishermen safely home.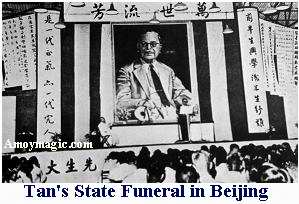 Mr. Tan died of cancer in 1961, and after a State Funeral in Beijing, a special train transported his body to his hometown of Jimei. Tan left behind three million Yuan in banks, but the man who gave like a prince and lived like a pauper evidently expected his descendants to do the same—or make their own fortune. He left no money to his family, but gave half a million to Jimei School Foundation, half a million to construct Beijing's Overseas Chinese Museum, and over two million Yuan for education.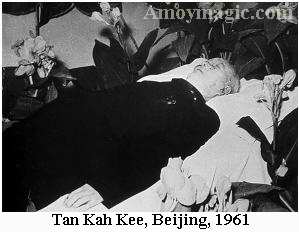 Tan's International Legacy Altogether, Mr. Tan gave an estimated 100 million USD towards education, both in China and abroad, and the Tan Kah Kee Foundation has been awarding a Postgraduate Scholarship since 1983. In 1986, Nobel Prize Laureate Prof. C.N. Yang set up the Tan Kah Kee Inventors' Award, and in 1992, Prof Yang and two other Nobel Prize Laureates, Prof Samuel C.C. Ting and Prof Li Yuan Tseh, together with Prof Changlin Tien, former Vice-chancellor of the University of California at Berkeley, and Prof Wang Gungwu, former President of Hong Kong University, set up the Tan Kah Kee International Society Foundation to the advancement of education and culture in the spirit of Tan Kah Kee.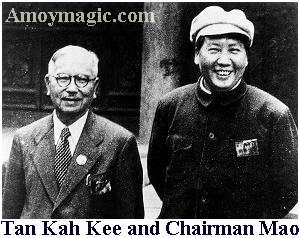 In 1991, Singapore's president, Dr. Wee Kim Wee, launched the University Endowment Fund in honor of Mr. Tan, and set a goal of raising 1$ billion for education. On 11 March, 1990, the International Asteroid Center of China named Asteroid 2963 "Tan Kah Kee Star." The naming ceremony was held at Xiamen University.
Lastly, the School of Chemistry in my home state's University of California, Berkeley, has a "Tan Kah Kee Hall." I hope more and more foreigners and Chinese alike will come to understand, and emulate, Tan Kah Kee's spirit of sacrificial giving.

"A good traveler is one who does not know where he is going to, and a perfect traveler does not know where he came from." Lin Yutang
Back to top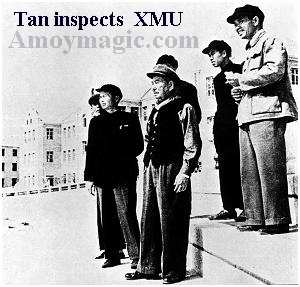 Click to E-mail


Readers'Letters

Last Updated: May 2007


Back to Top


DAILY LINKS


FAQs Questions?


Real Estate


Shopping

Maps


Bookstores


Trains

Busses


Car Rental


Hotels

News (CT)


Medical & Dental


YMCA Volunteer!


XICF Fellowship


Churches



Temples


Mosque


Expat Groups


Maids

Phone #s
EDUCATION


Xiamen University


XIS(Int'l School)


Study Mandarin


CSP(China Studies)


Library

Museums


History
DINING

Tea Houses


Restaurants

Asian


Veggie

Junk Food


Chinese

Italian


International


Visas 4 aliens
RECREATION


Massage!


Beaches

Fly Kites


Sports

Boardwalk


Parks

Pets


Birdwatching


Kung Fu

Hiking


Music Events


Cinema


Festival&Culture


Humor&

Fun Fotos


BUSINESS


Doing Business


Jobs!(teach/work)


Hire Workers


Foreign Companies


CIFIT (Trade Fair)


MTS(Translation)



Back to Top