Click to Access
OUTSIDE China


Click to Access
INSIDE China


TRAVEL LINKS


Xiamen

Gulangyu


Jimei

Tong'an


Jinmen

Zhangzhou


Quanzhou

Wuyi


#1Fujian Sites!


Fujian Foto Album


Books on Fujian


Readers'Letters


Ningde

Zhouning


Longyan

Sanming


Putian

Bridges


Travel Info,


Hakka Roundhouses


Travel Agents

MISC. LINKS


Amoy People!


Darwin Driving


Amoy Tigers


Chinese Inventions


Tibet in 80 Days


Dethroned!


Misc.Writings


Latest News


Lord of Opium


Back to Main Page
AmoyMagic--Guide to Xiamen & Fujian

Copyright 2001-7 by Sue Brown & Dr. Bill

Order Books
Main Page
Business Links
Recreation Links
Google Search
E-mail
Putian Links

The Putian Burgess Family!

Mazu (Sea Goddess) and Meizhou Island

Guanghua Temple and Sakya Buddhist Pagoda

Xianyou (Woodcarvers, waterfalls, Dream Temples)

Mulan Dam

Southern Shaolin Temple (home of Kung Fu?)

Plum Queen

Veggie Queen)

Sarah's Putian!

Rev. John Sung

The Ancient Mulan Dam (Adapted from Magic Fujian)

Fujian¡¯s Four Great Women Of Fujian¡¯s four greatest women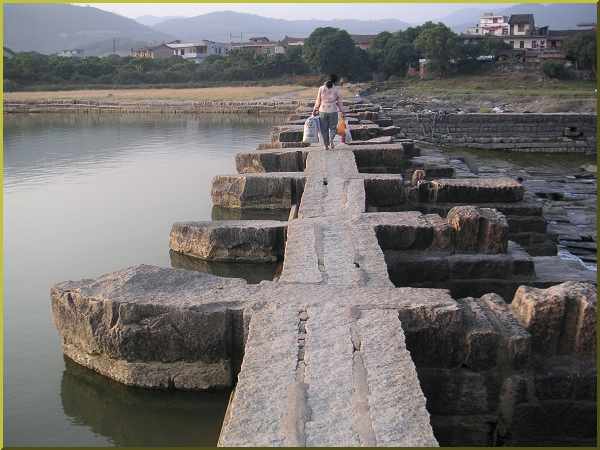 in ancient times, three were from Putian. They were Mazu, the sea goddess, Qian Siniang, the first to attempt to dam the Mulan River, and Jiang Caipin, the Emperor¡¯s concubine (also called the Plum Queen). Putian women have been famous for their courage and abilities since Qian Siniang tried to dam the Mulan River, the mother river of the Putian people.
Mulan Dam In 1064 A.D., just five years after Quanzhou built its marvelous Luoyang stone bridge, Lady Qian Siniang and Mr. Lin C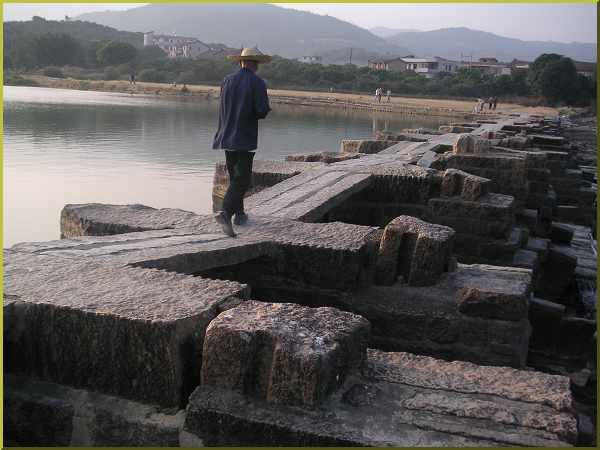 hongshi tried to build a dam at the foot of Mulan Mountain. Lady Qian spent every penny she had to build this dam, but unfortunately, they chose the wrong site, and failed. In spite of her failure, Qian Siniang is revered for her courage and determination, and a Meizhou Island temple now has a large statue of Lady Qian sitting beside Mazu and holding a Chinese coin.

I too admire Lady Qian¡ªthough given that she lost everything, I would not seek her advice for investments!

Eleven years later, the Emperor sent Mr. Lihong to try again. He drew upon the lessons of his failed predecessors, but also sought the aid of a local monk, Fen Zhiri, and in eight years they completed the 219.3 meter dam, with 32 sluice gates.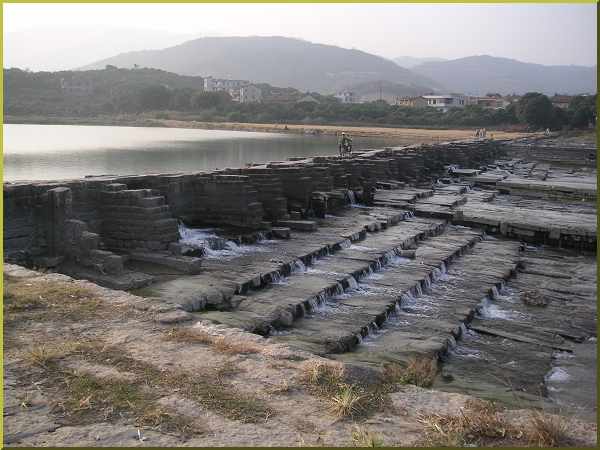 The Mulan dam helped irrigate 32,000 acres of farmland, enabling Putian to feed its growing population, and from that time on Putian became a major city, as well as an international commercial hub, thanks to 30.9 kilometers of coastline.
Read about two more famous Putian ladies!
The Plum Queen The Veggie Queen

Click to E-mail


Readers'Letters

Last Updated: May 2007


Back to Top


DAILY LINKS


FAQs Questions?


Real Estate


Shopping

Maps


Bookstores


Trains

Busses


Car Rental


Hotels

News (CT)


Medical & Dental


YMCA Volunteer!


XICF Fellowship


Churches



Temples


Mosque


Expat Groups


Maids

Phone #s
EDUCATION


Xiamen University


XIS(Int'l School)


Study Mandarin


CSP(China Studies)


Library

Museums


History
DINING


Restaurants

Asian


Veggie

Junk Food


Chinese

Italian


International


Visas 4 aliens
RECREATION


Massage!


Beaches

Fly Kites


Sports

Boardwalk


Parks

Pets


Birdwatching


Kung Fu

Hiking


Music Events


Festival&Culture


Humor&

Fun Fotos


BUSINESS


Doing Business


Jobs!(teach/work)


Hire Workers


Foreign Companies


CIFIT (Trade Fair)


MTS(Translation)



Back to Top