Click to Access
OUTSIDE China


Click to Access
INSIDE China


TRAVEL LINKS


Xiamen

Gulangyu


Jimei

Tong'an


Jinmen

Zhangzhou


Quanzhou

Wuyi


#1Fujian Sites!


Fujian Foto Album


Books on Fujian


Readers'Letters


Ningde

Zhouning


Longyan

Sanming


Putian

Bridges


Travel Info,


Hakka Roundhouses


Travel Agents

MISC. LINKS


Amoy People!


Darwin Driving


Amoy Tigers


Chinese Inventions


Tibet in 80 Days!


Dethroned!


Misc.Writings


Latest News


Lord of Opium


Back to Main Page
AmoyMagic--Guide to Xiamen & Fujian

Copyright 2001-7 by Sue Brown & Dr. Bill

Order Books
Main Page
Business Links
Recreation Links
Google Search
E-mail
Putian Links

The Putian Burgess Family!

Mazu (Sea Goddess) and Meizhou Island

Guanghua Temple and Sakya Buddhist Pagoda

Xianyou (Woodcarvers, waterfalls, Dream Temples)

Fujian Mosques

Fujian Churches

Mulan Dam

Southern Shaolin Temple (home of Kung Fu?)

Plum Queen

Veggie Queen)


Please Click This Page's Thumbnails for Larger Images

Meizhou Island äØÖÞµº Birthplace of Mazu the Sea Goddess J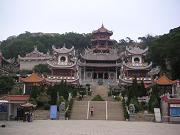 ust off Fujian¡¯s coast, between Quanzhou and Putian, lies Meizhou Island, the Mecca for Mazu worshippers.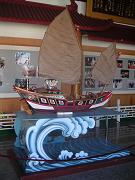 Legend has it that Mazu was called Mo (silence) because she never cried until one month old (at which time she let loose, ¡°Enough already! Feed me!¡±). Little Miss Mo could understand and interpret Buddhist scriptures by the tender age of eight when, according to a guidebook, ¡°she began to worship gods and recite texts, with an intention to salvate [sic] poor people.¡±

When she was 16, a celestial being gave her a bronze talisman, and from then on she grew in supernatural powers and wisdom. She went about doing good deeds, healing the sick with herbs, teaching how to prevent disease, and reading the sea and stars and weather to help farmers know when they should fish and when they should stay home and tell fish stories. So far so good¡ªbut then she was credited with riding the clouds, and using her power to turn the tide and to save ships, and people began calling her ¡°The Goddess¡± or the ¡°Daughter of the Dragon.¡± And her fate was sealed.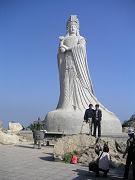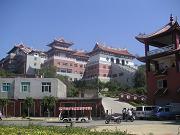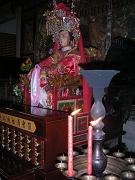 As Marilyn Monroe learned 2,000 years later, goddesses lead a lonely life, and Lin Mo ended hers at age 27, when she told her family, ¡°I feel peace, but don¡¯t want to live this life anymore. I want to ascend the mountain and travel far.¡± Lin Mo climbed Mount Meifeng, where mysterious clouds and music appeared. She hopped up on the clouds and sailed away with the wind, and has been salvating folks to this day.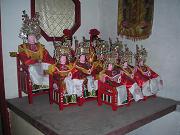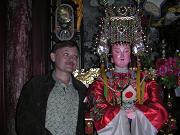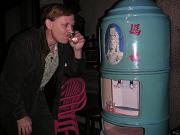 Her spirit began appearing to ships in distress and guiding them to safe haven, and grateful fishermen started worshipping her as the goddess of the sea. Even the Imperial Court, thankful for an uninterrupted supply of fish and chips , granted her 28 royal titles, including ¡°Holy Queen,¡± ¡°Holy Lady,¡± and ¡°Holy Mother.¡± (I wonder if Hindus call their goddesses ¡°Holy Cow?¡± ).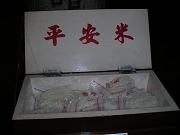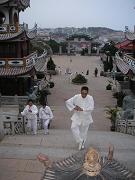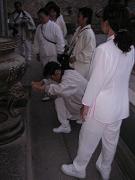 A tour book claims, ¡°Mazu now becomes a tie linking the mainland and Taiwan, and has aroused the interest of the world.¡± (How about a joint venture between the ¡°Holy Lady¡± and ¡°Our Lady of Fatima?¡± ).
Hundreds of thousands of pilgrims from around the world flock to Mazu Island each year to visit the temple and worship small statues of the goddess. They hold a special ceremony to invoke Mazu to live in the idol, and then invited the idol to return with them to their homes in Taiwan or Singapore, or Los Angeles.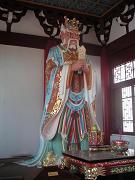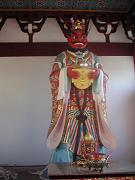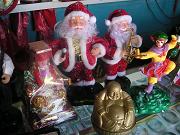 China held an International Mazu Cultural Tour Festival from April 29th to May 6th, 2002. In addition to religious services and Mazu arts and cultural displays, her devotees angled to get more participants by holding fishing contests and kite flying competitions.
While on Mazu Island, you may notice that women¡¯s hair is coiled in the shape of a ship¡¯s sail on the back of their heads. This is to honor Mazu, and to invoke their husbands¡¯ safe return from the sea. Meizhou women also wear half-red, half-blue baggy pants in memory of Mazu¡¯s red-trousers. Only half of their trousers are red because they believe they are unworthy of all-red trousers like Mo. Red tape , I suppose.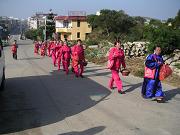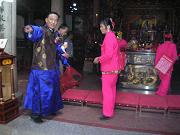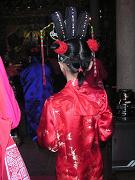 Over the past 1,000 years, people from humble fishermen to famous officials like General Shilang and Admiral Zhenghe credited safe journeys or success at war or business to Mazu¡¯s intervention.

Even today, Meizhou Island is visited by hundreds of thousands of Mazu devotees from all over the world, and especially from Taiwan, where 2/3 of the population worship Mazu. Mazu worship is one of the many close ties between Taiwanese and Fujian. Even the day we visited, we met two groups of Taiwanese worshippers. I wondered why one group of worshippers belched every few steps, and was told it was to expel unclean things from their body (photos above)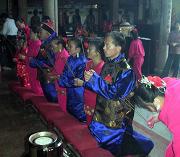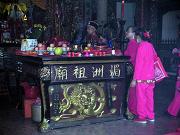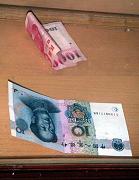 China¡¯s 5th International Mazu Cultural Festival, held in November, 2003, attracted tens of thousands of Mazu worshippers. They engaged in traditional religious ceremonies, as well as other activities.
Traces of Mazu worship can even be seen in Meizhou Islander¡¯s daily life. Some women still show their respect for Mazu by wearing the Mazu hair style, in which hair is coiled on the back of the head like a ship¡¯s sail.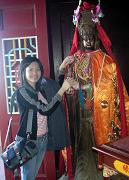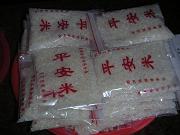 In addition, virgins wear red trousers, in memory of Mazu¡¯s red pants. Wives wear trousers that are half red and half black, and widows¡¯ trousers are entirely black.

Our female Putian guide told us, with much pride, that in a sense, Mazu liberated Putian women, giving them equality with men. And as we saw in the Mazu temple, three goddesses are enthroned in the center, while the great men are standing on the sidelines! Even today, Putian women still have the upper hand; I just hope my wife doesn¡¯t follow their example.


Click to E-mail


Readers'Letters

Last Updated: May 2007


Back to Top


DAILY LINKS


FAQs Questions?


Real Estate


Shopping

Maps


Bookstores


Trains

Busses


Car Rental


Hotels

News (CT)


Medical & Dental


YMCA Volunteer!


XICF Fellowship


Churches



Temples


Mosque


Expat Groups


Maids

Phone #s
EDUCATION


Xiamen University


XIS(Int'l School)


Study Mandarin


CSP(China Studies)


Library

Museums


History
DINING


Restaurants

Asian


Veggie

Junk Food


Chinese

Italian


International


Visas 4 aliens
RECREATION


Massage!


Beaches

Fly Kites


Sports

Boardwalk


Parks

Pets


Birdwatching


Kung Fu

Hiking


Music Events


Festival&Culture


Humor&

Fun Fotos


BUSINESS


Doing Business


Jobs!(teach/work)


Hire Workers


Foreign Companies


CIFIT (Trade Fair)


MTS(Translation)



Back to Top