AmoyMagic--Guide to Xiamen & Fujian

Copyright 2001-7 by Sue Brown & Dr. Bill

Order Books
Main Page
Business Links
Recreation Links
Google Search
E-mail
Xiamen Restaurant Links


Main Restaurant Page

Asian

Veggie Tails

Chinese

International

Italian

Muslim (Halal)

Junk Food
Cafes

Japanese

Korean

French

Brazilian

Indian

Latin

Minnan (S. Fujian)

N. Fujian

N.E. Fujian

Cantonese

Sichuan

Hot Pot

Chaozhou

Shanghai

Hunan & Hangzhou

Hakka

Anhui

Noodles!

Canine Cuisine

Millennium Harbourview Hotel Xiamen (my favorite Italian, Western Cafe, Japanese, Chinese, and the Noodle Master!)

Nancy's Gelato Comes to Xiamen!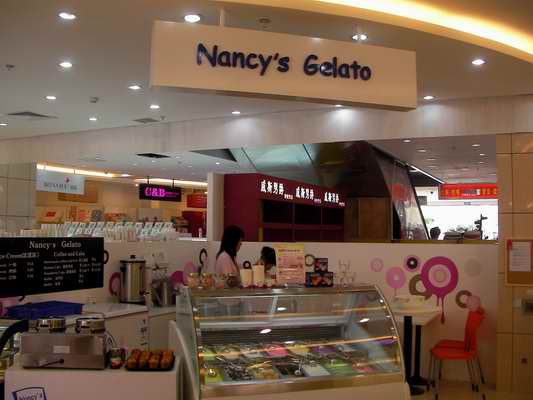 Click Pics for larger images
Tel: 667 7816 E-mail: wqfhedy@gmail.com
Add: Forward Mall, A-9, #4 Yanwu Rd. (opposite XMU)

My wife Susan Marie is in love-with the homemade, healthfu gelato at Nancy's! We've been there twice the past three days.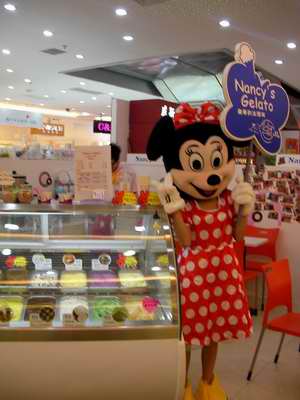 Young Miss Nancy, from Singapore, just opened this delightful gelato and snack shop in the Forward Shopping Mall opposite Xiamen University's big gate. Nancy's is on the first floor, directly opposite the "Loving Hut" (another favorite!).
Nancy uses only the best quality ingredients imported straight from Singapore to create over a dozen varieties of gelato that is so creamy and tasty that it's hard to believe they're also healthy. (It's not often you can eat something so tasty and not feel guilty about it!).
Choose your favorite flavors, from traditional favorites like coffee, cookies 'n cream, and chocolate to more unusual delights such as taro. Large and small scoops come in cones or a paper cup. Be sure to add your favorite toppings and sprinkles.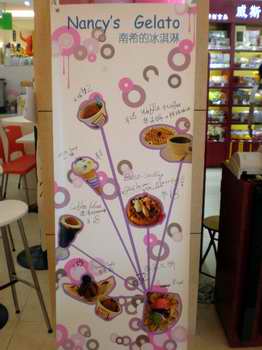 Nancy also makes fresh homebaked waffles, with various toppings. Try her breakfast special--hot waffle and coffee.
N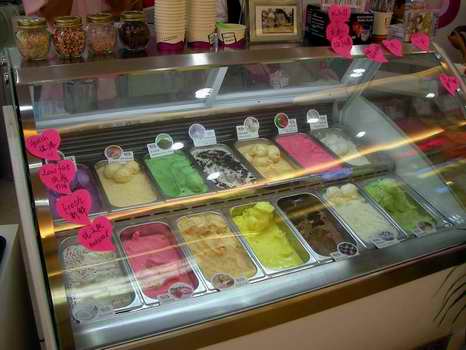 ancy's nonsweet specials, such as curry chicken toast, are made fresh on the spot from her own recipes. They're bound to curry your favor!
Clean, homey, great food, drinks and sweets, and a charming hostess. It's no wonder Nancy's has already drawn the attention of the local media. So drop in and see what they're writing about!
Loving Hut While at Nancy's also check out the Loving Hut across the way; I initially ignored it, until I learned that their delightful fast food is also health food! Hamburgers, club sandwiches, set meals; you'd never guess we had Vegan Vegetarian Fast Food in Xiamen! They have great Vegan wholewheat bread (6 Yuan for a large loaf). Tel: 208-7117 www.lovinghut.com



Main Restaurant Page

Asian

Veggie Tails

Chinese

International

Italian

Muslim (Halal)

Junk Food Cafes

Japanese

Korean

French

Brazilian

Indian

Latin

Minnan (S. Fujian)

N. Fujian

N.E. Fujian

Cantonese

Sichuan

Hot Pot

Chaozhou

Shanghai

Hunan & Hangzhou

Hakka

Anhui

Noodles!

Canine Cuisine

Millennium Harbourview Hotel Xiamen (my favorite Italian, Western Cafe, Japanese, Chinese, and the Noodle Master!)
In October, 1988, Xiamen's foreigners flocked to the Overseas Chinese Hotel to savor Amoy's 1st western food--a cheeseburger! It was just a thumbsized piece of meat on a dinner roll, with no cheese. When we protested the lack of cheese, they said it didn't need cheese. Hamburgers didn't have ham, cheeseburgers don't have to have cheese. The waitner finally brought out a tiny can of Parmesan, slapped it on the table, said, "Here. Cheese." And stalked off.
Today, Xiamen has every cuisine imaginable, as well as Chinese cuisine from all over the Celestial Kingdom (which makes me happy, since I'm fond of telling Chinese the only reason I moved here was because Chinese food was too expensive in America).
My favorite? For One Stop Dining, try my favorite hotel, the Millennium Harbourview Hotel Xiamen. It has Portofino, my favorite Italian, the best Western breakfast buffet in town, excellent Japanese, Cuisine, and Loong Yuen, one of the best Chinese restaurants in town. They are especially known for their fish, but also try their vegetarian dishes, which they developed for visiting Buddhist dignarities (their chefs attended special training at the monastery).

Magic at the Millennium! While you're at Loong Yuen, watch Master of Pasta, Dai Fankai, work his magic with dough--flat noodles, round noodles, fat Japanese oudong noodles, noodles thin enough to thread a noodle--you have to see it to believe it! I videotaped Chef Dai to show friends and they still don't believe what he can do; if I was half as good as him I'd be rolling in dough. :)
The Xiamen Univ. Restaurant in the Yifu Building (amazing selection, good service, very reasonable). In Jimei, try the homebaked delights of Solomon's Courtyard Coffee House.
Try Sundance Kid for mutton 'n veggies and fun ambience. Javaroma, by Marco Polo, has the best Aussie burgers (cheese, egg--you need to try them) in town and great baked breads--wheat, rye, sourdough.
Indiano John's has awesome Indian cuisine. Yiyuan Hotel has great Western food (try the Sunday Lunch Buffet, which is held right after the Xiamen International Christian Fellowship). Youjian Xiaozhan--a Chinese small chain with great burgers or chicken burgers, fries, etc. (taste beats Western chains, for half the price; print the card below to give to taxis). Etc, etc!
Sundance Kid--Chinese and Western. Awesome seafood 'n rice, nice pizzas, and try the incredible mutton roasted with veggies (order 3 hours in advance). Michael (the Sundance Kid) only uses extra virgin olive oil, and no MSG. I could live happily on just his heavenly yeast rolls (he bakes them himself, on the spot). He serves up great specialty iced teas, coffees, cocktails. You'll also enjoy his broad assortment of music CDs, the library, and the live entertainment on weekends. Sundance is on the harbor at #252 Lujiang Rd. Print out the card to the left and show to Taxi drivers.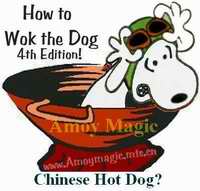 Chinese and Western Cuisine? A favorite Laowai hangout is the Yiyuan Hotel, just past Xiamen University on the Island Ring Road. Chef Matt (Luo Lun An), from Guangdong, spent ten years at the Xiamen Holiday Inn, working his way up from apprentice to Head Chef. Now he serves up great Chinese or Western food at Yiyuan. Try his chicken and cheese (Cordon Blue), cod, salmon, pizza, or hearty cheeseburgers 'n fries. And end the meal by a nice stroll up the beach, right across the street.
Pizza Hut
'Experts' say Chinese don't like cheese, but given the way they devour pizza they could have fooled me. And Chinese are master architects when it comes to constructing salads at Pizza Huts' one-trip salad bar. It is perfectly acceptable to use cucumber slices and tomatoes to extend the size of the bowl, and to cement layer after layer in place with salad dressing. Shannon is the master salad maker in our family, but even he can't compete with some of the Xiamen University girls who build salads so tall it takes two to carry them. And, somehow, they eat it all, and stay slim and trim. If I could learn their secret I'd be on Oprah tomorrow.

Try the Pizza Hut on the Seaview Building, 24th floor, near the Gulangyu Ferry, and get a tall salad and a taller view.

Click to E-mail


Readers'Letters

Last Updated: May 2007


Back to Top