Click to Access
OUTSIDE China


Click to Access
INSIDE China


TRAVEL LINKS


Xiamen

Gulangyu


Jimei

Tong'an


Jinmen

Zhangzhou


Quanzhou

Wuyi


#1Fujian Sites!


Fujian Foto Album


Books on Fujian


Readers'Letters


Ningde

Zhouning


Longyan

Sanming


Putian

Bridges


Travel Info,


Hakka Roundhouses


Travel Agents

MISC. LINKS


Amoy People!


Darwin Driving


Amoy Tigers


Chinese Inventions


Tibet in 80 Days!


Dethroned!


Misc.Writings


Latest News


Lord of Opium


Back to Main Page
AmoyMagic--Guide to Xiamen & Fujian

Copyright 2001-7 by Sue Brown & Dr. Bill

Order Books
Restaurant Links

Main Restaurant Page

Asian

Veggie Tails

Chinese

International

Italian

Muslim (Halal)

Junk Food
Cafes

Japanese

Korean

French

Brazilian

Indian

Latin

Minnan (S. Fujian)

N. Fujian

N.E. Fujian

Cantonese

Sichuan

Hot Pot

Chaozhou

Shanghai

Hunan & Hangzhou

Hakka

Anhui

Noodles!

Canine Cuisine

Millennium Harbourview Hotel (the best Italian, Western Cafe, Japanese, Chinese, & Noodle Master!)


Xiamen Hotel Guide

Fuzhou Hotels

Quanzhou Hotels

Gulangyu Hotels

Magic at the Millennium Harbodurview--by Pasta Magician Chef Dai Fan Kai.

The Millennium Harbourview Hotel's Loong Yuen restaurant not only s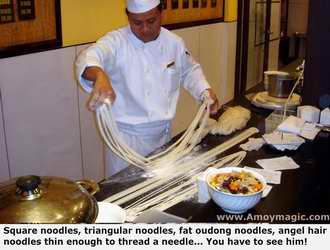 erves up some of Xiamen's best Cantonese and vegetarian cuisine, but also one of the most amazing culinary displays in town.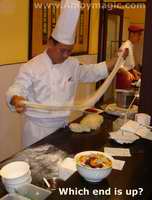 Master of Pasta, Dai Fankai, has worked his amazing magic with pasta for 16 years. Friends could not believe what he was capable of, even when I showed them the videotapes I took.

Chef Dai shapes the dough, stretches it, twirls and slaps it--and then produces thick flat noodles, square noodles, triangular noodles (yep!), fat Japanese oudong noodles--even angel hair noodles thin enough to thread a needle (literally!) We watched him for a good 15 minutes, and then sat down to enjoy large steaming bowls of his artwork. Heavenly!

He'll create any kind of pasta you can think of, with any combination of sauces, meats, veggies, tofu, Chinese herbs...

If I could just learn a smidgeon of Chef Dai's techniques, I'd be rolling in dough. Fortunately, you don't have to be rolling in dough to enjoy his performance, or his food. So drop by the Xiamen Millennium Harbourview Hotel and check out the Cantonese Loong Yuen restaurant, and Chef Dai's magic pasta (the Millennium also has Portofino, my favorite Italian restaurant in Xiamen, as well as our island's best buffet breakfast, and an excellent Japanese chef).

Click Images below (and above) for larger photos.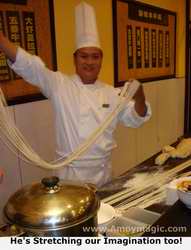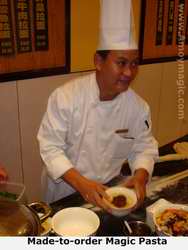 Click to E-mail


Readers'Letters

Last Updated: May 2007


Back to Top


DAILY LINKS


FAQs Questions?


Real Estate


Shopping

Maps


Bookstores


Trains

Busses


Car Rental


Hotels

News (CT)


Medical & Dental


YMCA Volunteer!


XICF Fellowship


Churches



Temples


Mosque


Expat Groups


Maids

Phone #s
EDUCATION


Xiamen University


XIS(Int'l School)


Study Mandarin


CSP(China Studies)


Library

Museums


History
DINING


Restaurants

Asian


Veggie

Junk Food


Chinese

Italian


International


Visas 4 aliens
RECREATION


Massage!


Beaches

Fly Kites


Sports

Boardwalk


Parks

Pets


Birdwatching


Kung Fu

Hiking


Music Events


Festival&Culture


Humor&

Fun Fotos


BUSINESS


Doing Business


Jobs!(teach/work)


Hire Workers


Foreign Companies


CIFIT (Trade Fair)


MTS(Translation)



Back to Top