AmoyMagic--Guide to Xiamen & Fujian

Copyright 2001-7 by Sue Brown & Dr. Bill

Order Books
Main Page
Business Links
Recreation Links
Google Search
E-mail
S. Fujian (M¨«n C¨¤i Ãö²Ë£) Cuisine & Seafood
Restaurant Links

Main Restaurant Page

Asian

Veggie Tails

Chinese

International

Italian

Muslim (Halal)

Junk Food

Cafes

Japanese

Korean

French

Brazilian

Indian

Latin

Minnan (S. Fujian)

N. Fujian

N.E. Fujian

Cantonese

Sichuan

Hot Pot

Chaozhou

Shanghai

Hunan & Hangzhou

Hakka

Anhui

Noodles!

Canine Cuisine
This page adapted from "Amoy Magic--Guide to Xiamen" Please click links above for 100s of restaurants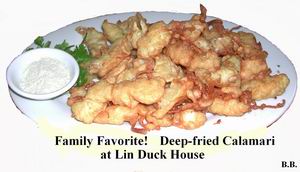 .
H¨£oq¨©ngxi¨¡ng Restaurant ºÃÇåÏã¾ÆÂ¥ has delighted gastronomes from all over Southeast Asia since 1940 with its Southern Fujian snacks, including my wife¡¯s favorite Z¨°ngzi¡¯s (ôÕ×Óthe pyramidal bamboo wrapped glutinous rice and meat dumplings), as well as garlic cake and meat onion dumplings, taro cake, and jelly fish (no peanut butter fish yet). Menu favorites include ¡°High quality chicken stewed with Ginseng,¡± or ¡°Low quality chicken boiled with dandeli-ons?¡± (for those on a budget?). Also try, ¡°Braised squid and straw mushrooms,¡± ¡°Lucky and sweet dew prawn ball,¡± ¡°Glutinous rice porridge with sea crab,¡± ¡°Deep-fried five-flavor rolls¡± (one of Xi¨¤m¨¦n¡¯s most famous delicacies), ¡°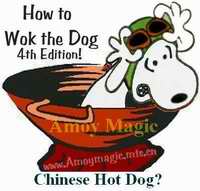 Steamed crayfish,¡± ¡°Deep-fried fish in squirrel shape¡± (I¡¯m nuts about that one), ¡°Deviled lion¡¯s head¡± (Chinese meatball ¨C excellent!), and ¡°Deviled duck in dip-per shape.¡± Tel: 2209178
1st Location: #59 H¨²b¨©n Zh¨­ng L¨´ µØÖ·£ººþ±õÖз59ºÅ
Buses: 30, 23, 10 Get off at Zh¨­ngsh¨¡n Hospital ÖÐɽҽԺ)
2nd Location: #1 Zh¨­ngsh¨¡n L¨´ D¨­ngh¨£i Hotel 6/F ÖÐɽ·1ºÅ¶«º£¾Æµê6Â¥ Buses: any bus to harbor (L¨²nd¨´ ÂÖ¶É)
L¨´ji¨¡ng Hotel, ðؽ­±ö¹Ý¡ªon the harbor facing the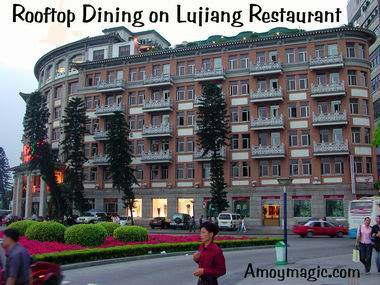 Gulangyu Ferry Terminal. L¨´ji¨¡ng¡¯s M¨«nn¨¢n cuisine and ¡°herbal¡± recipes have even been featured on American television. Also try their dimsum. Rooftop dining offers great view of G¨³l¨¤ngy¨³. Add: #54 L¨´ji¨¡ng L¨´ (ðؽ­µÀ54ºÅ) Tel: 2022922 x709 Buses: 2, 19, 27, 30

X¨©nqi¨¢o Hotel (X¨©nqi¨¢o Ji¨²di¨¤n ÐÂÇȾƵê) The brochure says,
¡°To welcome all people at home and abroad, ¡°Chun Hui Yuan¡± Chinese Restaurant would like to recommend you ¡®Xin Qiao¡¯ delicacies ¨C Cold Spicy Pork Intestines, Iced Crab Meat in Chicken Soup, Drunk Pigeon w/Bear, Egg Roll in Laver, Jellyfish Salad w/Minced Chicken, together with dishes of Guang Dong typical, South China typical and hundreds of Xin Qiao morning teas.¡±
Yum. But these are delightful: ¡°Shrimp w/Minced Taro,¡± ¡°Wrapped Thin Pan-cake,¡± ¡°Two flavor lobster,¡± ¡°Dumpling stuffed with prawn.¡±
Add: No. 444 Zh¨­ngsh¨¡n L¨´ ÖÐɽ·444ºÅ Tel: 2038883
Buses: 1, 2, 3, 4, 10, 11, 12, 15, 18, 23, 45

City Hotel, Xi¨¤m¨¦n ÏÃÃűö¹Ý, near Zhongshan Park, is famous for such local dishes as ¡°Monk Climbing the Wall¡± (F¨®ti¨¤o Qi¨¢ng ·ðÌøǽ), a tasty combina-tion of shark¡¯s fin, abalone, sea cucumber, scallop, tendons, deng deng. Also try, ¡°Sun rises from east mountain¡± (R¨ªch¨± D¨­ngsh¨¡n ÈÕ³ö¶«É½) or ¡°Eastern Ocean Lobster,¡± (D¨­ngh¨£i L¨®ngxi¨¡¶«º£ÁúϺ).
Add: Xi¨¤m¨¦n B¨©ngu¨£n, H¨²yu¨¢n L¨´, # 16, ÏÃÃÅÊл¢Ô°Â·16ºÅ
Tel: 2053333 Website: www.cityhotelxm.com
Buses: 19 or 27. Exit at Zh¨­ngsh¨¡n Park

Overseas Chinese Hotel (Hu¨¢qi¨¢o D¨¤sh¨¤ »ªÇÈ´óÏÃ) Famous for its M¨«nn¨¢n cuisine; try the ¡°Beancurd braised with cucumber,¡± ¡°Crescent crisp fragrant-flowered garlic cake,¡± ¡°Xiamen pancakes,¡± or ¡°Chicken roll in lotus shape.¡±
Tel: 2660888 Add: 70-74 X¨©nhu¨¢ L¨´ лªÂ·70-74ºÅ Off Zh¨­ngsh¨¡n L¨´ by Cultural Palace (W¨¦nhu¨¤ G¨­ng ÎÄ»¯¹¬£©www.xmhqhotel.com.cn
Xiamen Mandarin (Yu¨¨hu¨¢ Ji¨²di¨¤n Ôûª¾Æµê ) back in 1988 won its way into L¨£ow¨¤i hearts and wallets with its Western Caf¨¦¡¯s macaroni ¡®n cheese¡ªthe only authentic western food in Xiamen. We can now get foreign cuisine everywhere but its still hard to beat the Mandarin¡¯s Chinese cuisine, ambience, or prices. Try ¡°Dragon attending banquet¡± (fried lobster), ¡°Deep-fried crab legs,¡± ¡°Monk Jumps the Wall¡±, ¡°Coin-shaped Crab Cake,¡± ¡°Abalone embellished with radish ball,¡± ¡°Flock of Birds (prawn) exposing to the sun¡± (exhibitionists?), and ¡°Dev-iled roast eel.¡± Open 24 hrs.
Add: H¨³l¨« District, #101 Yu¨¨hu¨¢ L¨´ ºþÀïÇø£¬ ÔûªÂ·101ºÅ
Tel: 6023333 Buses: #16, 80 www.xmmandarin.com
Mandarin Seaview, adjacent to the Exhibition Center, offers an extensive breakfast, lunch and dinner buffet. Check out some of their special promotions, like the recent Hakka Cuisine Festival. (Also French cuisine).
M¨³d¨¡n Restaurant, S¨­ngb¨£i Branch (ĵµ¤´ó¾ÆÂ¥(Ëɰصê) (See ¡°Cantonese¡± section)
Sh¨±y¨¯u Seafood Restaurants £¨Sh¨±y¨¯u H¨£ixi¨¢n Ji¨³l¨®u ÊæÓѺ£ÏʾÆÂ¥), per-haps Xiamen¡¯s finest, is a marriage of Sea World and Red Lobster. Select your favorite eel, fish, octopussies, squid, seaworms, sea urchins, shellfish, deng deng, from rows of fish tanks on the first floor, then ascend to the second floor dining rooms and wait for your victims to be served. Top quality food (top prices too). Website: www.shuyou.com

Sh¨±y¨¯u Seafood Restaurant, B¨©nb¨§i Branch (ºþ±õ±±Â·),
Add: Bank of China Building 1-4/F Tel: 5098888 5095588
ºþ±õ±±Â·ÖÐÐдóÏÃȹ¥1-4Â¥ Buses: 12, 36, 87, 98
Sh¨±y¨¯u Seafood Restaurant, Victoria Branch
Add: 4/F N Building, Victoria Club, B¨£il¨´zh¨­u Tel: 5060199
°×ðØÖÞά´ÓÀû¾ãÀÖ²¿NÂ¥4²ã Buses: 15, 86, 87, 88
Sh¨±y¨¯u Seafood Restaurant, H¨²l¨« Branch ÊæÓѺ£ÏÊ´ó¾ÆÂ¥(ºþÀï·Öµê)
Add:#3 Hu¨¢t¨¤i L¨´ »ªÌ©Â·3ºÅ Tel: 5687888 5689999
Nine Dragon Pool (Ji¨³l¨®ng T¨¢ng Sh¨ªf¨³¾ÅÁúÌÁʳ¸®) Delightful seaside dining in cabins converted from ship containers! M¨«nn¨¢n, Cantonese and seafood. Add: #49 Island Ring Road (Hu¨¢nd¨£ol¨´) »·µºÂ·49ºÅ
Tel: 2515335 Buses: 2, 17, 22, 29 Behind H¨²li Hill Fort ºúÀïɽÅŲ́ºóÃæ
South Seas Fishing Village (N¨¢nh¨¢i Y¨²c¨±n ÄϺ£Óæ´å), with 4 Xi¨¤m¨¦n locations, serves S. F¨²ji¨¤n (M¨«nn¨¢n) and Cantonese cuisines, as well as more sea creatures than Sea World.
The harbor location on L¨´ji¨¡ng L¨´ sprawls forever, with hordes of live creatures crawling, slithering and sliding in and out of basins, aquariums and woks (probably dinner plates as well). I saw a small army of savory scorpions scaling a plastic bucket, and high tailed it before I kicked the bucket. Choose indoor or outdoor seating, then choose your victims.
South Seas Branches L¨´ji¨¡ng D¨¤o Branch (L¨´ji¨¡ng D¨¤o Di¨¤n ðؽ­µÀµê)
Add: #418-6 S. S¨©m¨ªng L¨´ ˼Ã÷ÄÏ·418ºÅÖ®Áù Tel: 2390288
Qi¨¢np¨³ Branch (Qi¨¢np¨³ Di¨¤n Ç°ÆÒµê)
Add: #43-46 H¨¦qi¨¢n L¨´, Qi¨¢np¨³ Ç°ÆÒ²»Ò¹³ÇºÌǰ·43-46ºÅ
Tel: 5912028
Exhibition Center Branch (Hu¨«zh¨£n Di¨¤n »áÕ¹µê£©
Add: Island Ring Road, Facing Exhibition Ctr. »áÕ¹ÖÐÐĶÔÃæ»·µºÂ·ÅÔ Tel: 5023188
W¨³yu¨¢n Bay Branch (W¨³yu¨¢nw¨¡n Di¨¤n ÎåÔµÍåµê£©
Add: W¨³yu¨¢n Bay Specialty Market Street, near Wuyuan Bay Bridge ÎåÔµÍåÌØÉ«ÉÌÒµ½Ö, ÎåÔµÍå´óÇÅÅÔ Tel: 5789588

Golden Pond Seafood Restaurant (L¨«y¨² M¨¦n Sh¨ªf¨³ ÀðÓãÃÅʳ¸®)
Add: 1/F, Overseas Chinese Bldg. # 70-74 X¨©nhu¨¢ L¨´ (Hu¨¢qi¨¢o D¨¤sh¨¤ ÏÃÃÅ»ªÇÈ´óÏÃ, лªÂ·70-74ºÅ) Tel: 2113333 www.xmhqhotel.com.cn
Golden Pond Seafood, Soaring Goose Branch, ÀðÓãÃÅʳ¸®£¨H¨®ngxi¨¢ng Di¨¤n ºèÏèµê£©
Add: 3/F H¨²b¨©n N¨¢nl¨´ H¨®ngxi¨¢ng Mansion (ºþ±õÄÏ·ºèÏè´óÏÃÈýÂ¥)
Tel: 5188867 Buses: 10, 27, 30, 45, 810, 811
King of Hot Pepper Kitchen (L¨¤ji¨¡o W¨¢ng Sh¨ªf¨³ À±½·Íõʳ¸® M¨«nn¨¢n Cuisine; also H¨²n¨¢n, S¨¬chu¨¡n, Hakka (K¨¨ji¨¡)
Add: J¨©nji T¨ªng (Gold Chicken Pavilion) #46 X¨©l¨ªn L¨´ Shop 11-15
(½ð¼¦Í¤Î÷ÁÖ·46Ö®11-15µêÃæ). Tel: 5982472
E-mail: xuehq@hotmail.com Buses: 5, 19, 26, 28, 30, 37, 44, 95, 202, 810 Vicinity of "Crouching Dragon District" (W¨°l¨®ng Xi¨£och¨¦ng (ÎÔÁúÏþ³Ç)
B¨¡sh¨³ S¨¬chu¨¡n Cuisine (B¨¡sh¨³ Chu¨¢nc¨¤i °ÍÊñ´¨²Ë)
S¨¬chu¨¡n, but also good M¨«nn¨¢n (try the spicy prawns)
Add: Li¨¢nhu¨¡ Intersection, opposite Xi¨¡ngji¨¡ng Park (Á«»¨Â·¿Ú, Ïã½­»¨Ô°Õý¶ÔÃæ Tel: 5136617 Buses: 3, 25, 23, 40, 45, 73, 85, 505
BeachComber¡¯s Cuisine. Just outside XMU¡¯s beach gate and just down the Island Ring Road, past H¨²l¨« Hill Fort, are small restaurants offering various Chi-nese cuisines and seafood. Great prices, great view. We like to eat on the roof (that doesn¡¯t mean that everything¡¯s on the house). Sip tea, read, take a swim, or just vegetate and enjoy the site of marvelous two-masted Chinese junks gliding gracefully through the waters between Xiamen and Taiwan-occupied Jimei Is-land (with binoculars you can watch KMT soldiers patrolling Jinmen Island).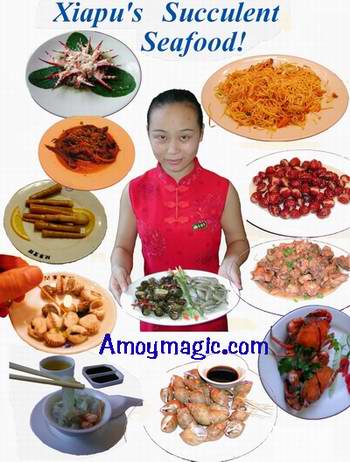 Lin Duck House (L¨ªnji¨¡ Y¨¡zhu¨¡ng ÁÖ¼ÒѼׯ) In Sept. 1988 we had our very first meal in Xi¨¤m¨¦n at Lin Duck House (by XMU, facing N¨¢np¨³tu¨® Temple). Run by a Taiwanese family who also moved her in 1988, they have an English-Chinese menu of over 100 items, including many M¨«nn¨¢n specialties.

For the budget-conscious, (Susan Marie says ¡°cheap¡±), I suggest the 5.50 Yuan ¡°Pork Rice Special (P¨¢ig¨³r¨°uf¨¤n ÅŹÇÈâ ·¹).¡± It¡¯s a bowl of rice, tea egg, vegetables and Japanese tonkatsu (breaded pork cutlet)¡ªfor just over half a dol-lar! Also try chicken in fried taro-string nest, deep-fried squid, spicy S¨¬chu¨¡n tofu, Xi¨¤m¨¦n style fried clams or oysters with egg¡­ Phone for take-out: 2086666
Add: #418 or #412-2 S¨©m¨ªng N¨¢nl¨´ ˼Ã÷ÄÏ·418ºÅ»ò412-2ºÅ
Buses: 1, 2, 3, 7, 15, 18, 21, 45

North F¨²ji¨¤n Cuisine (M¨«nb¨§i C¨¤i Ãö±±²Ë)

W¨³y¨ª Mtn. Country Kitchen (W¨³y¨ª N¨®ngji¨¡ ÎäÒÄÅ©¼Ò) Natural foods, natural freshwater fish, wild vegetables; country-brewed rice wine.
Add: Xi¨¤h¨¦ L¨´ #881 11-14 Qi¨¡nx¨« Park
(ÏúÌ·ǧìûÔ°881ºÅ11-14) Tel: 5814111, 5814222

Northeast F¨²ji¨¤n Cuisine (M¨«nd¨­ng C¨¤i Ãö¶«²Ë)

M¨«nd¨­ng T¨¤il¨£o Restaurant (Ãö¶«Ì«ÀѾÆÂ¥)
Add: 323-17 Xi¨¤h¨¦ Commercial Center; opposite #6 middle school ÏúÌÉÌÏÃ323Ö®17ÁùÖжÔÃæ Tel: 2284615


Click to E-mail


Readers'Letters

Last Updated: May 2007


Back to Top