Click to Access
OUTSIDE China


Click to Access
INSIDE China


TRAVEL LINKS


Xiamen

Gulangyu


Jimei

Tong'an


Jinmen

Zhangzhou


Quanzhou

Wuyi


#1Fujian Sites!


Fujian Foto Album


Books on Fujian


Readers'Letters


Ningde

Zhouning


Longyan

Sanming


Putian

Bridges


Travel Info,


Hakka Roundhouses


Travel Agents

MISC. LINKS


Amoy People!


Darwin Driving


Amoy Tigers


Chinese Inventions


Tibet in 80 Days!


Dethroned!


Misc.Writings


Latest News


Lord of Opium


Back to Main Page
¡¡
AmoyMagic--Guide to Xiamen & Fujian

Copyright 2001-7 by Sue Brown & Dr. Bill

Order Books


Jimei Main Page Google Search AmoyMagic Main Page
Click Photos for Large Images (Photo and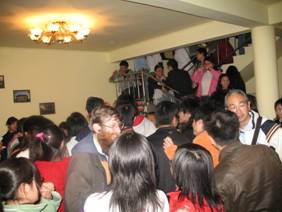 text provided by Toni Mueller)

Solomon's Courtyard Coffee House is the PLACE in Jimei where students, teachers and office workers can meet, share ideas, cultures and dreams in a warm, friendly environment.

A unique multi- cultured meeting place, Solomon's was envisioned by the blending of ideas of an American couple and their Chinese/Indonesian/Philippine friends. The Courtyard is actually a four-story family home transformed into a multi-functional business that yet retains a homey and inviting atmosphere.


Solomon's menu has offerings not found anywhere else in Xiamen. In addition to the usual coffees, teas and fruit juices served in other coffee shops, Solomon's offers home-made baked goods created by the American part of the team. Their recipes, handed down from generations of excellent cooks, are not your standard Chinese non-sweet sweets but rather cookies, cakes and breads that have become favorites with Chinese and foreigners alike.
English Corner is Monday and Thursday nights Lecture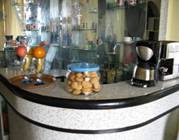 s are given twice a month on all kinds of subjects, from your favorite hobby or passion to improving your study habits and language skills. Business lunches or dinner can be arranged by reservation. In the future, cooking classes and live concerts, both western and Asian, will be added to the events. Really, anything is possible at Solomon's Courtyard.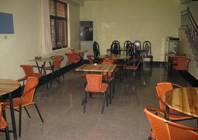 The owners are flexible, fun-loving sand ready for cross-cultural adventures. How about you? Normal hours are 4-10 Monday--Friday, 4--12 on Saturday, closed on Sunday. Hours can be extended for reserved parties.
Add: No. 342 Shengguang Road (directly behind 98 Ji Yuan Road) Jimei Tele: 3809770 or 3809771

Click to E-mail


Readers'Letters

Last Updated: May 2007


Back to Top
The Evolution of Chinese Cuisines (Adapted from Magic_Xiamen--Guide to Xiamen and Fujian, 2008 Edition)
Food has been China¡¯s avocation ever since the first mythical hero, hunter/ fisherman F¨²x¨© (·üôË), invented the kitchen and cooking. At least 3,019 years before Christ, Chinese in X¨©¡¯¨¡n¡¯s B¨¤np¨­ Village (Î÷°²°ëÆÂ) feasted on steamed chicken, carp and elephant. And in 700 B.C., Chinese chefs wowed emperors with exotic bitter melon soup, and lamb stewed with sugar cane.
The H¨¤n Dynasty (H¨¤nch¨¢o ºº³¯, 206 B.C.-220 A.D.) gave China flourmills, noodles and tofu, and the T¨¢ngch¨¢o Dynasty (ÌƳ¯, 618-907 AD) saw the advent of the wok and stir-frying. But it was an overabundance of food during the Song Dynasty (S¨°ngch¨¢oËγ¯, 960-1279 AD) that fuelled the great explosion of culinary innovation.
Even L¨£ow¨¤i influenced Chinese cuisine. The Manchus left behind the winter hot pot now popular throughout China, but adapted in Xi¨¤m¨¦n to feature seafood instead of mutton. And chili peppers introduced through Portuguese Macao helped ignite S¨¬chu¨¡n¡¯s fiery fare.
A few millennia of culinary evolution has given Chinese cuisine a diversity unimaginable for a simple American soul like myself, for whom variety is a baked potato instead of mashed, or a side of canned peas ¨C never such common but delectable Chinese delicacies as pea plant leaves or spinach roots. But for all its infinite diversity, most Chinese food fits roughly in five (some say ¡®eight¡¯) basic schools: B¨§ij¨©ng, S¨¬chu¨¡n, Sh¨¤ngh¨£i, F¨²ji¨¤n and Gu¨£ngd¨­ng (most popular abroad).
There are also hundreds of local styles. F¨²ji¨¤n cuisine is sweeter in the south, saltier in the north, and heavy on sweet potato, rice flour noodles, taro and peanuts in the west. (Warning: never eat taro with beef. It¡¯s taro-bull).

B¨§ij¨©ng Cuisine ±±¾©²Ë Tofu and wheat, rather than rice, are staples in B¨§ij¨©ng, where vendors sell steamed breads, buns stuffed with pork and vegetables, and Chinese dumplings stuffed with garlic, cabbage, pork, onions and MSG. One popular Northern dish is ¡°Beggar¡¯s Chicken¡± (Ji¨¤ohu¨¡ J¨©½Ð»¨¼¦). The hallowed recipe begins, ¡°First, steal a chicken.¡±
The famous ¡°Winter Hotpot¡± (Hu¨¯gu¨­»ð¹ø) helps benumbed B¨§ij¨©ngers survive frigid winter evenings, but they feast on B¨§ij¨©ng Duck year round.

B¨§ij¨©ng Duck (B¨§ij¨©ng K¨£oy¨¡ ±±¾©¿¾Ñ¼) Diners adopt a live duck for life by painting a number on its side. But it¡¯s a very short life. The hapless duck is promptly murdered, stripped to its skivvies, and sewn up tightly to hold the boiling water that ensures the roasted carcass will be succulent and savory inside. The first course is the crisp skin, basted with sweet Hoisin sauce (Mi¨¤nji¨¤ng Ãæ½´) and served with scallions wrapped in small, thin pancakes. For the second course, the leavings are cooked and served with bean sprouts or slices of bamboo. Nothing is wasted. Even the bones are crushed and cooked with water, ginger and onion, and then boiled with cabbage and sugar to make soup.
B¨§ij¨©ng Duck is served in many fine Xi¨¤m¨¦n restaurants. Try Marco Polo¡¯s 2/F Chinese restaurant (it¡¯s Cantonese style B¨§ij¨©ng Duck, but tasty!).
S¨¬chu¨¡n Cuisine (Chu¨¡nc¨¤i ´¨²Ë) S¨¬chu¨¡n¡¯s fiery fare is a perfect antidote to the sultry summers of this remote but most populous province. Chefs combine ginger, red peppers, onions and soy sauce to create dishes that will ream a Mexican cowpoke¡¯s sinuses. But not all S¨¬chu¨¡n food is hot; they also serve up sweet, sour, salty, fragrant, and bitter -- in every combination possible and some that are not possible but come off anyway.
Xi¨¤m¨¦n¡¯s best Chu¨¡nc¨¤i is not in restaurants but the home of Xi¨¤m¨¦n University¡¯s famous art professor, T¨¢ng Sh¨¤oy¨²n (ÌÆÉÜÔÆ) He and his wife and daughters whip up the tastiest (and fieriest) food imaginable. But if you can¡¯t wangle an invite to their home, you can still get decent Chu¨¡nc¨¤i in most major hotel restaurants, as well as many hole-in-the-walls.
Sh¨¤ngh¨£i Cuisine ÉϺ£²Ë In coastal Sh¨¤ngh¨£i, crowds throng about vendors hawking rolls stuffed with pork and beef, and gourmands from all over Asia fly in to sample Sh¨¤ngh¨£i hairy crabs, four-gill carp, and meats spiced with Sh¨¤ox¨©ng wine (Sh¨¤oji¨³ÉܾÆ), often arranged in beautiful floral designs on delicate china. But where¡¯s the beef? With grazing land at a premium in this populous nation, beef is still rare, in Sh¨¤ngh¨£i and elsewhere. Besides, peasants see it as poor form to reward an ox¡¯s faithful service by eating him. So the pig remains the perennial king with Chinese chefs, who use everything from offal to oink.
You have eaten Shanghai Cuisine. The foreigners¡¯ perennial favorite, Sweet ¡¯n Sour Pork (T¨¢ngc¨´ R¨°u ÌÇ´×Èâ) is not Cantonese, as some think, but Shanghai.

Cantonese Cuisine (Gu¨£ngd¨­ng C¨¤i ¹ã¶«²Ë)
Question. What¡¯s the difference between Cantonese zoos and restaurants?
Answer: not much¡­
The Venetian vagabond Marco Polo wrote of his Chinese hosts, ¡°They eat all sorts of flesh, including that of dogs and other brute beasts and animals of every kind which Christians would not touch for anything in the world.¡±
Evidently, L¨£on¨¨i still don¡¯t touch them. A Chinese restaurateur complained of meat and potato Canadians, ¡°They don¡¯t want real Cantonese cuisine. It¡¯s always sweet ¡®n sour pork, lemon chicken, beef and green peppers, fried rice, spring rolls, and Chinese fortune cookies¡± (which originated not in China but California).
While L¨£ow¨¤i may prefer frozen fish sticks over fricasseed fish lips, Chinese still devour anything that won¡¯t eat them first. If they can¡¯t eat it, they call it medicine and ingest it anyway. But Cantonese take the tofu. Even other Chinese say of them, ¡°They eat anything that flies but planes, and anything with four legs but the table and chairs.¡±
Cantonese menus include live monkey brains, sparrows, wild ducks, snails, snakes, eels, frogs, turtles, deer penis soup, and canine cuisine. (In 1990, an MBA student asked me to invest $10,000 in his scheme to export canned dog to America. I asked him if he¡¯d ever heard of market surveys).
Cantonese restaurants abound in Xi¨¤m¨¦n, but some of the more popular are in B¨£il¨´ Zh¨­u (along the lake) and on North H¨²b¨©n L¨´, past the Sports Arena. They are always packed to the gills¡ªand fins and flippers as well.
Xi¨¤m¨¦n Cuisine (Xi¨¤m¨¦n C¨¤i ÏÃÃŲË) Canton, though renowned its seafood, comes nowhere close to Xi¨¤m¨¦n's offerings. Off magical Amoy¡¯s contorted coastline, if it swims, crawls, wiggles, or squirms, some enterprising soul will wrest it from the sea and serve it up with M¨«nn¨¢n rice noodles, taro dishes and five-spice meat rolls, salty and peppery roast chicken, abalone, duck webs with glutinous rice, scented pork kidney, stuffed cucumbers, braised frogs, shark, crab, mussels and oysters (stir-fried with eggs), sea urchins, mineral-rich seaweed, and sea cucumber. And of course there¡¯s Xi¨¤m¨¦n¡¯s #1 specialty ¨C boiled seaworm embedded in cold jellyfish (T¨³s¨³nd¨°ngÍÁËñ¶³).
For authentic Xi¨¤m¨¦n cuisine (a cross between Cantonese and F¨²zh¨­u styles, with a little T¨¢iw¨¡n thrown in), try the Xi¨¤m¨¦n Guesthouse, near Zh¨­ngsh¨¡n Park, or the Overseas Chinese Hotel, near the Cultural Palace.
But some of it is still too froggy for my taste¡­




DAILY LINKS


FAQs Questions?


Real Estate


Shopping

Maps


Trains

Busses


Hotels

News (CT)


Medical & Dental


YMCA Volunteer!


XICF Fellowship


Churches


Expat Groups


Maids

Phone #s
EDUCATION


Xiamen University


XIS(Int'l School)


Study Mandarin


CSP(China Studies)


Library

Museums


History
DINING


Restaurants

Asian


Veggie

Junk Food


Chinese

Italian


International


Visas 4 aliens
RECREATION


Massage!


Beaches

Fly Kites


Sports

Boardwalk


Parks

Pets


Birdwatching


Kung Fu

Hiking


Music Events


Festival&Culture


Humor&

Fun Fotos


BUSINESS


Doing Business


Jobs!(teach/work)


Hire Workers


Foreign Companies


CIFIT (Trade Fair)


MTS(Translation)



Back to Top