AmoyMagic--Guide to Xiamen & Fujian

Copyright 2001-7 by Sue Brown & Dr. Bill

Order Books

Main Page




Tex-Mex in Amoy! Sue and I were thrilled a few years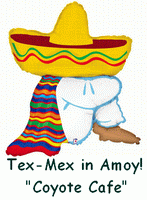 back to see a poster like this outside a Xiamen shop! But the shop, called "The Mexican," sold clothing, not food.

I was devastated, because I've craved authentic Mexican food ever since we came to Xiamen in 1988. Over the years, a few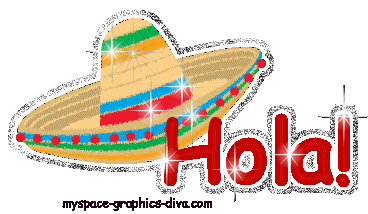 Xiamen restaurants have claimed to serve up Mexican Cuisine (or "Latin", or "Cuban,"), but they've been a poor approximation of the real thing. But in the Fall of 2008.Ron Underwood opened Coyote Cafe & Cantina, which serves up not just Mexican but Tex-Mex, which is my favorite, second only to Chinesed food (I may be prejudiced, given that I've lived in Texas longer than anywhere but Xiamen). Coyote Cafe & Cantina is authentic, right down to the hot tortilla chips and Pico de Gallo salsa.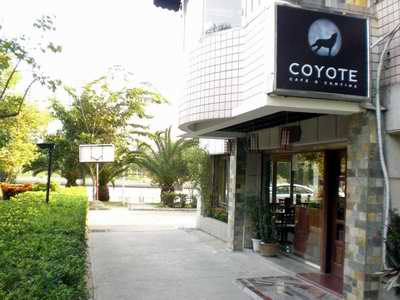 Executive Chef Ron Underwood has been in Xiamen since 2002, but his passion is cooking--for which all of us Amoy inmates are thankful.
And you can't beat the waterfront lowcation--right on Yuandang Lagoon, near the Marco Polo and Sofitel hotels.
Click here for Official Website with hours, address, and photos.
Note: photo on the right was stolen from the official Coyote Cafe & Cantina website.
Animated Sombrero above courtesy of Graphics Diva.
Restaurant Links

Main Restaurant Page

Asian

Veggie Tails

Chinese

International

Italian

Muslim (Halal)

Junk Food Cafes

Japanese

Korean

French

Brazilian

Indian

Latin

Minnan (S. Fujian)

N. Fujian

N.E. Fujian

Cantonese

Sichuan

Hot Pot

Chaozhou

Shanghai

Hunan & Hangzhou

Hakka

Anhui

Noodles!

Canine Cuisine


Millennium Harbourview Hotel Xiamen (my favorite Italian, Western Cafe, Japanese, Chinese, and the Noodle Master!)


TRAVEL LINKS

Favorite Fujian Sites

Fujian Foto Album

Xiamen

Gulangyu

Fujian Guides

Quanzhou

Z
hangzhou

Longyan

Wuyi Mtn

Ningde

Putian

Sanming

Zhouning

Taimu Mtn.

Roundhouses

Bridges

Jiangxi

Guilin

Order Books

Readers' Letters

Click to E-mail


Readers'Letters

Last Updated: May 2007


Back to Top