Click to Access
OUTSIDE China


Click to Access
INSIDE China


TRAVEL LINKS


Xiamen

Gulangyu


Jimei

Tong'an


Jinmen

Zhangzhou


Quanzhou

Wuyi


#1Fujian Sites!


Fujian Foto Album


Books on Fujian


Readers'Letters


Ningde

Zhouning


Longyan

Sanming


Putian

Bridges


Travel Info,


Hakka Roundhouses


Travel Agents

MISC. LINKS


Amoy People!


Darwin Driving


Amoy Tigers


Chinese Inventions


Tibet in 80 Days!


Dethroned!


Misc.Writings


Latest News


Lord of Opium


Back to Main Page
AmoyMagic--Guide to Xiamen & Fujian

Copyright 2001-7 by Sue Brown & Dr. Bill

Order Books
Main Page
Business Links
Recreation Links
Google Search
E-mail
"China--our Matchmaker"
Brown Family Links

Brown Family Main Page

China-our Matchmaker!


Best Home on Planet

How we Got Here (Sign from the Heavens!)


Photo Page of our 2 Little Laowai in Amoy with Clara (90-93)

(Were it not for our mutual interest in China, I'd have neither met nor married my "Made in Taiwan" blond haired, blue-eyed wife! Here's the story…)
When I was in 5th grade I was forced to sing in the girls' section of the chorus because I had a bell-like soprano—the highest voice in school. As boys taunted "Bill's a girl!", I prayed for puberty, and a "manly" voice. My prayers were answered all too soon. The bell cracked, replaced by an ungainly, adolescent alt, but now that adolescence was upon me with a vengeance I no longer disdained the company of sweet sopranos. I struggled to belt out those high notes that used to come so easily, but my vocal contortions were in vain. The upper octaves were denied me and I was unceremoniously expelled from Eden. Of course, by the time I wanted girls I was too shy to talk to them...



Back to Top
By age 25, as intimidated as ever by the fairer sex, I swore off girls. With an iron will, I ignored the pretty coeds and glued my eyes to my textbooks. My world shrank to the confines of my dorm room, classrooms, library and cafeteria. My steely resolve lasted all of—two weeks. On Easter Sunday, 1981, a couple I had known in Taiwan invited me and a couple dozen youth to their home for dinner. My fate was sealed.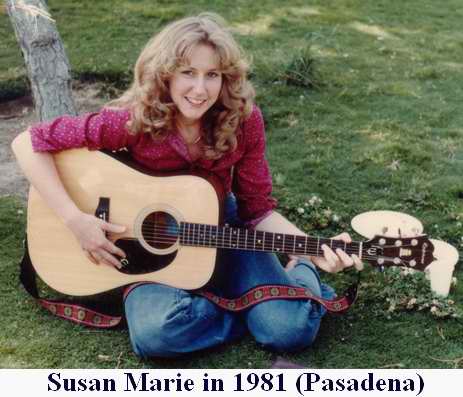 No sooner had I crossed their threshold than my eyes were riveted to a young blue-eyed beauty with waves of flaxen hair cascading down her white and blue ski jacket. Mesmerized, I sauntered past her with studied indifference but covertly memorized every inch of her face and form; in my nonchalance I nearly walked into a wall.

I ached to introduce myself, but she was besieged by bolder young men the entire afternoon. By evening I was still a nonentity in her eyes, until my friend told everyone how the county rescue team had tried to rescue me from halfway up a 300 meter cliff the night before, and when their flashlight failed, I rescued one of them instead. My Venus eyed me curiously and I groaned, "Great. Now she thinks I'm a nut."

Then our host asked her, "Sue, did you know Bill lived in Taiwan and wants to go to China?"

"Really?" she exclaimed. "When were you in Taiwan?"
My mouth went dry, my heart pounded. Don't blow it, Bill. Keep cool. Just count backwards on your fingers and toes and figure out the years. "Oh, from June 1978 to June 1976," I said. "No, from '76 to '78. Have you been to Taiwan?"

"I was born and raised there!" she laughed. "But from June 76 to June 78 I was in the States, so we missed each other!"

The ice broke and I plunged beneath, never in this life to surface.


Back to Top
For hours we discussed our mutual interest, China. When Sue said she planned to visit her parents at Christmas, I deftly conjured up excuses for me to visit Taiwan as well. "Let's go together." And when I overheard she was having car troubles, I gallantly loaned her my car. I roller skated to school anyway—and it gave me an excuse to see her again. . But I needn't have worried; she agreed to attend a free campus concert on Friday night.

The five days loomed over me like eternity but when the momentous day arrived, we hit it off as if we'd known each other forever, right up until time to say goodbye; then I froze. Timidly, I gave her a friendly hug goodnight; she reciprocated with a kiss that sizzled my socks.

The ice was not only broken but melted. From that date until our marriage in Taiwan ten months later, we saw each other every single day.

The following night we attended a free dinner with African grad students, but freebie dates can't last forever. Sooner or later I had to put my money where my heart was. For our third date in as many evenings, I invited Sue out to dinner and she showed up in a stunning evening dress and heels, expecting that, like her previous boyfriend, John, I'd take her to a fine restaurant. John was a smartly dressed gentleman who gave her flowers, opened doors for her, took her to elegant restaurants. The consummate gentleman, John was everything I was not.

After years of crushing conformity in the military, I now reveled in playing student and dressing however I felt. I grew a patchy beard and wore ragged, holey army-surplus clothes—a decade before it became fashionable to pay high prices for new clothes that looked old.


Back to Top
Fortunately, Sue overlooked my slovenly exterior. She also ignored my seeming poverty when I took her to a cheap fast food place rather than a nice restaurant. John spent more money parking his car than I spent on dinner.

Good old John: I met my predecessor the next Sunday at Sue's church. Although he'd already found another girl, the sight of my arms around Sue rekindled his flagging ardor. Sue squirmed awkwardly in John's warm embrace as he and I stared daggers at one another. If looks could have killed, blood would have flooded the church aisles.

To Sue's chagrin John started haunting her apartment, and I was relieved when she finally exorcised him—until I realized how serious our relationship was becoming. Cold feet!

I knew, of course, I'd never find a more perfect match. American girls born and raised in Taiwan and interested in moving to China don't just grow on trees. And fewer yet would put up with someone like me. Sue was definitely one of a kind, but I told her frankly that I did not think she could cope with the simpler lifestyle we'd probably face in China.


Back to Top
She repeatedly reassured me, "Whatever you do, I'll do."

I was unconvinced. One evening, in the dorm parking lot, I began to list all the reasons I thought we could never marry. As she listened silently, eyes moist, I mentally kicked myself. Then out of the blue I blurted, "Since we''e visiting Taiwan in December, maybe we could get married there?"

To this day I've no idea how this most unromantic of marriage proposals leaped straight from my heart, bypassed my brain, and dove off my tongue. Sue merely laughed, "You're joking, aren't you?"

Frankly, I was as surprised by the proposal as she was—but to have her laugh in my face was a bit much. "No, I'm serious!" I protested.

Her eyes widened. "Yes, I'll marry you!"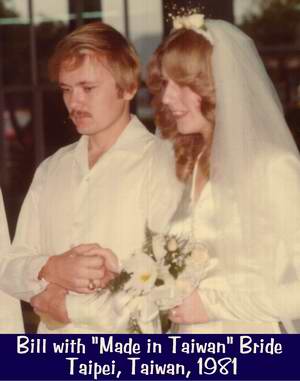 Many of Sue's former classmates participated in our Dec. 1981 wedding in Taipei's Christ College, though I remember little about the wedding ceremony. I was in shock and might well have abandoned Sue at the altar had her father not had my air tickets. And doubts continued long after the ceremony, but we worked through them over the years, one by one, and our marriage is stronger for it.


Back to Top
Too many marriages today, built upon mere infatuation and raging hormones (which I well relate to), fail because they lack growth, commitment, and that unpopular word, sacrifice. This is my wife's most admirable quality: her capacity for sacrifice.

True to her wedding vow of "for better or for worse," Sue never complained about my grad student's Spartan lifestyle. This made me all the prouder when my small company flourished and a six-figure income helped me to give her a better lifestyle than she'd expected when she married me. But my heart was still on China, and the more we lived the so-called American Dream, the more I worried, "Could Sue abandon all of this and move to China? Or for that matter, could I?"
In 1987, I hesitantly asked her, "What would you think of selling our business now and moving to China?" My timing was not the best. Sue was nursing one baby and about to have another. But more confident than I, she assured me, "If you feel its right, let's go."


Back to Top
Within a year we'd burned our bridges and, with two young sons, moved to Xiamen. It was a stressful transition, but we've never regretted it. Life in China has been more rewarding than we could have ever imagined.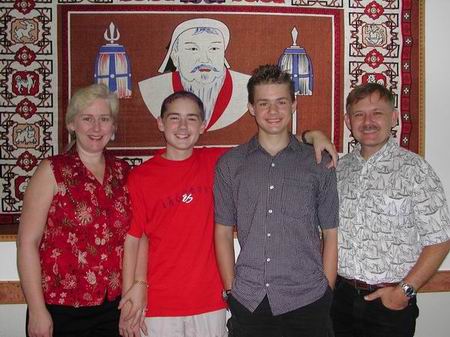 Looking back, from 5th grade chorus to marriage was an awfully long row to hoe, but it was well worth the harvest! I could not imagine life with anyone but my "made in Taiwan" wife, or anywhere but in China!

Arranged marriages might indeed have their advantages—such as sparing us insecure males the agonies of dating. But who on earth could have ever arranged such an unlikely marriage as mine? Such marriages aren't arranged, they're made in heaven.

And since it was our mutual interest in China that brought us together, you might say that China was our matchmaker!
Thank you, China!
Brown Family Links

Brown Family Main Page

China-our Matchmaker!


Best Home on Planet

How we Got Here (Sign from the Heavens!)


Photo Page of our 2 Little Laowai in Amoy with Clara (90-93)

TRAVEL LINKS

Favorite Fujian Sites

Fujian Foto Album

Xiamen

Gulangyu

Fujian Guides

Quanzhou

Z
hangzhou

Longyan

Wuyi Mtn

Ningde

Putian

Sanming

Zhouning

Taimu Mtn.

Roundhouses

Bridges

Jiangxi

Guilin

Order Books

Readers' Letters

Click to E-mail


Readers'Letters

Last Updated: May 2007


Back to Top


DAILY LINKS


FAQs Questions?


Real Estate


Shopping

Maps


Bookstores


Trains

Busses


Car Rental


Hotels

News (CT)


Medical & Dental


YMCA Volunteer!


XICF Fellowship


Churches



Temples


Mosque


Expat Groups


Maids

Phone #s
EDUCATION


Xiamen University


XIS(Int'l School)


Study Mandarin


CSP(China Studies)


Library

Museums


History
DINING


Restaurants

Asian


Veggie

Junk Food


Chinese

Italian


International


Visas 4 aliens
RECREATION


Massage!


Beaches

Fly Kites


Sports

Boardwalk


Parks

Pets


Birdwatching


Kung Fu

Hiking


Music Events


Festival&Culture


Humor&

Fun Fotos


BUSINESS


Doing Business


Jobs!(teach/work)


Hire Workers


Foreign Companies


CIFIT (Trade Fair)


MTS(Translation)



Back to Top