Click to Access
OUTSIDE China


Click to Access
INSIDE China


TRAVEL LINKS


Xiamen

Gulangyu


Jimei

Tong'an


Jinmen

Zhangzhou


Quanzhou

Wuyi


#1Fujian Sites!


Fujian Foto Album


Books on Fujian


Readers'Letters


Ningde

Zhouning


Longyan

Sanming


Putian

Bridges


Travel Info,


Hakka Roundhouses


Travel Agents

MISC. LINKS


Amoy People!


Darwin Driving


Amoy Tigers


Chinese Inventions


Tibet in 80 Days


Amoy Vampires!


Dethroned!


Misc.Writings


Latest News


Lord of Opium


Back to Main Page
AmoyMagic--Guide to Xiamen & Fujian

Copyright 2001-7 by Sue Brown & Dr. Bill

Order Books
Main Page
Business Links
Recreation Links
E-mail
Fujian Firewalkers!
Tong'an Links

Tong'an Main Page

Su Song--Tong'an's Renaissance Man

Tong'an Museum

Matang Village--Xiamen's #1 Village

Philosopher Zhuxi

Fujian Firewalkers

Confucius & Confusionism

Parks & Attractions
T¨®ng ¡¯¨¡n Firewalkers¡ªSoul ¡®n Sole Practitioners claim modern fire-walking in Overseas Chinese communities began right here in T¨®ng ¡¯¨¡n, where it¡¯s practiced on the 15th day of the 3rd Luny month¡ªthe birthday of T¨®ng ¡¯¨¡n¡¯s ¡°God who protects life¡± (B¨£osh¨¥ng D¨¤d¨¬, ±£Éú´óµÛ).

Baosheng Dadi (or, W¨² BenÎâ‰ú) was born in 979 A.D. in T¨®ng ¡¯¨¡n. As a youth, Ben read voraciously, and could recite long passages after reading them but once. He served as an Imperial Censor and then became a hermit in the mountains. During the great famine of 1032, he had rice sent to the starving peoples of Qu¨¢nzh¨­u and Zh¨¡ngzh¨­u, and miraculously cured a great epidemic the following year. Alas, Ben laden with cares, he died four years later at the ripe old age of 58; probably a victim of burnout.

His home village built the ¡°Temple of W¨²¡± (W¨²mi¨¤oÎâÃí) for this ¡°True Man¡± (Zh¨¥nr¨¦n ÕæÈË, Taoist ¡®perfected person¡¯). Almost 400 years later, gentle Ben showed up in disguise and cured Emperor Y¨¯ng L¨¨¡¯s (ÓÀÀÖ) mother of an incurable illness. The grateful Emperor enlarged Ben¡¯s temple to palatial proportions, and gave him the humble title of, ¡°Palace Censor who Ascended to Heaven, True Lord of the Miraculous Way of Compassionate Salvation, and Eternal and Unlimited Lord who Preserves Life.¡± Today, W¨²¡¯s temples are all over the mainland and Taiwan. T¨¢ib¨§i¡¯s ¡°Bao¡¯3¨¡n Gong Preservation of Peace Palace¡±, first built in 1805, is one of the city¡¯s three greatest temples.

On W¨² Ben¡¯s birthday, villagers place small idols of the god in palan-quins¡ªwith great care to insure he is both physically and spiritually secure, for were the god to get heated up over anything it is possible the firewalkers are likely to get the hot foot as well.

Hundreds of pounds of charcoal are burned for an hour or so, and then levelled off to form a path about six feet wide and thirty feet long. A Taoist priest purifies himself, and the firewalking area, and then a procession of men in white, bearing the deity in his palanquin, parade around the fire¡¯s perimeter. The priest then kneels at the south end of the fire, wearing only black shorts, and wielding his divine sword. He performs esoteric gestures, and then shovels rock salt onto the hissing coals.

After the priest sprints across the coals, the procession kicks ash as well while bearing the heavy palanquin and idol. After the ceremony, onlookers scoop up the coals and take them home for good luck.

Firewalkers earn much merit, but not always without a few blisters and burns. Unlike other firewalkers, Tong ¡®An firewalkers are not in trances, and attribute their success to the Taoist priest¡¯s preparations, strict diet, and purity. So they either toe the line or toast their tootsies.
Nowadays, even Westerners are on fire about firewalking¡¯s benefits for sole and soul, with firewalking schools claiming to cure stress and burnout. But I suspect this firewalking fad will fizzle out eventually. Or maybe not...

Physics Professor Walks on Fire
(Adapted with permission. LiveScience, Aug. 14, 2006)
Thanks,

Livescience! Visit their site (one of my favorites).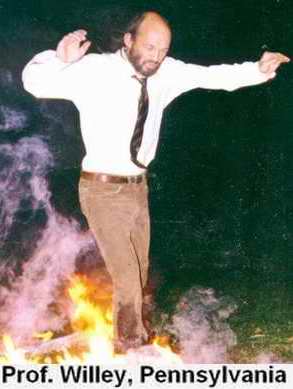 ¡°Professor David Willey doesn't use chalk and formulas to spark his students' interest in thermodynamics. He walks on fire.

¡°¡®Nothing gets a student's attention like the possibility that I might kill myself,¡¯ said Willey, this year's winner of the President's Award for Excellence in Teaching at the University of Pittsburgh at Johnstown.
¡°The ritual of walking on fire has existed for thousands of years...

¡°Around the world, from Greece to China, cultures set trails ablaze for rites of healing, initiation, and faith.

¡°In the United States, firewalking has become popular as a team spirit-building business for corporations as well as a so-called alternative health remedy...

¡°While no one should try to do this without proper training from an experienced firewalker, any healthy person can walk on fire, as long as it's not too hot, according to Willey. It's a matter of stepping up to the start line with courage and training your brain to get your foot to take the first step.

¡°¡®You could keep on going forever and ever,¡¯ Willey told LiveScience. ¡®It's just a question of how much wood you want to cut.¡¯¡±

Tong'an Links

Tong'an Main Page

Su Song--Tong'an's Renaissance Man

Tong'an Museum

Matang Village--Xiamen's #1 Village

Philosopher Zhuxi


Fujian Firewalkers

Confucius & Confusionism

Parks & Attractions
TRAVEL LINKS

Favorite Fujian Sites

Fujian Foto Album

Xiamen

Gulangyu

Fujian Guides

Quanzhou

Z
hangzhou

Longyan

Wuyi Mtn

Ningde

Putian

Sanming

Zhouning

Taimu Mtn.

Roundhouses

Bridges

Jiangxi

Guilin

Order Books

Readers' Letters New: Amoy Vampires! Google Search

Click to E-mail


Readers'Letters
Last Updated: May 2007


Back to Top


DAILY LINKS


FAQs Questions?


Real Estate


Shopping

Maps


Bookstores


Trains

Busses


Car Rental


Hotels

News (CT)


Medical & Dental


YMCA Volunteer!


XICF Fellowship


Churches



Temples


Mosque


Expat Groups


Maids

Phone #s
EDUCATION


Xiamen University


XIS(Int'l School)


Study Mandarin


CSP(China Studies)


Library

Museums


History
DINING

Tea Houses


Restaurants

Asian


Veggie

Junk Food


Chinese

Italian


International


Visas 4 aliens
RECREATION


Massage!


Beaches

Fly Kites


Sports

Boardwalk


Parks

Pets


Birdwatching


Kung Fu

Hiking


Music Events


Cinema


Festival&Culture


Humor&

Fun Fotos


BUSINESS


Doing Business


Jobs!(teach/work)


Hire Workers


Foreign Companies


CIFIT (Trade Fair)


MTS(Translation)



Back to Top