Click to Access
OUTSIDE China


Click to Access
INSIDE China


TRAVEL LINKS


Xiamen

Gulangyu


Jimei

Tong'an


Jinmen

Zhangzhou


Quanzhou

Wuyi


#1Fujian Sites!


Fujian Foto Album


Books on Fujian


Readers'Letters


Ningde

Zhouning


Longyan

Sanming


Putian

Bridges


Travel Info,


Hakka Roundhouses


Travel Agents

MISC. LINKS


Amoy People!


Darwin Driving


Amoy Tigers


Chinese Inventions


Tibet in 80 Days!


Dethroned!


Misc.Writings


Latest News


Lord of Opium


Back to Main Page
AmoyMagic--Guide to Xiamen & Fujian

Copyright 2001-7 by Sue Brown & Dr. Bill

Order Books
Main Page
Business Links
Recreation Links
Google Search
E-mail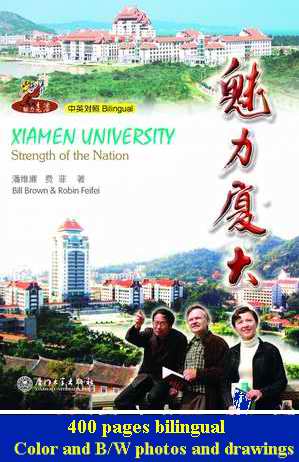 XMU Links:



Office of Int'l Exchange (ICE) -- Teach at XMU!


Overseas Educ. Collegee Study Chinese or Minnan Dialect


CSP China Studies Program

International Exchanges

XMU's Many First!

MBA Center (China's 1st MBAs)


XMU Library


Chinese-European Art Center

XMU Foundation College

Xiada Today!

Tour XMU!
XMU History

XMU Founder Tan Kah Kee (Henry Ford of Asia)

Lu Xun Father of Modern Chinese Lit.

Wang Yanan--Scientist


Dr. Lim Boon-keng, "Sage of Singapore"

Lin Yutang Memorial

XMU--Strength of the Nation (book by Dr. Bill & Robin)

Click Here for Luxun Memorial Hall

Beside Xiamen University's Anthropology Museum (China's 1st!) is a statue of Lu Xun (1881-1936), author of "True Story of Ah Q" and other modern classics. Lu Xun (a pen name for Zhou Shuren, broke 5,015 years of literary tradition with his first story, "Madman's Diary," because he wrote in the language of the people—which is worlds apart from the hallowed written language that scholars had perfected over the centuries.

For over 2,000 years, any scholar worth his salt mastered the classics of Confucius and Laozi, and then wrote brilliant essays about the brilliant essays written by his forebears. The writing was stylistic and terse, and totally unlike oral Chinese, which like oral English is a living language, and changes constantly. So Lu Xun decided to write like people talk. It was a bold move—akin to Westerners' translation of the Bible from dead Latin into common English. Fortunately, unlike Tyndale and Bible translators, Lu Xun wasn't burned alive at the stake—but he did make a lot of enemies.

Lu Xun taught in Xiamen University the last few months of 1926, but he disliked the professors' constant bickering and politicking (common on any campus, in China or elsewhere!). He wrote curt essays like "How to Write?" (Zenme Xie?) And having said his piece, and having disturbed what little peace the place had, he packed his bags and moved to Guangzhou in January, '27.
In "Old Tales Retold," Lu Xun wrote,

"In some places the narrative is based on passages in old books, elsewhere I gave free reign to my imagination. And having less respect for the ancients than for my contemporaries, I have not always been able to avoid facetiousness."

You can pick up Lu Xun's works in SM Mall's Book City (3/F), or even download some from the internet!

Click to E-mail


Readers'Letters

Last Updated: May 2007


Back to Top


DAILY LINKS


FAQs Questions?


Real Estate


Shopping

Maps


Bookstores


Trains

Busses


Car Rental


Hotels

News (CT)


Medical & Dental


YMCA Volunteer!


XICF Fellowship


Churches



Temples


Mosque


Expat Groups


Maids

Phone #s
EDUCATION


Xiamen University


XIS(Int'l School)


Study Mandarin


CSP(China Studies)


Library

Museums


History
DINING

Tea Houses


Restaurants

Asian


Veggie

Junk Food


Chinese

Italian


International


Visas 4 aliens
RECREATION


Massage!


Beaches

Fly Kites


Sports

Boardwalk


Parks

Pets


Birdwatching


Kung Fu

Hiking


Music Events


Cinema


Festival&Culture


Humor&

Fun Fotos


BUSINESS


Doing Business


Jobs!(teach/work)


Hire Workers


Foreign Companies


CIFIT (Trade Fair)


MTS(Translation)



Back to Top