AmoyMagic--Guide to Xiamen & Fujian

Copyright 2001-7 by Sue Brown & Dr. Bill

Order Books
Main Page
Google Search
Laowai Survival Recipes
(Adapted from "Amoy Magic")


"Tricks and Treats with TOFU!"

"Mad About OATMEAL"

"Substitutions"


"In Season and Out"

Chinese food is fresher, more varied, and healthier than much Western food, and eating out is fun and, dearer to my heart, cheap—especially if you live on Chinese fast food specials at Lin Duck House. Day or night, street stalls offer such choice delicacies as Chinese rolls, breads, bean curds, dried mushrooms, fricasseed fish lips. But when a bout of homesickness lays you low (and it happens), a little home-cooking is in order. Fortunately, Xiamen now has almost anything you need to whip up a nice Western meal.
For Breakfast, eggs, milk and bread are readily available. (Toasters aren't always easy to find though). Chinese oatmeal (mai pian) is cheap, and makes great porridge, muesli (granola), muffins, or pancakes (use local yogurt in the batter, and add sliced bananas). Or try the excellent Nicoli breakfast cereals from Italy (Metro, Olive Oil Store, etc.)
For Lunch, canned Chinese luncheon meat (wucanrou, aka canned roadkill), or the excellent frozen "Dragon Island" ham from Guangzhou, makes a good sandwich, especially with some tasty local potato chips.
For Dinner, use Chinese noodles for spaghetti, and make a sauce from Ma Ling Brand tomato paste, ground pork, a little basil, pepper, and salt. Slap the same sauce on a 2.50 rmb round Muslim bread and you've a nice little pizza.
Or take the easy way out with take-out pizza from Pizza Hut.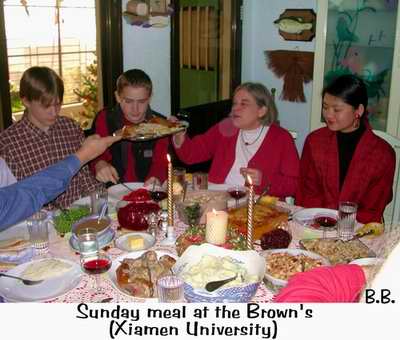 Homemaking Tips from Susan Marie
You can bake cakes or roast small fowl in the small Japanese or Chinese toaster ovens, but Sue finally bought a good 'ole Sears oven in Pasadena and shipped it back (even with shipping, it was cheaper than our little Italian oven that we bought in Hong Kong and didn't work from day one).

If you're going to hang your hat here awhile, make life simpler with a decent oven and a good food processor. The best investment you can make is a decent rice cooker (150 Yuan models are as good as the 800 Yuan electronic gizmos ).
With a rice cooker, just add 1 cup of cleaned rice, two cups of water, push the button, and wait ½ an hour or so for practically perfect rice. Even I can manage a rice cooker, and I've been known to burn water.
Lastly, get a Chinese freezer to stock up on those veggies and meats that are here today and gone tomorrow.


Back to top

Amoy Magic Main Page
E-Z Western Entrees from Taiwan's Laowai!
Laowai who forgot their cookbook, as well as Laonei Pengyou who want to try Western cooking, will enjoy our most asked for idiot-proof, time-tempered recipes. And you can do your part in improving Cross-Straits relations by serving these to your Chinese friends, because many recipes are from the cookbook/handbook "Tips 'N Treats on Taiwan," written by Taiwan's Laowai (Grab a copy if you're ever in Taipei, or swim across to Jinmen Island).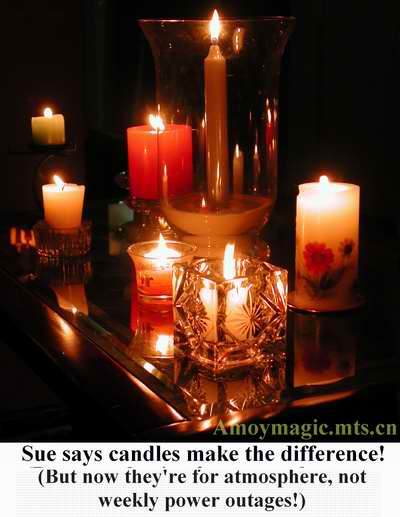 Tip: try Xiamen's own BB Brand Worcestershire sauce! (A company owned by a delightful lady who engages in all sort of social activities. Click Here to visit their site!)
Captain's Chicken ( 5 Stars! )
3 lbs. chicken breasts 3-4 tsp. curry powder seasoned flour
1 ½ tsp. salt ½ Cup oil 1 tsp. thyme
2 chopped onions ½ tsp. white pepper 2 cans tomatoes
2 chopped green peppers 1 minced garlic clove 1 Tbsp. chopped parsley
¼ Cup currants or raisins ¼ Cup toasted almond slivers (optional)
6 Cups hot cooked rice (use a rice cooker) Continued on next page….
Remove skin from chicken. Roll breasts in seasoned flour. Fry in oil until browned. Remove chicken—keep warm. Cook onions, peppers, and garlic in remaining fat in pan until tender. Stir in curry powder, salt, pepper and thyme. Mix well. Add tomatoes and parsley. Place breasts in large casserole. Pour sauce over chicken. Bake in preheated oven at 325°. When tender, place chicken on rice and cover with currants and almond slivers.


Back to top

Amoy Magic Main Page
Tuna Burgers
1 can tuna 1 Cup chopped celery 1 Cup cut up cheese
1 small chopped onion ¼ Cup mayonnaise salt and pepper
Mix all ingredients together. Fill 6 hamburger buns (from Beatrice) and bake for 15 minutes. Shopping tip: get tuna and cheese from the Olive Oil Store or Xiada's "Cheese Store." Beatrice has cheese, but it's costlier. (See Chapter 9, Laowai Life).
Swedish Cabbage Rolls
12 large cabbage leaves 1 pound hamburger 1 beaten egg 1 Cup cooked rice ¼ Cup chopped onion 18 oz. can tomato sauce
1 tsp. salt 1 tsp. lemon juice ¼ tsp. pepper
¼ Cup milk 1 tsp. Worcestershire 1 tsp. brown sugar
Immerse cabbage leaves in boiling water for 3 minutes or until limp; don't boil too long or they fall apart. Drain. Make meat mixture—egg, milk, onion, salt, pepper, hamburger, and rice. Place ¼ cup in middle of cabbage leaf and roll up. Make tomato sauce mixture—remaining ingredients. Pour over rolls. Cook in crock pot 6 hours on low or in oven at 350° for one hour. Chinese cabbage works very well too.
Serves 6 normal adults or 2 teenagers.


Back to top

Amoy Magic Main Page
Tamale Pie
1 Cup corn meal 1 tsp. salt ¼ Cup milk powder
½ tsp. salt ¼ tsp. pepper 2 tsp. chili powder
3 Cup hot water ¼ Cup chopped onions 1 Cup water
¼ lb. grated cheese 2 cans tomato paste 1 1b. hamburger
Mix corn meal, milk powder and salt together in sauce pan. Slowly add hot water while stirring. Cook in double boiler or over low heat stirring often for 30 minutes until fairly stiff. Brown meat, add tomato paste, salt, pepper, onion, chili powder and simmer for 15 minutes. In 1 quart casserole, layer cheese, cornmeal mixture and meat mixture. Place in preheated oven at 350° for 20 minutes. May be made ahead of time and heated later.
Serves 3
Homemade Barbecue Sauce
2 tsp. tomato sauce ½ Cup ketchup salt & pepper onion bacon
lemon juice little honey 2 Tbsp. brown sugar 2 Tbsp. Worcestershire

Add ingredients to taste; mix well. Baste chicken, wrap in foil,
and barbecue. Delicious!
Last but never least…


Back to top

Amoy Magic Main Page
Susan Marie's Sauteed Shark Steaks
Sue landed some beautiful shark steaks for only 15 Yuan a jin (about 1.1 pounds), but they're hard to come by, so if you find them, stock up! (They freeze well). And Sue's shark recipe is a winner!

Rub a few drops of lemon juice and olive oil on shark steaks. Sprinkle with seasoned salt, like Lawry's. Dip steaks in seasoned flour and sautee in hot olive oil. Fry for about 2-3 minutes on each side. Serve with tartar sauce: (Real mayonnaise mixed with hot dog relish or chopped sweet pickles).
And now it's time for your just desserts…


Back to top

Amoy Magic Main Page

Just Desserts
Taiwan's Laowai cook these recipes in rice cookers, but Susan Marie says mainland rice cookers don't work the same way, so use an oven.
Pineapple-Upside-Down Cake
½ Cup butter 1 Cup brown sugar, packed 3 Cups flour
2 Cups sugar 1 can sliced pineapple 4 t. baking powder
1 tbsp. salt 2 eggs 1 1/3 cups milk 2 tbsp. vanilla
Melt butter in 9 x13 pan in oven. Sprinkle brown sugar evenly over butter, then attractively arrange pineapple slices over this.
Measure flour and all dry ingredients in bowl, add all other ingredients and stir until smooth. Pour batter over fruit. Bake in preheated oven at 350? for 40-50 minutes until toothpick stuck in center comes out clean . Cool 5 minutes then turn upside-down onto serving plate. Serve warm. Add a spicy touch with 1 tsp. cinnamon, 1 tsp. nutmeg. Raisins, nuts and cherries optional.


Back to top

Amoy Magic Main Page
Banana Cake
¼ cup oil ¾ cup sugar 1 t. soda 2 large or 3 small bananas, mashed
2 cups flour 2 eggs 1/8 t. salt ¼ cup sour milk (add vinegar to milk)
Stir ingredients together and bake in a loaf pan in a preheated oven at 375? for one hour. (A fun and E-Z recipe for Laonei friends to try).
Goofproof Goofy Cake Laowai & Laonei alike have begged for this idiot-proof chocolate cake recipe that never fails!
3 cups flour 2 cups sugar 6 Tbsp. cocoa
1 tsp. salt ¾ cup oil 2 tsp. baking soda
2 tsp. vanilla 2 cups cold water 2 Tbsp. vinegar
Sift dry ingredients together, then add remaining and stir until smooth. Bake in a 9 x 13 pan in a gas oven at 350? for 30 to 35 minutes. If you use a small counter-top toaster oven, like Dr. Jan's National, it takes an hour at 180-200c, and Susan Marie says two small loaves are better than one big loaf because the middle cooks faster.
Speaking of loaves… I like to loaf around on Sunday but we usually have visitors for half the day. Oh well. Half a loaf is better than none.


Back to top

Amoy Magic Main Page
Fluffy White Frosting (for goofy cake)
1 ½ cups sugar ½ cup water 2 egg whites
½ tsp. vanilla ½ tsp. cream of tartar
Stir and dissolve sugar and water in pan over low heat. Cover pan and bring to boil. Boil 5 minutes. Uncover pan and continue cooking without stirring until mixture reaches thread stage. Beat egg whites until frothy, add cream of tartar, and beat until stiff. Then add the syrup in a steady thin stream while beating. After all the syrup is added, continue beating 2 minutes. Fold in vanilla or peppermint extract.
Blonde Brownies (awesome!)
2/3 cup butter 2 cups brown sugar, packed 2 beaten eggs 2 cups flour 1 tsp. vanilla 1 tsp. baking powder
1 tsp. salt ¼ tsp. baking soda 1-2 cups chocolate chips
Melt butter and add brown sugar. Cool, then add eggs and vanilla. Sift together flour, baking powder, soda and salt. Mix well and place in 9x13 inch pan. Add chips on top. Bake in preheated oven at 350° for about 25 minutes.
Avoid over-baking. They puff up when done.

Fudge Brownies
2 cups sugar 4 eggs 1 1/3 cups oil 1 tsp. baking powder
½ tsp. salt 2 cups flour ½ cup coca ½ tsp. vanilla
Beat sugar, eggs and oil; add sifted dry ingredients. Mix together. Bake in 10x15 pan (use black oven pan) for 15 minutes in preheated oven at 350°.


Back to top

Amoy Magic Main Page
E-Z Apple Pie
Crust… Put 2 cups flour and 1 tsp. salt in a Food Processor. Add: ½ cup oil and ¼ cup cold water. Roll between two sheets of wax paper. Produces 2 crusts.

Apple Filling… Slice apples (in food processor), place in unbaked pie shell, sprinkle a few spoonfuls of lemon juice, two spoons of flour, and two Tbsp. of sugar, cover with top crust, make slits in top for steam to escape, bake in preheated oven at 425° for 35—45 minutes. Serve with vanilla ice cream.
Tricks and Treats with Tofu!
Sweet on Tofu? (Doufu; Chinese bean curd) is not only highly nutritious but also an excellent substitute for Philadelphia Cream Cheese (available in the Olive Oil Store) in cheesecake, and ricotta cheese in lasagne! The following Tofu recipes are so tasty it's hard to believe they are good for you.


Back to top

Amoy Magic Main Page
Tofu Cheesecake
E-Z 8" pie crust: finely crush your favorite cream-filled cookies, like Oreos, mix in a couple Tbsp. of margarine, use a large spoon to press this firmly into the bottom of a pie pan, and bake in preheated oven at 350° five or ten minutes, or until brown. Allow to cool before adding filling.
Filling Ingredients: 1 lb. tofu (2 cups) 2 Tbsp. lemon juice ½ cup brown sugar
¼ cup oil 1/3 cup honey 1 tsp. vanilla pinch of salt 1 Tbsp. unbleached white flour
Blend ingredients in food processor until smooth and creamy, then pour into the unbaked pie shell and bake for about 45 minutes in an oven preheated to 350°, or until cracks begin to form on the edges of the filling.
Tofu Cookie Pudding.
½ lb. tofu (1 cup)—steamed 1/3 cup sugar
2 Tbsp. oil 1 tsp. vanilla pinch of salt
Blend ingredients in blender or food processor until smooth and creamy, fold 8 Oreo cookies (broken into quarters) into the pudding, and chill from 2 hours to overnight.


Back to top

Amoy Magic Main Page
And an excellent Tofu Entrée…
Susan Marie's Patented Two-Tofu Lasagne!
Follow your favorite lasagne recipe, but substitute tofu for ricotta cheese, and use wonton wrappers (buy stacks of them in produce markets) for pasta. After you've tried wonton wrappers, try using dried tofu sheets instead (soaked until tender but don't fall apart) for a highly nutritious and exceptionally tasty lasagne.
Just in case you don't have a recipe, here is Susan Marie's:

Spaghetti Sauce 1-2 packages of tofu
1 ½ lbs. wonton wrappers or a stack of dried tofu sheets
Mozzarella and Parmesan cheeses (from Olive Oil store)

Prepare a spaghetti sauce with browned ground meat (add minced garlic if you like). Add sauteed minced onion cooked in chicken bouillon (the more onion the better).
Put a thin layer of spaghetti sauce with meat on the bottom of a 9 x 13 inch pan. Cover with 1-2 layers of wonton wrappers (or sheets of soaked, dried tofu), spoon on stirred tofu, layer with meat sauce, parmesan cheese and mozzarella cheese. Repeat layers until pan is full. The top should just be a thin layer of meat sauce, with a little mozzarella and parmesan.
Cover and bake at 350° for 45 minutes or until done.
Serves four adults or half a teenager!


Back to top

Amoy Magic Main Page
Mad About Oatmeal! Both oatmeal (màipiàn) and tofu (dòufu) are tasty, healthy (both help fight cancers), inexpensive, and versatile.
Tip: Xiamen shops offer oatmeal from England, Australia and the U.S., but Chinese oatmeal is just as good, and ½ to 1/3 the price. (For granola, be sure to use rolled oats).
Oatmeal Pancakes Mix 1½ Cups oatmeal with 2 Cups sour milk (add 2 Tbsp. vinegar to 2 Cups of milk), and let sit. In another bowl, stir together ½ Cup flour, 1 tsp. sugar, 1 tsp. soda (pinch with finger so no lumps), 1 tsp. salt. Add this to oatmeal mixture; stir in 2 beaten eggs. Fry in hot greased griddle until golden brown. Top with Chinese honey, sliced bananas.
Dr. Bill's Own Oatmeal Bread
Combine in large bowl: 2 cups oatmeal ½ cup honey
1 Tbsp. salt 2 Tbsp. margarine
Add 2 cups boiling water.
Dissolve: 1 package (1 Tbsp.) dry yeast in ½ cup warm water.
Add yeast after batter cools, and stir in 5 to 6 cups of white flour.
Knead and add white flour until the dough is satiny and smooth.
Place in greased bowl, cover with cloth, let rise until doubled.
Punch down loaves, place in greased loaf pans, allow to double, brush with beaten egg; bake in preheated oven at 350° F. for 30-40 minutes.
Cool on rack, slice, and serve up with a hearty barley & cabbage soup.
Oatmeal Muesli (Granola) Xiamen shops sell packaged breakfast cere-als but they're overpriced and full of sugar (the best buy is the Italian brand, Nicoli, from Metro Store) Here's a recipe for a month's supply of muesli:

Fill a large bowl (washbasins work well) with rolled oats. Mix a spoon of salt through dry mixture. Slowly dribble peanut oil over mixture while stirring constantly to keep muesli flaky and avoid clumping; add just enough to moisten flakes. Repeat dribble process with a cup or two of honey. Stir in 2 spoons of vanilla and a spoon of cinnamon. Add raw peanuts and other nuts, and bake in preheated oven at 350° for 20 to 30 minutes, stirring every ten minutes or so to keep from burning.

After mixture cools, add finely chopped dried fruits--and Xiamen has plenty! I add shredded coconut, banana chips, and dried papayas, mangoes, pineapple, apple, apricots, raisins, figs, deng deng!

For ultimate convenience, stir in a couple bags of powdered milk and store in a tightly sealed container. Then simply add ice water, stir, and serve.


Back to top

Amoy Magic Main Page
Oatmeal Cookies (four dozen) Put through a sieve:
1 ½ cups white sugar 1 ½ cups brown sugar 3 cups sifted flour
2 tsp. salt 2 tsp. soda 1 tsp. baking powder.
Cut in 2 cups shortening, and add 6 cups oatmeal.
Combine mixture in bowl with 2 beaten eggs and 2 tsp. vanilla.
Drop teaspoonfuls onto greased baking sheet, flatten with fork, and bake in preheated oven at 350° for 12 minutes or until well browned.
Oatmeal Muffins (one dozen)
Stir in mixing bowl:
1 cup sifted flour ¼ cup sugar 3 tsp. baking powder ½ tsp. salt
Stir in: 1 cup oatmeal ½ cup raisins
Add: 3 Tbsp. oil 1 egg, beaten 1 cup milk
Stir just until dry ingredients are moistened. Fill greased muffin cups 2/3 full, bake 15 minutes in oven preheated to 425°.


Back to top

Amoy Magic Main Page

Substitutions
Instead of ......................Substitute
1 cup sour milk.......1 cup milk and 1 T. vinegar or lemon juice
1 cup sweet milk .......½ cup evaporated milk, ½ cup water
1 T. cornstarch ...............2 T. flour
1 cup honey................... ¾ cup sugar, ¼ cup liquid
1 pt. whipping cream....... 1 pt. water and 2 cups dry nonfat milk .................... solids; add 1 T. sugar & 1T. lemon juice before .....................whipping
1 cup nut meats ...............1/3 cup butter
1 egg (for leavening) .........½ tsp. baking powder
1 cup granulated sugar ......1 cup honey or syrup
1 teaspoon baking powder 1 tsp. cream of tartar & 1 tsp. baking soda
1 ½ cups corn syrup........ 1 cup sugar plus ½ cup water
1 cup canned tomatoes .....1 1/3 cup chopped fresh tomatoes simmered for .............................ten minutes
1 cup catsup or chili sauce .....cup tomato sauce plus 2 T. sugar, 1 T. .................................vinegar, 1/8 teaspoon cloves,
1 cup tartar sauce ......6 T. mayonnaise plus 2 T chopped pickle relish
1 cup tomato juice ............½ cup tomato sauce & ½ cup water
1 cup cinnamon sugar ......¼ cup granulated sugar plus 1 tsp. cinnamon
1 teaspoon allspice............. ½ tsp. cinnamon, 1/8 tsp. ground cloves
1 cup chicken broth...1 chicken bouillon dissolved in cup boiling water


Back to top

Amoy Magic Main Page
In Season, & Out...
One of the nicest aspects of life in China, and particularly in Xiamen, is our great abundance of fresh fruits and vegetables. Because they're fresh, they also tend to be highly seasonable—though seasons are getting longer now that roads are better and we get shipments from all over the country (and we have more greenhouses now).
Canned and dried fruits are, of course, available year round.
Fruit lovers enjoy Zhangzhou's mandarin oranges and bananas, Putian's lichees, Changtai's pomelos (rather like a grapefruit), Longyan's pears, deng deng. As broad a selection as you'll find anywhere back home, though at much better prices—when in season…
Avocados -- never. :(actually--they do have them in Metro, but very pricey)
Bananas - All year, especially summer .......
Cantaloupes - May, June
Coconut - All year
Grapes - July, August
Guavas - June
.Kumquat - Dec., Jan.
Lemon - July, August (increasingly common other times)
Loquat - March, April
Mango - May, June
Oranges - October thru January
Papaya - May, June
Pear - August
Persimmon - August, Sept.
Pineapple - May, June
Plums - April, May
Pomelo - August through December
Star Fruit - March, April
Strawberries - April
Sugar Cane - January thru March
Tomatoes - All year
Watermelon - June-August
Grapefruit--never! :( Please, somebody--start importing them!


Back to top

Amoy Magic Main Page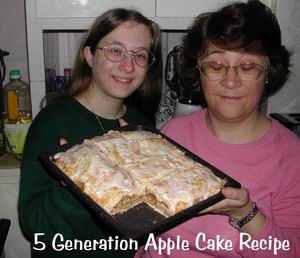 Toni's Kitchen!
Longterm Amoy resident Toni Mueller has been sharing her five generation family recipes with Laowai and Laonei alike through her articles in the Xiamen Daily's Saturday English Section, Common Talk, as well as in cooking classes at the local YMCA.
Click Here for a Common Talk article about the Mueller family and their Christmas traditions.


Back to top

Amoy Magic Main Page
Toni's Five-Generation Apple Bars
Pie Crust ingredients: 2 ½ cups flour, 1 tsp salt, 1 cup butter,
1 egg yolk with enough milk to make 1 cup, 1 beaten egg white
Mix pie crust. Spread ½ on cookie sheet.
Apples: 8-10 apples sliced, 1 cup sugar, 1 tsp cinnamon, 2 cups crushed cornflakes
Mix together the apples, sugar and cinnamon. Spread the cornflakes on top of the crust on the cookie sheet. Spread the apple, sugar and cinnamon mixture on top of the corn flakes. Cover with remaining dough. Crimp edges. Brush top with beaten egg white. Bake for 50 minutes at 175 degree Celcius.
Frosting:
1 cup powdered sugar 1 tsp vanilla
1 Tablespoon milk
Mix together then dribble over top of warm apple bars.

Click to E-mail


Readers'Letters

Last Updated: May 2007


Back to Top