Click to Access
OUTSIDE China


Click to Access
INSIDE China


TRAVEL LINKS


Xiamen

Gulangyu


Jimei

Tong'an


Jinmen

Zhangzhou


Quanzhou

Wuyi


#1Fujian Sites!


Fujian Foto Album


Books on Fujian


Readers'Letters


Ningde

Zhouning


Longyan

Sanming


Putian

Bridges


Travel Info,


Hakka Roundhouses


Travel Agents

MISC. LINKS


Amoy People!


Darwin Driving


Amoy Tigers


Chinese Inventions


Tibet in 80 Days!


Dethroned!


Misc.Writings


Latest News


Lord of Opium


Back to Main Page
AmoyMagic--Guide to Xiamen & Fujian

Copyright 2001-7 by Sue Brown & Dr. Bill

Order Books
Main Page
Business Links
Recreation Links
Google Search
E-mail


Gulangyu Island --Piano Islet
Click Here for "Discover Gulangyu!"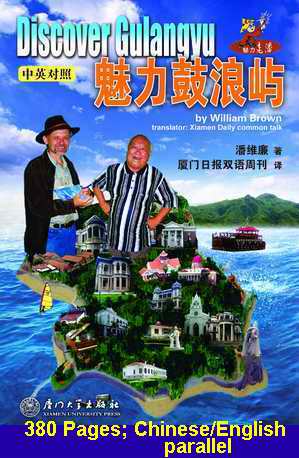 Gulangyu Colonial Architeture


Gulangyu Postcards! by Mr. Bai Hua


Lily Wang's Gulangyu Photos
(Awesome photos of Gulangyu's buildings, windows, gates, columns, capitals, ceilings, etc!)

A mere 500 meters as the fly flies across the harbor from downtown Xiamen lies the famous 1.77 square kilometer island of Gulangyu (or "Drum Waves," because the breakers pound the rocks like drums).

A fair-priced ferry! The 10 minute ferry ride to Gulangyu costs nothing unless you sit upstairs, where a ticket lady will collect about twice nothing (one Yuan or so). But unless you can swim, you have to pay the piper for the return trip-which at about 1.5 Yuan is still a better deal than Hong Kong's Star Ferry or Disney Land's "Pirates of the Caribbean." (Though for the best deal try NYC's Staten Island Ferry, which has been free for foot passengers since July 4th, 1997; thanks to G. Sweeney for reminding me of this).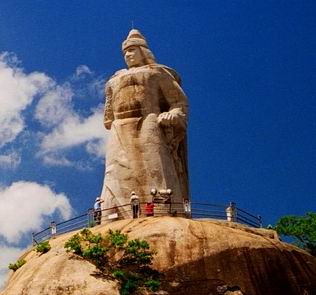 International Settlement It won't take you long to understand why Laowai chose this tiny island for their International Settlement. And even today Gulangyu possesses one asset almost unheard of elsewhere in China: quiet! Vehicles and bicycles are forbidden on the tiny island. (In fact, Gulangyu has not had cars for centuries!).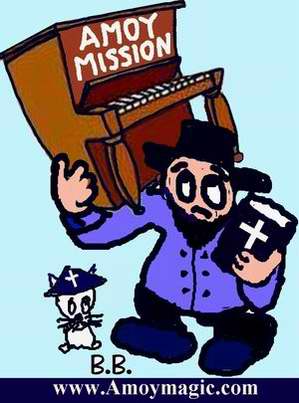 The one sound you will hear on Gulangyu is pianos. This tiny community of 20,000 has more pianos per capita than anywhere else on the planet -hence Gulangyu's nickname "Piano Isle."

Preachers & Pianos Early on, Protestants started several churches on Amoy and Gulangyu Islands--including China's 1st Protestant Church. (in 1848). David Abeel, Elihu Doty, Rev. William Pohlman, William Burns, J. Macgowan, Rev. John Van Nest Talmage--the list of well known missionaries and mission doctors (like Sir Patrick Manson, Father of Tropical Medicine) in Amoy is endless.
Catholics were busy too. The Vicariate Apostolic of Amoy (created in 1883 under the Dominicans) oversaw 11 European and 8 Chinese priests, 32 churches or chapels, 3 orphanages, and 13 schools (and included Taiwan in its domain). The piano played an integral part in all religious services-and Gulangyu folk have been hooked on them ever since.

It is no surprise that an inordinate number of famous pianists have come from tiny Gulangyu island. Gulangyu has more pianos per capita than any other city in China (perhaps even in the world)-over 350 pianos, or one in every five homes.

Virtually every evening some family is holding a recital for their budding pianist, and many go on to study in the Amoy Music Academy, and from there to play in London, New York, Paris-or the local churches from whence the pianos came in the first place.

Savor Gulangyu's silence (punctuated by a few hundred preschoolers practicing scales or "Chopsticks"), then a glimpse of the magnificent harbor and skyline by climbing Gulangyu's Sunlight Rock. (You'll really wish you had 'stolen' that glimpse when you fork out 40 Yuan for the entrance ticket).

Descend Sunlight Rock's sweaty heights and cool off by windsurfing in the harbor, or taking a bumpy speedboat tour around the island. Then visit Dragon Hill, Hoisting Flag Hill, or the many parks and gardens where Chinese colleagues eagerly point out the ancient engraved inscriptions that immortalize every rock and boulder (for after 5,012 years, Chinese have analyzed and written poems about every mountain, rock, river and lake in China).

If you have a couple of hours, take a leisurely walk on Gulangyu's paved, 4 kilometer ring road. Savor the beach on one side and the eclectic architecture on the other-bungalows built in English, French, German, Japanese, Spanish and Chinese styles. You can even walk on water on the Nine-Bend Forty-Four Bridge, which snakes across the water at Shuzhuang (Bean Plantation) Garden. Shuzhuang Garden was built by a Taiwanese businessman who moved here with his family during the Sino-Japanese War of 1894-1895.

If two-hour hikes aren't your cup of coffee, you do have alternatives. You can be hauled around on a bamboo litter by bearers wearing unique numbered uniforms, just like the Good Ole Days when their ancestors hauled our forebears to public parks and private clubs that even in Xiamen bore signs, "No Chinese or Dogs Allowed."

At least nowadays the litter bearers are well paid for their services. And they give camera--loving Laowai some good photo opportunities.

If bamboo litters aren't your style either, take a boat. The 8 kilometer cruise around Gulangyu offers tantalizing glimpses of Monkey Isle, Baozhuyu (Pearl) Isle, and Huoshaoyu Isle (or 'Burning Isle," because it is an extinct volcano).

Many cities in China have put out glossy tourist brochures with such boasts as "1,043 Scenic Sights famous at both home and abroad." (Quanzhou City, to our north, boasts over 2,000!). But with Gulangyu, it's no brag, just fact. Gulangyu has dozens of sites worth a looksee, like The Overseas Chinese Garden for the Introduction of Subtropical Plants, which has over 1,000 species of plants, one experimental horticulture nursery, and a refrigerated room. You might also enjoy touring some of the 1,000+ Western style buildings put up by Laowai during the heydey of the opium trade.

The following are Gulangyu's main attractions.. (According to Dr. Jan, somewhere between sites # 26 and # 36 is a former underground Japanese jail).
Click Here for Gulangyu Map showing locations of these 69 sites!

1. Ferry Quay
2. Former English Consulate (1844)
3. Underwater World
4. Book Store
5. Former Spanish Consulate (1850)
6. Xiamen # 2 Hospital
7. Catholic Church (1917)
8. Piano Island Hotel
9. Beautiful Island Hotel
10. Bank of China
11. Concert Hall
12. Xiamen Music School
13. Marine Environmental Forecasting Center
14. Library
15. Former Dutch Consulate
16. People's Stadium
17. Gulangyu Hotel
18. Dragon Head Hill
19. Sunlight Rock
20. Zhengchengong Museum
21. People's Primary School
22. Xiamen Trinity Christian Church
23. Qin Dynasty Statuary Exhibit
24. Gulangyu Local Government
25. Cavern of Horror
26. Bishan Park
27. Xiamen #2 Middle School
28. Stadium
29. Xiamen Museum
30. Longshan Cave
31. Former U.S. Consulate (1865)
32. Former Salvation Hospital (1898)
33. Yanwei Hill
34. Xiamen KLI Cactus Amusement Park
35. Post Office Training Center
36. Jide Palace
37. Fujian Arts & Crafts School
38. Gulangyu Experimental Ctr. of
Fujian Provincial Agricultural
Research Institute
39. Langdong Hill
40. Gulangyu Fishery Shipyard
41. Gulangyu Villa
42. Gulangyu Villa Ferry (C.T.S.)
43. Gulang Rock
44. MeiHua Beach
45. Xiamen Overseas Chinese Subtropical Garden
46. Bird Garden
47. Piano Garden
48. Cable Cars to Sunlight Rock
49. Gulangyu Naval Sanitorium
50. Gulangyu Army Sanitorium
51. Gusheng Tunnel
52. Gangzaihou Beach
53. Gospel Hall
54. Yanping Park
55. Shuzhuang Garden
56. Cadre's Sanitorium
57. Seaview Garden Holiday Resort
58. Former Denmark Telegraph Office
59. Seaview Villa Ferry
60. Seaview Villa Beach
61. Yu Garden
62. Former Yude Girl's School (1880)
63. Dadeji Beach
64. Cadres' Economics & Trade School
65. Lodge Cabin
66. Zhengchenggong Stone Statue
67. Bright Moon Park
68. Fuding Beach
69. Flag Raising Hill

Click Here for more on Gulangyu Architecture
TRAVEL LINKS

Favorite Fujian Sites

Fujian Foto Album

Xiamen

Gulangyu

Fujian Guides

Quanzhou

Z
hangzhou

Longyan

Wuyi Mtn

Ningde

Putian

Sanming

Zhouning

Taimu Mtn.

Roundhouses

Bridges

Jiangxi

Guilin

Order Books

Readers' Letters

Click to E-mail


Readers'Letters

Last Updated: May 2007


Back to Top


DAILY LINKS


FAQs Questions?


Real Estate


Shopping

Maps


Bookstores


Trains

Busses


Car Rental


Hotels

News (CT)


Medical & Dental


YMCA Volunteer!


XICF Fellowship


Churches


Expat Groups


Maids

Phone #s
EDUCATION


Xiamen University


XIS(Int'l School)


Study Mandarin


CSP(China Studies)


Library

Museums


History
DINING


Restaurants

Asian


Veggie

Junk Food


Chinese

Italian


International


Visas 4 aliens
RECREATION


Massage!


Beaches

Fly Kites


Sports

Boardwalk


Parks

Pets


Birdwatching


Kung Fu

Hiking


Music Events


Festival&Culture


Humor&

Fun Fotos


BUSINESS


Doing Business


Jobs!(teach/work)


Hire Workers


Foreign Companies


CIFIT (Trade Fair)


MTS(Translation)



Back to Top