Click to Access
OUTSIDE China


Click to Access
INSIDE China


TRAVEL LINKS


Xiamen

Gulangyu


Jimei

Tong'an


Jinmen

Zhangzhou


Quanzhou

Wuyi


#1Fujian Sites!


Fujian Foto Album


Books on Fujian


Readers'Letters


Ningde

Zhouning


Longyan

Sanming


Putian

Bridges


Travel Info,


Hakka Roundhouses


Travel Agents

MISC. LINKS


Amoy People!


Darwin Driving


Amoy Tigers


Chinese Inventions


Tibet in 80 Days!


Dethroned!


Misc.Writings


Latest News


Lord of Opium


Back to Main Page
AmoyMagic--Guide to Xiamen & Fujian

Copyright 2001-7 by Sue Brown & Dr. Bill

Order Books
Main Page
Business Links
Recreation Links
E-mail
Chapter 1 Exotic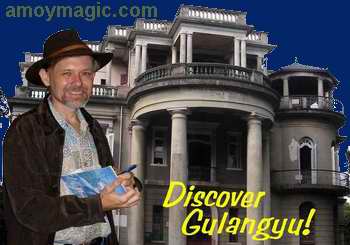 Gulangyu Islet (excerpts)

Something for Everyone!
"To the rare foreign visitor, Gulangyu is astonishingly reminiscent of an amalgam of other places far away:
"Old Havana (which I know only from pictures, but its crumbling mansions seem very similar to Gulangyu's).
"A Mexican hill town, such as Taxco or San Miguel,
even down to the tiled streets in some cases.
"The Cinque Terre of Italy--beautiful, balmy, quiet.
"Hawaii, with its wild poinsettias, bougainvillea, pleasant beaches.
"An Austrian village, with piano and violin music wafting from open windows.
"A little bit of Las Vegas, with gaudy lights every evening on every imaginable landmark on both sides of the channel.
"Put this all in a Chinese setting, and you have Gulangyu."
Brian Dearle (www.newcolonist.com)

Xiamen is China's "Garden Island" but her Crown Jewel is Gulangyu ("Drum Wave Islet"), the elegant 1.78 square kilometer haven just 700 meters across Xiamen Harbor. Settled during the Yuan Dynasty (1271-1368), Gulan-gyu was named Yuan Shazhou ("round sandy island") during the Ming Dynasty (1368-1644), but a geological mystery gave rise to its present name…
Ancient settlers were unsettled by eerie drum beats emanating from the clearly uninhabited island, but eventually discovered the ghostly drumming was caused by tides surging through a hollow rock on the island's southwest corner. Relieved that "Round Sandy Island" wasn't haunted, or a lair for cannibal tribes from across the Strait, they renamed their new home "Drum Wave Islet" (Gulangyu).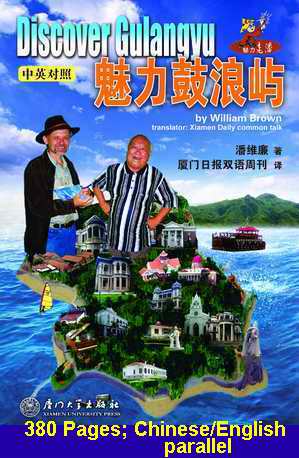 While Stone Drum is silent nowadays, the islet drums up plenty of tourism because of its lush tropical gardens, rich musical and cultural heritage, and its unparalleled panoply of international colonial-era architecture.

Gulangyu's serpentine lanes wind past high-walled gardens on lushly shaded hills, and hundreds of aged but elegant mansions built during the heyday of the early 20th century. As you savor the scenery and sleepy silence, you can almost imagine the opulence of yesteryear, when this drowsy islet teemed with the International Settlement's turbaned Gurkha policemen, dignitaries of a dozen nations, and wealthy Chinese and Western businessmen borne upon ornate sedan chairs by attendants in uniforms emblazoned with pampered employers' mono-grams.
In 1920, Hutchinson wrote that Gulangyu had more wealthy people than anywhere on earth except Pasadena, California! The wealth is gone, but the rich international heritage remains.
Back to top
1. Area: 1.87 km2
2. Population: 15,000 (minus 2; Bill & Kitty Job moved off-island)
3. Language: Mandarin, Minnan (S. Fujian) Dialect
4. Location: 118 degrees East, 24 degrees North, and just S.E. of Xiamen
5. Climate: sub-tropic maritime monsoon, warm year-round with 20.9 C average temperature, high of 35 C, low of 5 C.
6. Nicknames: Garden on the Sea, Piano Island, Isle of Music,
Museum of International Architecture
7. Unique customs: Dragon Boat Festival duck catching, Mooncake Game, family music recitals, weekend philharmonic symphonies
8. Culinary Treats: Mooncakes (China's best!), prepared meats (from a shop opened in 1842!), Minnan cuisine, seafood, light soups, crispy friend dishes, fish balls, zongzis, green bean pie, coconut pie, etc.

9. Main Attractions:
Sunlight Rock (Koxinga Memorial, Ancient Fort, Cable Car)
Historic International Architecture (hundreds of elegant buildings)
Shuzhuang Garden (and Piano Museum)
Hero Hill: Tingtao Bluff, Hero Garden, Gulangyu Aviary
Gulangyu Music Hall (frequent concerts), Xiamen Music Academy
Bright Moon Garden (Koxinga Statue)
Xiamen Museum (and Organ Museum)
Gangzihou Beach, Drum-Wave Rock, Yindou Rock
Xiamen Sea World (behind the giant octopus sculpture by the ferry)
10. Shopping—stock up on local specialties like Gulangyu pearls, pre-pared foods and mooncakes, as well as Anxi tea, Zhangzhou hand puppets, Hui'an stone carvings, Fuzhou's Shoushan stone—and Mr. Bai Hua's inimitable Gulangyu postcards.


Historical Tour Koxinga made China's last stand for the Ming Dynasty, here on Gulangyu, and from here sailed off to rescue Taiwan from the Dutch. And a century ago this tiny islet's an international settlement was host to the planet's most powerful trading firms and consulates of 13 countries. Gulangyu and Xiamen were also the "Birthplace of Chinese Protestantism." with China's oldest Protestant churches.
Pioneering Medicine and Education Tour Known as "The Cradle of Tropical Medicine", Gulangyu was pivotal in developing both Chinese and Western modern medicine. The islet was also home to many pioneer educators (especially in women's education), and boasted over 20 institutes of learning.
Music & Arts Tour The "Isle of Music," or "Piano Island," has more pi-anos per capita than any other city in China, Asia's largest piano museum, and has produced dozens of famous musicians, including world-renowned pianist Yin Chengzong, and acclaimed conductor Madame Zheng Xiaoying. The islet was also home to the famous writer Lin Yutang and artist Teng Hiok Chiu.
Architectural Tour In 2001 alone, Gulangyu spent 7.5 million USD pro-tecting hundreds of historic buildings in this "World Museum of Architecture."
Garden Tour China's 1st ISO-authenticated administrative district, Gulan-gyu spent 120 million USD relocating enterprises off-island to preserve this bo-tanical paradise. Key parks include:
Shuzhuang Garden (Shuzhuang Huayuan), Gulangyu's largest garden includes the Piano Museum (Gangqin Bowuguan).
Gulangyu Aviary (Bainiao Yuan)
Bright Moon Garden (Haoyue Yuan) & Koxinga Statue.
Yanping Park (Yanping Gongyuan): miraculous Koxinga Well.
Subtropical Botanical Garden
Private Gardens—many historic private villas have delightful gardens.
Shopping & Entertainment Tour Gulangyu is a shopper's and diner's paradise, with value-priced Fujian handicrafts, specialties, antiques, fine foods and teas, etc. You'll shop till you drop—or until your wallet is empty. (The best shopping is straight ahead of the ferry on Longtou Rd.) Enjoy the Minnan Tea Ceremony, the famous Mid-Autumn Mooncake game, and attractions like Xia-men Underwater World, the Cable Cars, and the beaches.
Peace & Quiet Savor the silence—Gulangyu has no cars or bikes (though you may see the cute little red fire trucks).

Getting to Gulangyu Ferry Terminal (Xiagu Lundu)
Buses: 2, 3, 4, 8, 10, 12, 19, 23, 25, 27, 28, 30, 31, 32, 36, 44, 60, 51, 66, 67, 85
Ferries make the 10 minute crossing several times an hour. Specialty tour fer-ries include cruises around nearby Taiwan-controlled Jinmen Island.
Maps and Guides English and Chinese maps are available in local bookstores and hotels or from vendors at the Gulangyu Ferry Terminal.
Xiamen Tour Guides. Hire only official guides (I learned this the hard way). They wear light purple "China Xiamen Tourism" badges depicting a running horse (China's symbol of tourism) and a flying swallow (because some tour guides' tales are hard to swallow).

Supplement
Gulangyu—a Popular International Port of Call
Gulangyu was a popular destination for commercial and military ships from all over the world. On October 30th, 1908, Gulangyu hosted over 7000 sailors from 8 American battleships: the Louisiana, Virginia, Missouri, Ohio, Wisconsin, Kentucky, Illinois, and Kearsage. Rev. Pitcher (1912) wrote:

"They put in about 9:00 am, for coal and provisions, and were feted by dignitaries ranging from Imperial Prince Yu Lang and his Honorable translator all the way down to the local judge.
Some folks, particularly the gentrified Europeans, doubted that tiny Amoy could survive 7000 American sailors on shore leave at one time, but they spent their time buying presents, or at the YMCA tent writing letters to family and sweethearts."
Today, cliff inscriptions behind Xiamen's Nanputuo Temple com-memorate that grand occasion and China and America's eternal friend-ship—which 30 years later saved tens of thousands of lives on Amoy.
In May, 1938, the U.S.S. Asheville commandeered a rice and water barge in Amoy and saved the lives of about 60,000 Chinese whom the Japanese interned on Gulangyu with neither food nor water. (Japanese oc-cupied Gulangyu after the Dec. 1941 attack on Pearl Harbor, and surren-dered on Gulangyu in the Seashore Inn on Lujiao Rd.).
TRAVEL LINKS

Favorite Fujian Sites

Fujian Foto Album

Xiamen

Gulangyu

Fujian Guides

Quanzhou

Z
hangzhou

Longyan

Wuyi Mtn

Ningde

Putian

Sanming

Zhouning

Taimu Mtn.

Roundhouses

Bridges

Jiangxi

Guilin

Order Books

Readers' Letters

Click to E-mail


Readers'Letters

Last Updated: May 2007


Back to Top


DAILY LINKS


FAQs Questions?


Real Estate


Shopping

Maps


Bookstores


Trains

Busses


Car Rental


Hotels

News (CT)


Medical & Dental


YMCA Volunteer!


XICF Fellowship


Churches


Expat Groups


Maids

Phone #s
EDUCATION


Xiamen University


XIS(Int'l School)


Study Mandarin


CSP(China Studies)


Library

Museums


History
DINING


Restaurants

Asian


Veggie

Junk Food


Chinese

Italian


International


Visas 4 aliens
RECREATION


Massage!


Beaches

Fly Kites


Sports

Boardwalk


Parks

Pets


Birdwatching


Kung Fu

Hiking


Music Events


Festival&Culture


Humor&

Fun Fotos


BUSINESS


Doing Business


Jobs!(teach/work)


Hire Workers


Foreign Companies


CIFIT (Trade Fair)


MTS(Translation)



Back to Top