AmoyMagic--Guide to Xiamen & Fujian

Copyright 2001-7 by Sue Brown

& Dr. Bill

Order Books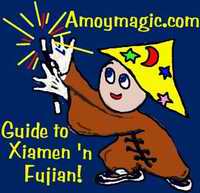 Main Page
Business Links

E-mail


Fujian Huisman Steel Manufacturing Co., Ltd.

Xiamen Fortune 500 Companies

Huisman China
New!

Fuzhou Hotels

Xiamen Hotels

Quanzhou Hotels

Xiamen Success Stories
!
A warm Amoy welcome to Huisman! (This page's material adapted from information provided by Mr. Petro Walters, Managing Director, Fujian Huisman Steel Manufacturing Co., Ltd.)
Huisman Equipment, a Dutch company, produces tailor made equipment for the transport, offshore and civil engineering industry.

We deliver heavy lift, pipe lying and drilling equipment worldwide. The company started in China in 2004 in a temporary workshop near Guangzhou. In 2007 our production facility in Zhangzhou near Xiamen officially opened. Many cranes are already on their way to our clients throughout the world.
Huisman China is a relative large company; at the moment we have about 450 people employed and the next two years we will grow to around 800 people.
Look at this link for more info: www.huisman-cn.com
Of course we are proud of what the company has established in such a short time in Xiamen. We do not only have Chinese and Dutch people working for Huisman, also people from the UK, Germany and the Czech Republic. International as we are, we cannot be missed on your site. If it is possible please inform me if you need further information form our company.
Petro Walters
Vice managing director
Fujian Huisman Steel Manufacturing Co., Ltd.
E-mail: pwalters@huisman-cn.com
Phone: +86(0) 596 685 7222
Fax: +86(0) 596 685 7220



Xiamen Success Stories

Google Search

Back to Top

Supplement
Vekoma China: Big factory big rides less fuss
By Peter van Bilsen and Andy Tang, in Park World Online, 01 Nov. 2006
As it continues to build more and more products for customers in Asia, Vekoma Rides Manufacturing¡¯s associated company Huisman has established a major new production facility in China. Customers as far apart as India and Australia are expected to benefit from the massive new factory in Zhangzhou City, Xiamen, which will help cut costs and, significantly, delivery times for new rides in this part of the world.
Vekoma Rides actually established a presence in China in August of 2004 when Huisman opened a plant at Guangzhou in Guangdong province. But that was only a temporary measure, designed to get products to Asian clients quicker with lower transportation costs, and in China at least, save them the massive import duties.
All these benefits and more will be offered on products leaving the new factory, which replaces the operation in Guangzhou. Located directly alongside the Pearl River, the Xiamen plant allows Vekoma Rides to load ride components directly onto the water. This easy access to the ocean will be of particular interest to Huisman, which constructs a variety of marine lifting and pipe-laying equipment. Indeed, it was the association between Huisman and Vekoma, that made it possible to establish a presence on this scale in China, and a smaller but still very significant operation in the Czech Republic. Quite simply, one manufacturing discipline supports the other, and helps shore up the workload during a slack period for either side.



Xiamen Success Stories

Google Search

Back to Top
Workshop wonder
Peter van Bilsen, Vekoma Rides¡¯ senior vice-president of marketing and sales, admits that typically only 10 per cent of the factory in Xiamen will be concerned with the manufacture of amusement rides at any one time, but it¡¯s nice to know there¡¯s more if needed. ¡°If an order is needed fast, we can also double the workforce.¡±
Located in the Fujian province, the new operation covers a total area of 27 sq km and comprises 10 workshops, a giant four floor office block, staff accommodation and sporting facilities, and is way bigger than Vekoma Rides¡¯ existing production facility in the Netherlands.
Trading as Fujian Huisman (medium sized companies in China are required to incorporate the local province into their name), the first phase was due to open last month with 30 office staff and 120 on the shop floor. Training of Chinese engineers has already begun at Schiedam, the Netherlands, and in the Czech Republic and by next year up to 400 staff will be employed on site.
Happy to help
Despite some delays in construction, things have gone relatively smoothly. ¡°Europe is getting not only more and more expensive, but also more bureaucratic,¡± reckons van Bilsen. ¡°Here they want to help you. For example, the company was formed in just two weeks!¡±
But the Dutch manufacturer intends to hold on to its roots. ¡°We still want to keep some production in Holland, and will split things up so they cannot be copied,¡± says van Bilsen. ¡°We are proud to say to local clients that our products are made in China, but with European design and flair.¡±



Xiamen Success Stories

Google Search

Back to Top
Design, engineering and production of trains and other essential components are expected to remain in Europe for the foreseeable future and then the remainder of any ride will be constructed at whichever of the company¡¯s plant is most convenient.
¡°Before, we did also subcontract to China, but we never had this level of control. Quality standards here will be the same as in Europe, they have to be. BMW, Mercedes, they all manufacture in China, but as the engineering is done in Europe, the product is the same. We expect the Xiamen facility to be able to service customers in China, Taiwan, Japan, South Korea, Australia and even India.¡±
Getting the orders in will be Robert Woo, Vekoma Rides¡¯ sales manager for China, who started with the company in Guangzhou. ¡°It is difficult to estimate the exact demand for rides locally,¡± he tells us. ¡°Every big city is doing something, we see huge growth on the horizon, but we are basing our own forecasts on the slow side for now and, to start with, if we do 10 units a year we will be happy.¡±
Latest products
Track and supports for two Suspended Looping Coasters, two Junior Coasters, a Mine Train and a Motorbike Coaster have already been built at the plant in Guangzhou, and these and any other product from the Vekoma catalogue can now be constructed in Xiamen.
¡°There is still room here for products like the Boomerang and Corkscrew,¡± notes van Bilsen, ¡°but park operators and developers in China have done their research and want the latest products. It¡¯s understandable I suppose. Clients in general these days want better rides for less money.¡±
While the manufacturing base in China is not expected to bring prices of coasters tumbling down, it will help Vekoma Rides control costs and hopefully stay competitive. ¡°Labour here will not stay cheap for ever,¡± concludes van Bilsen, ¡°but steel costs are good.This move gives us years ahead of other companies.¡±



Xiamen Success Stories

Google Search

Back to Top
Note: Xiamen's official city bird is the crane (construction crane)
Fortune 500 in Xiamen Info Compliments of Xiamen Foreign Investment Promotion Agency (I list 34, there are another half dozen, but I don't have the names yet).
1.Dell Inc. China Dell is a direct partner to businesses and consumers that delivers innovative technology and services. Producer of notebook, desktop, server and software.

2.KODAK (Xiamen) Co. Ltd. Kodak is producing color film, digital cameras, camera accessories, printers and printer ink.

3. The Coca-Cola Company Taikoo Coca-Cola (Xiamen) Company World¡¯s No.1 producer of drinks

4. Pepsi Co. KFC, Pizza Hut One of the world¡¯s biggest food & beverage company. KFC and Pizza Hut are both in this group.

5. Japan Marubeni Corporation Xianglu Petrochemical (Xiamen) Co., Ltd. Production and sales of PTA

6. Matsushita Electric Industrial Co., Ltd
1. Matsushita Electronics (Xiamen) Co., Ltd.
2. Xiamen Matsushita Electric Control Equipment (Xiamen) Co., Ltd.
3. Xiamen built-Electric Co. Ltd., Producer of audio products and digital cameras.



Xiamen Success Stories

Google Search

Back to Top

7. Toshiba Corporation
1. Xiamen Ha Chi technology tools Co. Ltd.
2. Xiamen Tungaloy polishing tools Co. Ltd.
3. Xiamen Xiangyu Chirong Trade Co. Ltd. Produion and processing of
hard alloy materials and tools.
8. Royal Philips Electronics Philips Lighting Electronics (Xiamen) Co. Ltd. specialized in the production of inductance barrette.

9.The ABB Group One of the world¡¯s leading engineering companies. Mainly focus on control system including swith, etc.
10. Areva (Xiamen) world energy expert, offers technological solutions for highly reliable nuclear power generation and electricity transmission and distribution



Xiamen Success Stories

Google Search

Back to Top
11. General Electric Co.
1.GE Engine Services (Xiamen) Co. Ltd. Aircraft Engine maintenance;
2.Xiamen Topstar lighting Co. Ltd. Lighting equipment

12. Honeywell International Inc. HTAC£©Honeywell- Taikoo Aircraft Co.Ltd. aircraft maintenance

13. BOEING (XIPA did mispell it "boring"!) & JAPAN AIRLINES
Taikoo (Xiamen) Aircraft Engineering Co.Ltd.
Aircraft maintenance, modification and related services
14. United Technology Corp. Xiamen Han-sheng Qinling Aerospace Ltd. Aircraft Power maintenance services
15. NEC Corp. NEC Electronics (Xiamen) Co. Ltd. Lithium batteries, current sensor, transformers

16. Sanyo Electronic Corp. Xiamen Luyang security Ltd. Security Monitoring Products

17. Mitsubishi Corp. Xiamen Lingda Garment Co. Ltd. Garment

18. FUJITSU Ltd. Xiamen FDK Co. Ltd. Switch£¬hybrid integrated circuit, transformers



Xiamen Success Stories

Google Search

Back to Top
19. Itochu Corp. Xiamen Fai Fashion Ltd. Leisure & Sports Fashions
20. Wal-Mart World's largest retail business

21. Metro Germany's biggest and most successful retailer; #3 worldwide

22. Carrefour Number one retailer in Europe; number two worldwide.

23. McDonalds The largest and most famous fast food group.

24. The Hongkong and Shanghai Banking Corporation Limited HSBC Co. Ltd. Xiamen Branch Bank & Finance services

25. Sumitomo Group Sumitomo-sce Construction Machinery Co. Ltd. Construction Machinery

26.Toyota Tsusho Corporation Xiefu-Koyo (Xiamen) Machinery Ltd. Automobile steering wheels



Xiamen Success Stories

Google Search

Back to Top
27 Hitachi, Ltd. Hitachi Digital Image (China) Ltd. Xiamen branch Plasma TV, LCD TV, projector

28.The Electrolux Group Thai Door - (Xiamen) diamond tool equipment Co. Ltd. Wire saw, diamond drilling machine, etc.

29. Kingfisher Group B&Q Xiamen Branch decoration materials and decoration consulting service
30. A.P. Moller ¨C Maersk Group Maersk Xiamen container transportation and logistics, as well as various other activities related to shipping and retail

31. Goldman Sach Group Inc. eHealthChina Inc. Computer services in finance and insurance industry

32. FedEx Corp. Datian- Federal Express Co. Ltd. Xiamen branch Express and logistics
33. CALYON CALYON Corporate and Investment Bank Xiamen Branch Bank services

34.Standed Chartered Bank Xiamen branch of Standard Chartered Bank
Counter Service Personal Banking Services SME Banking Services Commercial Banking
35.... I'm working on getting the info on the other half dozen or so.



Xiamen Success Stories

Google Search

Back to Top

TRAVEL LINKS

Favorite Fujian Sites

Fujian Foto Album

Xiamen

Gulangyu

Fujian Guides

Quanzhou

Z
hangzhou

Longyan

Wuyi Mtn

Ningde

Putian

Sanming

Zhouning

Taimu Mtn.

Roundhouses

Bridges

Jiangxi

Guilin

Order Books

Readers' Letters

Click to E-mail


Readers'Letters

Last Updated: June 2008


Xiamen Success Stories

Google Search

Back to Top