Click to Access
OUTSIDE China


Click to Access
INSIDE China


TRAVEL LINKS


Xiamen

Gulangyu


Jimei

Tong'an


Jinmen

Zhangzhou


Quanzhou

Wuyi


#1Fujian Sites!


Fujian Foto Album


Books on Fujian


Readers'Letters


Ningde

Zhouning


Longyan

Sanming


Putian

Bridges


Travel Info,


Hakka Roundhouses


Travel Agents

MISC. LINKS


Amoy People!


Darwin Driving


Amoy Tigers


Chinese Inventions


Tibet in 80 Days!


Dethroned!


Misc.Writings


Latest News


Lord of Opium


Back to Main Page
AmoyMagic--Guide to Xiamen & Fujian

Copyright 2001-7 by Sue Brown & Dr. Bill

Order Books
Main Page
Business Links
Recreation Links
Google Search
E-mail
Turning the Teatables
Click Here for Tao of Tea
When Chinese offer t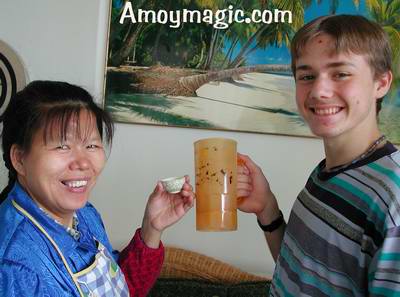 ea to visitors, it's never a hasty Lipton teabag affair. Chinese tea is an art—but one I've had to learn to appreciate. I'm used to guzzling coffee from giant mugs or German steins, and soda from a 32 oz. (907.2 grams) glass. So sipping tea from a cup that is no more than a thimble with handles takes some getting used to. Even the teapot is so small that I could down the contents in one gulp. Chinese tea sets remind me of the toy kitchen sets my sister played with when she was five years old.

But gradually my impatient palate has come to appreciate the art of Chinese tea, and the casual conversations with friends as we perch on bamboo stools and sip Oolong from our thimble cups. Drinking tea is as much an art as preparing it, and Chinese are always willing to do both—no matter what the circumstances.

I dropped in unannounced on the MBA Dean one evening. He promptly served up Anxi tea in thimble cups and we chatted for two hours, as if he had all the time in the world. The next day I learned from his secretary that he'd had to stay up the entire night finishing urgent reports—yet he never even hinted that I'd been interrupting. Surely nothing compares with Chinese hospitality. But…their ceremonial "offer—decline 3 times" custom can be frustrating for foreigners.

Protocol requires Chinese must offer tea 3 or 4 times, and guests must decline 2 or 3 times with a humble, "Bu yao mafan ni" (I don't want to trouble you). So when I invited MBA students to our home, I warned them, "Foreigners are frank. If I offer you tea and you want it, say yes—because I won't grow old repeating the offer!"

A few days later, my 32 students climbed the 105 steps to our hilltop apartment. Sweaty and gasping for breath, my desiccated scholars sprawled on sofa, chairs, and floor "Would you like some tea?" I asked.

"Oh, no!" came the chorus. "We don't want to trouble you!" Even though my steaming teapot was right in front of their Laonei noses!
"Are you sure?" I asked again.
"No, too much trouble," they repeated, though hesitantly.

"Ok," I said. And I shattered protocol and set Sino-American relations back a century by ignoring the obligatory 3rd and 4th requests. They watched in horror as I, with exaggerated contentment, sipped a cup of steaming tea. But I relented half an hour later and asked once more. "Are you sure you don't want tea? Raise your hand if you do."

Hands shot up everywhere. Some even raised two hands, as if they were being robbed. I laughed and said, "Help yourself!" And my students unceremoniously raced for the teapot.

The following Friday night, a chorus of laughing MBA students showed up on our doorstep and shouted, "Hi Professor. Where's the tea?"

Click to E-mail


Readers'Letters

Last Updated: May 2007


Back to Top


DAILY LINKS


FAQs Questions?


Real Estate


Shopping

Maps


Bookstores


Trains

Busses


Car Rental


Hotels

News (CT)


Medical & Dental


YMCA Volunteer!


XICF Fellowship


Churches



Temples


Mosque


Expat Groups


Maids

Phone #s
EDUCATION


Xiamen University


XIS(Int'l School)


Study Mandarin


CSP(China Studies)


Library

Museums


History
DINING

Tea Houses


Restaurants

Asian


Veggie

Junk Food


Chinese

Italian


International


Visas 4 aliens
RECREATION


Massage!


Beaches

Fly Kites


Sports

Boardwalk


Parks

Pets


Birdwatching


Kung Fu

Hiking


Music Events


Cinema


Festival&Culture


Humor&

Fun Fotos


BUSINESS


Doing Business


Jobs!(teach/work)


Hire Workers


Foreign Companies


CIFIT (Trade Fair)


MTS(Translation)



Back to Top