Click to Access
OUTSIDE China


Click to Access
INSIDE China


TRAVEL LINKS


Xiamen

Gulangyu


Jimei

Tong'an


Jinmen

Zhangzhou


Quanzhou

Wuyi


#1Fujian Sites!


Fujian Foto Album


Books on Fujian


Readers'Letters


Ningde

Zhouning


Longyan

Sanming


Putian

Bridges


Travel Info,


Hakka Roundhouses


Travel Agents

MISC. LINKS


Amoy People!


Darwin Driving


Amoy Tigers


Chinese Inventions


Tibet in 80 Days!


Dethroned!


Misc.Writings


Latest News


Lord of Opium


Back to Main Page
AmoyMagic--Guide to Xiamen & Fujian

Copyright 2001-7 by Sue Brown & Dr. Bill

Order Books


Main Page Business Links Recreation Links Google Search E-mail




N¨¢np¨³tu¨® Temple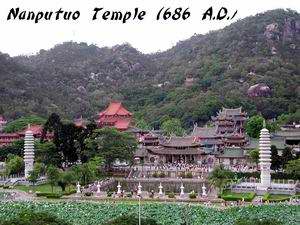 (ÄÏÆÕÍÓËÂ)
Click Here for "Monk's Daily Schedule"
Nanputuo Buddhist monastery and temple, right outside XMU¡¯s old gate, sprawls across the Five Old Man Mountains like a Chinese miniature landscape on steroids, but it started out in 686 as the humble cave dwelling of one monk.

Xi¨¤m¨¦n folk were in the throes of an unknown epidemic when Qin Hao arrived on the scene. He settled down in a cave on a hillside blessed with medicinal herbs. After his herbal brews saved the lives of many of the locals, they begged him not to leave, so he stayed on and taught Buddhism.

That original cave is still there, but decorated beyond recognition, and augmented by over 20 buildings, including the four axial halls: Heavenly Emperor Hall (L¨ªngxi¨¡odi¨¤nÁèÏöµî), Heroic Treasure Hall (D¨¤xi¨­ngb¨£odi¨¤n´óÐÛ±¦µî), Great Benevolence Hall (D¨¤b¨¥idi¨¤n´ó±¯µî), and Buddhist Scripture Repository (Z¨¤ngj¨©ngg¨¦²Ø¾­¸ó). Their scripture collection may be N¨¢np¨³tu¨®¡¯s biggest claim to fame, with over 50,000 Buddhist scriptures¡ªa copy of virtually every Chinese Buddhist scripture. They also have the oldest Chinese Buddhist manuscript (translated about 2000 years ago).

N¨¢np¨³tu¨® is home to about 120 monks and a few hundred statues, including the Revered Three-Life-Cycle Budda, the Four Heavenly Kings, the Eighteen Arhats, and Bodhisattva, aka the Thousand Handed Guanyin (Qi¨¡nsh¨¯u Gu¨¡ngy¨©n ǧÊÖ¹ÛÒô), and probably the patron saint of glove makers. Gu¨¡ny¨©n started out as a man and ended up female; read about the ¡°Gu¨¡ny¨©n Temple later in this chapter for details.

The Great Benevolence Hall is a 3-storey octagonal structure built by General Sh¨©l¨¤ng (Ê©ÀË) in 1684 after retaking T¨¢iw¨¡n from Koxinga¡¯s grandson. The roof, which is made entire of wooden beams and brackets (not one nail) has been noted by the Chinese Construction Ministry for its unique construction. The 1,000-handed Gu¨¡ny¨©n is composed of a sitting Gu¨¡ny¨©n and 3 standing Gu¨¡ny¨©ns. The standing Guanyins have two heads, a small one over the larger one (even the Chinese think two heads are better than one). The two-faced Guanyins face north, west and east.

Scripture Repository & Holy Buddha Beads In addition to Buddhist scriptures, the repository has former abbott¡¯s clothing, and such treasures as a fine white porcelain Gu¨¡ny¨©n, a Qing Dynasty bronze bell, white Jade Buddhas presented by Burma, Thailand, Sri Lanka, Cambodia and India, and the ¡°Lotus Scriptures¡±, which were written in blood by monks about 500-600 years ago. The most unusual items are the ¡°holy cremation relics¡±¡ªhard, pearl-like beads sifted from cremated saints¡¯ ashes. The beads embody the saints¡¯ spiritual essence, and are said to have a beneficent effect upon others. A Californian ¡°reported feeling that his molecules were being rearranged in a more wholesome manner¡±). But what would you expect from a Californian?

The downstairs Hall of Law is for meetings, and for disciplining monks whose molecules, apparently, have yet to rearrange. But all disciplining is done before Sakyamuni¡¯s statue to ensure fair play.

The Merit Building, just inside the gate and to the right, has wooden memorial tablets, for which relatives of the deceased pay 1000 Yuan each.

N¨¢np¨³tu¨® Vegetarian Restaurant, in the P¨³zh¨¤o Bldg. (ÆÕÕÕ Â¥), behind the Merit Building, has served famous veggies for a century. Read ¡°Veggie Tails¡± in the Restaurant chapter to learn which dish D¨¨ng Xi¨£op¨ªng loved so much he had his chef lug 200 pounds back to B¨§ij¨©ng (you¡¯ll also learn why you should never, ever, eat taro with beef, because it is¡­).

Buddhist Seminary¡ªinside the main gate, 2nd building on the left.

T¨¤ix¨± Library Ì«ÐéͼÊé¹Ý , completed in 1989, isbehind the seminary and has over 20,000 documents. A dozen monks and laypersons run the library, which is also open to lay Buddhists who obtain permission.

Monk Pastimes What do monks do besides chant and study? Click Here for the "Monk's Daily Schedule!"

South F¨²ji¨¤n Buddhist College Started in 1925 by the abbot Huiquan, the college was closed after the Japanese invaded in 1937, and re-opened in 1985. The college has four departments: T¨¤ix¨± Library, editing department, monks¡¯ department and nuns¡¯ department. Three departments are at N¨¢np¨³tu¨®, but the nuns¡¯ are cloistered separately in J¨©nb¨£ng Park (½ð°ñ¹«Ô°) near the train station (see the Parks chapter). Modern monks are now allowed to leave the monastery and have a wife, but while at N¨¢np¨³tu¨® they have nun.

None, I meant.

The college has 36 exalted-monk teachers, 110 monk students, and 6 graduate students. During the 4-year program they study Buddhist scriptures and rituals, humane studies, and Communist Party religious policies.

The nunnery at J¨©nb¨£ng Park is considerably larger, with 40 faculty, 250 undergrad students, 8 graduate students, and 4 overseas students. Bruce Lee says the nuns study harder and write more articles than the monks, even though they must keep the same strict schedule.

Merry Maitreya The pot-bellied Maitreya (M¨ªl¨¨f¨® ÃÖÀÕ·ð), ¡°god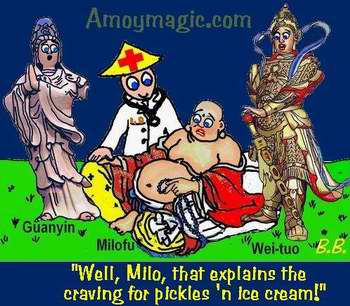 of wealth,¡± greets N¨¢np¨³tu¨® visitors. Buddhism claims Sakyamuni, the first Buddha, will rule 10,000 years. After international morality reaches a high level, Buddhism will die out. Eight million years later, Maitreya will come to preach. Let¡¯s hope Maitreya¡¯s sermons are shorter than his prelude.

Maitreya last incarnated 1,000 years ago as the Linen-Bag Monk of Zh¨¨ji¨¡ng (Õã½­) Province. He traveled nonstop, preaching to all and sundry, free from cares and smiling in all circumstances. He was convinced that he was Maitreya incarnate, and so did everyone else¡ªat least after he died.

Behind Maitreya stands the Boddhisatva Skanda (W¨¦itu¨® ΤÍÓ), who safeguards those two pillars of most religions: doctrine and finance. And W¨§itu¨®¡¯s staff is why Nanputuo attracts so many pilgrims.

Tradition has it that when W¨¦itu¨® holds his staff horizontally in his arms, he¡¯s suggesting, ¡°Try elsewhere.¡± But at N¨¢np¨³tu¨® W¨¦itu¨®¡¯s staff is aimed at the ground, indicating the temple is wealthy and offers both room and board. So pilgrims pack in by the hundreds of thousands. And happily for this guardian of finance, they leave their millions behind because Buddhists, quite literally, have money to burn¡­

Money to Burn It¡¯s a good thing Chinese invented paper or their extinguished ancestors wouldn¡¯t have a chance in hell¡ªliterally! N¨¢np¨³tu¨® is always thronged with pilgrims sacrificing paper houses, paper furniture, paper cars, even paper microwaves, all of which are transmuted into the real thing for use in the afterlife. I¡¯ve even seen paper air conditioners.
Leave it to Chinese to install A/C in hell.

Chinese also figure demons and deities can¡¯t tell real money from fake so they print up trillions of dollars of ¡°Hell Money¡± on cheap paper and for a few Yuan will sell a stack of Hell Money that could easily top even Bill Gate¡¯s fortune.

It must make for some hellish inflation down below.

Demons, deities and dead ancestors get the short end of W¨§itu¨­¡¯s stick not just with money but munchies. A 15¡± deep basket of foods or fruits may have a false bottom, with the lower 12¡± empty, because the folks down downstairs can¡¯t tell the difference.

Click These Thumbnails for Larger Hellish Images!


The smoke of N¨¢np¨³tu¨®¡¯s eternal offerings may be especially fitting. After all, China has 300 million smokers; maybe in hell they¡¯re smoking paper tobacco? But given that Buddhism has 84,136 hells, I¡¯m not sure if folks down there are smoking or being smoked. N¨¢np¨³tu¨®¡¯s studious monks aren¡®t so sure either. I asked one, ¡°Who goes to Buddhism¡¯s 84,136 hells?¡±
He said, ¡°Anyone who does anything wrong.¡± He pondered this a bit, and added with a wry smile, ¡°Everyone, I guess.¡±
¡°Is there a Buddhist heaven?¡± I asked.
¡°Of course,¡± he said.
¡°Who goes there?¡± I asked.
The monk thought a little, and said, ¡°Just a minute.¡± He pushed his Gandhi spectacles back up on his nose, flipped back and forth through the pages of a massive, musty volume, and after a few minutes said, ¡°No one has ever asked me that. I¡¯ll have to get back to you.¡±

Devilish Deductions Gift shops offer N¨¢np¨³tu¨® knickknacks like chant cassettes, glow-in-the-dark plastic Buddhas, and wood or stone rosaries. But don¡¯t try to pay with Hell Money or there really will be hell to pay. And unlike American religious merchandising, there¡¯s no ¡°Suggested love offering¡±, or tax deductible receipt. But given the state of Buddhist hells¡¯ economic affairs, you can probably just add a few zeros to your receipt and make an outlandish deduction after you die.
The Infernal Revenue Service will never know the difference.
Moneychangers in the Temple N¨¢np¨³tu¨®¡¯s real excitement is not inside the temple grounds but outside the massive gates, where street vendors cry, ¡°Candied crab apples on a stick!¡± and ¡°Fresh sliced pineapple!¡± and ¡°Tea eggs 3 mao (cents) each or 2.50 a jin¡± (a jin is about 1.1 pounds). Shoe repairpersons from far off S¨¬chu¨¡n resurrect weary pilgrims¡¯ weary soles with glue and thread, and T¨®ng¡¯¨¡n peasants puff rice with a coal-fired cast iron contraption that goes off like a cannon every few minutes. The liveliest trade, of course, is in Buddhist paraphernalia¡ªincense sticks, candles, ¡°Hell Bank Notes.¡± And until recently there was another trade that struck me as a bit fishy¡­
Freeing Captive Fish Pond Buddhists are vegetarians, in theory at least, and opposed to taking any kind of life (though enterprising peasants may enjoy beef ¡®n green pepper, guilt-free, after arranging for a calf to strangle itself on a short leash).

If there is merit in not taking life, there is even greater merit in saving it, so pious pilgrims used to buy live fish from markets and free the finned folk from their dire fate by dumping them into the 1000m2 N¨¢np¨³tu¨®¡¯s Captive Fish Pond.

But given that this went on day and night for decades, how did one pond hold so many fish? I suspected the monks financed their Nokia cell phones by recycling the fish, who probably had more lives than my cats. I think this practice has stopped at N¨¢np¨³tu¨®, but it continues at most temples big enough to have a pond.

Nanputuo Address: Just outside XMU Old Gate
Tel: 5855113 www.nanputuo.com

A Bang and a Whimper N¨¢np¨³tu¨®¡¯s endless emancipation of captive carp went on largely in silence, but not so the other activities. Monks drive off devils, both domestic and foreign, by banging drums and cymbals day and night. And before Xi¨¤m¨¦n banned fireworks, the temple grounds emanated an eternal cacophony of firecrackers that reverberated off the adjoining XMU Foreign Expert¡¯s Guesthouse walls, and the denizen¡¯s pounding craniums.
Chinese have been enamored of fireworks since before the dawn of recorded time 5,018 years ago. They shooed demons by burning bamboo stems, which explode when air heats up in the hollows between the joints. Somewhere down the line, an enterprising soul stuffed the bamboo with gunpowder, and eventually someone replaced the bamboo with rolls of heavy paper, giving us the modern fireworks we hear today¡ªor used to hear.
During the mid 1990s, a stroke of the pen banned this perennial pastime in many major cities. Now Chinese shoot off their fireworks in the countryside and small towns, or pop strings of balloons, or play tape recordings of firecrackers over massive sound systems. The ambiance just ain¡¯t the same.

Click to E-mail


Readers'Letters

Last Updated: May 2007


Back to Top


DAILY LINKS


FAQs Questions?


Real Estate


Shopping

Maps


Bookstores


Trains

Busses


Car Rental


Hotels

News (CT)


Medical & Dental


YMCA Volunteer!


XICF Fellowship


Churches



Temples


Mosque


Expat Groups


Maids

Phone #s
EDUCATION


Xiamen University


XIS(Int'l School)


Study Mandarin


CSP(China Studies)


Library

Museums


History
DINING


Restaurants

Asian


Veggie

Junk Food


Chinese

Italian


International


Visas 4 aliens
RECREATION


Massage!


Beaches

Fly Kites


Sports

Boardwalk


Parks

Pets


Birdwatching


Kung Fu

Hiking


Music Events


Festival&Culture


Humor&

Fun Fotos


BUSINESS


Doing Business


Jobs!(teach/work)


Hire Workers


Foreign Companies


CIFIT (Trade Fair)


MTS(Translation)



Back to Top