AmoyMagic--Guide to Xiamen & Fujian

Copyright 2001-7 by Sue Brown & Dr. Bill

Order Books
Main Page
Business Links
Recreation Links
Google Search
E-mail
Xiamen Firefighting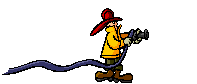 "

How to Save a Fi

reman!"


Click Thumbnails for larger images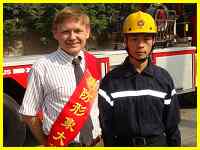 Click for "Safety Tips"
Click t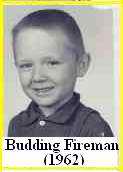 When I acted as Xiamen Fire Department ¡°Ambassador¡± on Nov. 9, 2006, I felt like a six-year-old again, when my drawing of ¡°Sparky the Fire Dog¡± won a Denver Fire Prevention Week contest. Firefighters were my childhood heroes and I was determined to become one¡ªespecially after they gave me a red plastic fire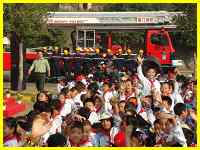 helmet and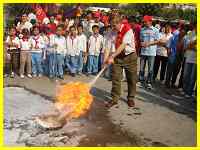 badge, let me slide down the firefighter¡¯s pole and ride the truck, presented me with the one dollar prize (the first dollar I¡¯d ever earned) and served me lunch in the firehouse.
I never became a professional firefighter but I did become a volunteer firefighter in the U.S. Air Force in T¨¢iw¨¡n. After driving the firetruck for a few months I learned that firefighting was a lot more than I¡¯d bargained for¡ªand it was a never ending battle. While soldiers can at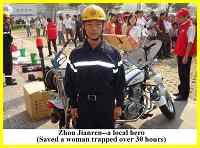 least hope for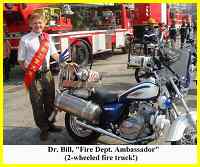 peace, there will never be a ceasefire for firefighters. They wage their endless war every day, every year, and every year hundreds of firefighters die (119 American firefighters in 2005 alone ).
Back to Top AmoyMagic Guide to Xiamen and Fujian
New tech and practices are helping to save lives. For example, ¡°Everyonegoeshome.com¡± has posted ¡°16 Firefighter Life Safety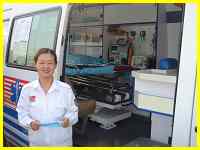 Initiatives¡±. But 14 of the 16 initiatives place the burden on firemen, while only two emphasize fire prevention (through public education, enforcement of codes, and use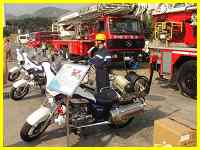 of home fire sprinklers). Safer firefighting is crucial, but the only surefire way to save fire fighters¡¯ lives is to prevent fires in the first place by creating a more safety-conscious public¡ªwhich is exactly what Xiamen is doing with its comprehensive fire safety education programs.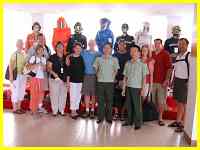 In 2005, a group of visitors from Reedley, California, which included a professional fireman, toured our fire safety center. Xiamen firefighters

demonstrated kitchen safety, how to handle electrical fires, proper use of fire extinguishers, and how to escape a smoke-filled room (quite unnerving, even when it was not real smoke). We were impressed by the safety education programs, Xiamen¡¯s arsenal of modern fire fighting equipment, and our firefighters¡¯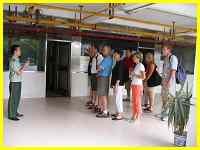 professional spirit. And Xiamen¡¯s firefighters are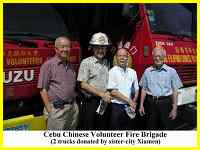 reaching out to other cities as well (when I visited our sister city, Cebu, Philippines, in 2005, I saw that Xiamen had donated two of their fire engines).
Back to Top AmoyMagic Guide to Xiamen and Fujian
But in spite of excellent programs in China and the U.S., firefighters perish every year in fires ignited by ignorance and carelessness. Part of the problem is that safety of any kind is hard to promote because people assume accidents happen to others, not to themselves. So I suggest we shift the focus from ourselves to others with a new campaign: ¡°Save a Fireman!¡±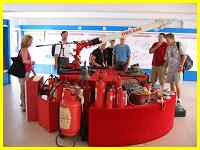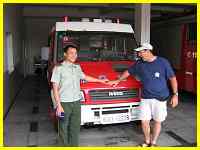 We can¡¯t all be firefighters but we can all become fire preventers, which is the only surefire way to save a firefighter¡¯s life. And who knows? We may save not only a fireman¡¯s life but the lives of our loved ones as well.
So think safe, be safe¡ªand save a firefighter!
Back to Top AmoyMagic Guide to Xiamen and Fujian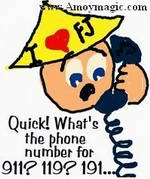 Why do Chinese dial 911 instead of 119?
In America we dial 119; in China it's 911!
In America we dial 114; in China it's 411!
Why? For the sheer principle of it!

Fire Safety Tips
1. Make sure all family members know what to do during fires. Draw escape maps for each room.
2. Sleep with bedroom doors closed. This helps keep out deadly heat and smoke and gives more time for escape.
3. During night fires, roll out of bed, and stay low to the ground as you exit.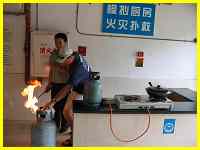 4. Time is crucial. Don¡¯t waste time dressing, or getting valuables or pets.
5. Feel doors before opening them. If they¡¯re hot, go another way.
6. Stop, drop to the ground and roll if clothes catch fire.
7. Choose a safe place to meet outside of the house.
8. Practice a family fire drill. Keep a flashlight and a bell in each room.
9. Test windows and doors to make sure they open easily.
10. Install smoke detectors and test their batteries often.
11. Keep emergency phone numbers posted near the telephone (but make the call outside of the home).
12. Never smoke in bed (a major cause of fire deaths in both the U.S. and China).
13. Keep matches and lighters away from children.
14. Use safe procedures in kitchens, and with electrical appliances.
Back to Top AmoyMagic Guide to Xiamen and Fujian
TRAVEL LINKS

Favorite Fujian Sites

Fujian Foto Album

Xiamen

Gulangyu

Fujian Guides

Quanzhou

Z
hangzhou

Longyan

Wuyi Mtn

Ningde

Putian

Sanming

Zhouning

Taimu Mtn.

Roundhouses

Bridges

Jiangxi

Guilin

Order Books

Readers' Letters

Click to E-mail


Readers'Letters

Last Updated: May 2007


Back to Top