AmoyMagic--Guide to Xiamen & Fujian


Copyright 2006 by Sue Brown & Dr. Bill, Xiamen Univ.

Join the AmoyMagic Forum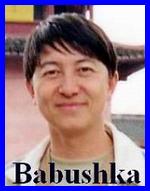 Babushka's Album!


(Click thumbnails on this page for larger image; hover cursor over image, without clicking, for brief intro)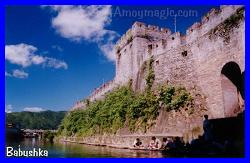 Residents of West Fujian's Changting (aka "Little Red Shanghai,") call the famous photographer Hu Xiaogang "Babushka" because he came from Manchuria, and had blond hair in his youth. Babushka loves the local customs and architecture of Changting, which writer Rewi Alley called "One of China's two most beautiful mountain towns." Babushka's nonstop monologue brought to life places, people, even ancient trees, that I'd have never given a second thought to.

"Just three days ago," Babushka said, "I found a marvelous old home down the street that nobody even knew about! Three Shanghai artists were so excited they wanted to rent it…and on the road to TuFang, I found revolutionary era artwork in an abandoned farm…and the source of the Ting River is so clean and the air so pure that the ancients flocked there to find the elixir of immortality…"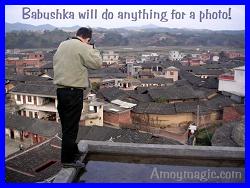 It seemed that Babushka knew everything about everywhere, but it turned out he has a prodigious memory. He said, "I remember seeing you and your family in the dining hall the last time you passed through here." That had been 8 years earlier!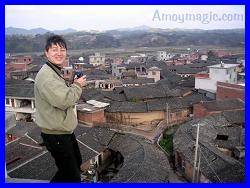 Babushka would go anywhere and do anything for a photo! He perched precariously atop rooftops, or weaseled himself into Hakka wedding festivities, or waltzed unannounced into ancient dwellings to photograph the architecture, furniture, and people--but no one ever complained. Who could get upset at the ebullient Babushka? And over the course of our exploits (several trips now, including one in which I wrote and filmed 4 TV episodes about the place), we've helped bring about some change in the meausures to protect some of West Fujian's most valuable historic and cultural relics.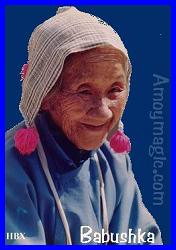 The night before I left Changting, Babushka and his wife and daughter visited my room with several albums filled with priceless photos of places, people, and festivals. "Use anything you want!" he said. "I'm happy to help."

If you too fall in love with Changting, thank Babushka, the matchmaker. He introduced me to enough Changting cultural, historical and natural attractions that I could easily spend a month in the city that author Rewi Alley said was one of China's two most beautiful mountain towns!

For more about Changting (aka "Little Red Shanghai"), read Amoy Magic--Guide to Xiamen and Fujian, or The Fujian Adventure. Available in Fujian bookstores, or Order Online.
Click thumbnails for larger images. (Hover cursor over thumbnail, without clicking the mouse, for brief description).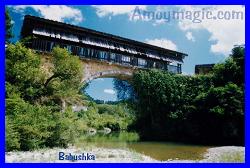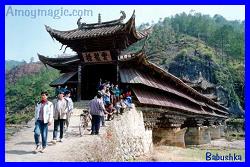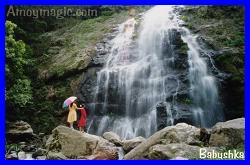 Back to Top AmoyMagic Guide to Xiamen and Fujian
Last Updated October 2006