Click to Access AmoyMagic
OUTSIDE China


Click to Access Amoy Magic
INSIDE China



Xiamen

Gulangyu


Jimei

Tong'an


Jinmen

Zhangzhou


Quanzhou

Wuyi


#1Fujian Sites!


Fujian Foto Album


Books on Fujian


Readers'Letters


Ningde

Zhouning


Longyan

Sanming


Putian

Bridges


Hakka Roundhouses




Amoy People!


Darwin Driving


Amoy Tigers


Chinese Inventions


Tibet in 80 Days


Dethroned!


Misc.Writings


Latest News


Lord of Opium


Back to Main Page
Reedley College offers Japanese offers training in Kendo (Japanese swordsmanship)
AmoyMagic--Guide to Xiamen & Fujian

Copyright 2001-7 by Sue Brown & Dr. Bill

Order Books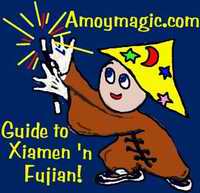 Welcome to Reedley--our U.S. home!
by Dr. Bill (Click Photos for larger images)
Since August 1988, the Brown family has lived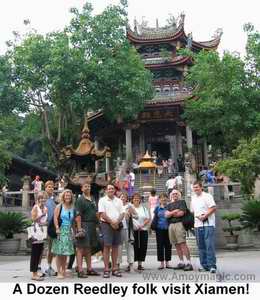 in Xiamen, formerly Amoy, in Mainland China's Fujian Province. Dr. Bill has taught MBA in Xiamen University (we gave out China's 1st MBA degrees!), and Sue has been even busier than me. But about a decade ago we adopted Reedley, CA. (30 miles south of Fresno) as our stateside home.

After 30 years in Taiwan, Sue's parents retired to Reedley's Sierra View Homes. As we visited them over recent years, Sue and I fell for this unique little town, which in 1988 celebrated 100 years of multicultural heritage (4 Chinese restaurants in a town of only 20,000!).
California's "Biggest Little Town." I have been honored to represent 4 Chinese cities in the international Livcom Awards (the "Oscar of Livable Cities"), and we won the gold all 4 times. But I think Reedley could also do well at Livcom. ...

The World's Fruit Basket Reedley is halfway between San Francisco and L.A. in the central San Joaquin Valley Reedley--the most productive agricultural region on the planet. We enjoy fresh fruit year round (and a highlight is the Wednesday Farmers' Market between May and August).

Natural Beauty Reedley is only one hour from the Giant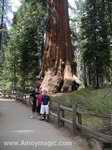 Sequoias, close to Yosemite, and only 3 hours from Montery and the Pacific Ocean. And right at home we have the Blossom Trail Scenic Drive, the 2.6km nonmotorized Reedley Community Parkway, King's River and Reedley Beach, and numerous parks. And only one hour away, in Three Rivers at the base of the Sierra Nevadas, is the Sequoia RV Ranch. A perfect retreat for a weekend or holiday, some folks have come for the week and settled down permanently!

Historic Reedley Opera House at 1720 10th St. (yes, we do have 10 streets!), puts on quality live theater performances. The Reedley River City Theater Company has put on Androcles and the Lion, Little Shop of Horrors, Joseph and the Amazing Technicolor Dreamcoat, and others.
Ticket info: (559)638-6500 or (866)977-6500. (Note: the Opera House is also the Reedley Visitors' Center).

The Kings River Arts Council put on the well-received Fiesta Art Competition 2006. Visit their offices at the Opera House for info on other programs.

Reedley Museum: 1752 10th Street; open Tuesdays 10:00 AM-12:00PM, and Saturdays 9:30AM-12:00PM. Reedley Historical Society Tel: (559)638-1913

Churches Reedley has about 25 churches, including Catholic, Protestant, Armenian... The area also has over 40 organizations serving numerous ethnic groups. The Reedley First Baptist Church sent a group to Xiamen (top photo). They visited hospitals, schools, a fire department... So come visit!
Armenian Apostolic Church Reedley: 1249 F. St. (559)638-2740
First Mennonite Church Reedley: Click for FMC Website.
Reedley First Baptist Church: Click for RFBC Website
Reedley Mennonite Brethren Church: 1362 L. Street Click for RMBC Website.
First United Methodist Church Reedley: Click for FUMC Website
Reedley Assembly of God Church: 519 E. 11th St. Reedley (559)638-2739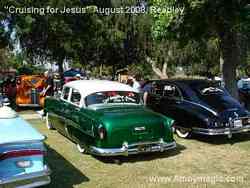 Cruising for Jesus Last week we enjoyed the cars, motorcycles, trucks and bicycles at the annual "Cruising for Jesus" show, which is based here in Reedley. Click Here for photos I took at Cruising for Jesus 2008.
Hillcrest Tree Farm and Hillcrest & Wahtoke Railroad The miniature train runs Saturday, 10:00 am to 5:00 PM, during the Blossom Trail Season (around Feb. and March. Also enjoy the nature walk, picnic areas, and gourmet snacks. Phone Sean and Melinda Bautista for more info: (559)638-2762. Add: 6943 S. Reed, Reedley, CA 93654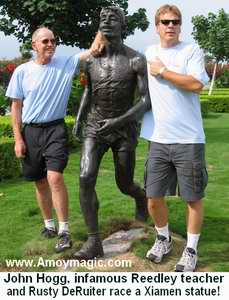 World Handcrafts & Mennonite Quilt Center--exotic handcrafted delights from all over the planet. The staff are volunteers, and profits aid peoples in many countries. I'm trying to find a way to save up enough for the Peruvian wallhanging! And they are proud partners with "100% Fair Trade Just Coffee"-- "not just a market but a movement." Right next door to the Handcrafts, by the way, is "Nearly New," a great little "pre-owned" items shop with an excellent selection of used books.
Add: 1012 G Street, Reedley, CA 93654 Tel: (559)638-3560
Interesting Fact: Reedley is one of the very few towns where citizens voted against having a Wal-Mart Supercenter. In the end, it was built in Dinuba, only five miles away, but that is okay. We can go to Dinuba if we need a Wal-Mart, and Reedley made its point--that our priority is controlled, sustainable growth, and quality of life. And this is why Reedley is California's "biggest little town," and home to famous folk such as.....

Famous Reedley Residents
Vic Lombardi (famous baseball pitcher)
Ernestine Gilbreth Carey (wrote "Cheaper by the Dozen").
Hideo Sasaki (architect born in Reedley)
Lacy Barnes Mileham (1996 Olympian, discus)
Arthur Eugene Livingston (Notre Dame University Professor of Physics)
Robert Lock (former NBA player)
Paul Hurst and Joel Hoffman (actors)

Visit Xiamen! I could go on and on about Reedley, but the best thing is to visit for yourself--or check out the official Reedley website. And for those of you in Reedley.... visit us in Xiamen, China!
Enjoy Amoy! Dr. Bill
And visit the Sierra Nevadas--just one hour East of Reedley...




Click to E-mail


Readers'Letters

Last Updated: May 2007


Back to Top